Advertisement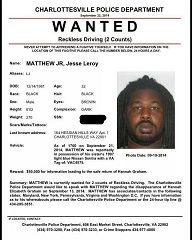 As mentioned in a previous post, rapists are very often serial offenders. The current "person of interest" is 32 years old, so if he perpetrated a crime against Hannah Graham, it is very unlikely this is the first time he has struck. This is not an acquired taste.
What that means is that if indeed Jesse Matthew was involved in any misdeed leading to or resulting in the disappearance of Ms. Graham, this will not have been the first time. And that leads to one of the reasons rapists are able to be serial offenders: their victims don't report the crime(s) for personal reasons. This underlines the urgency for encouraging reporting and for pursuing any investigation into sexual assault and/or rape to a conclusion.

Therefore the investigators should be aggressively calling for any information from acquaintances of Matthew, including prior assaults, rapes and/or drugging, that has not been reported. Silence is an enemy to the liberty of everyone who comes in contact with persons who are able to commit these acts without regard to or fear of the consequences.
The courage to report such a demeaning victimization is essential to protecting literally the lives and liberty of many others. Anyone who has hidden any information about an interaction with this "person of interest" or any assailant should learn from this sad situation. Report, report, report. And not just about this case; and no matter how long ago.