Advertisement

( – promoted by lowkell)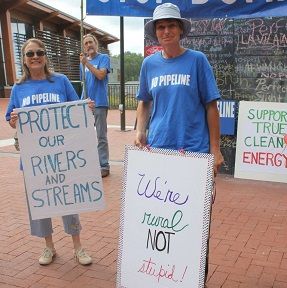 Here is the 5th in the series, "We're Rural, Not Stupid." The photo included in this post [below the fold] of the mudslides in Nelson was included in this Washington Post article. The photo is part of a collection owned by Nelsonian, Dick Whitehead. Mr. Whitehead's father, Bill Whitehead, was the sheriff in Nelson County in 1969 when the flood occurred.

Tamra Marshall lives in Nellysford, Virginia. Her family has a long history in the hills of Nelson County. Her Grandpa Jack Marshall worked with the Citizen Conservation Corps building the [Blue Ridge] Parkway, as locals refer to it, and many of the local roads during lean times. Tamra has strong opinions about Dominion's proposed Atlantic Coast Pipeline relating to the unmarked graves of those Nelsonian's who lost their lives and were never found in the aftermath of Hurricane Camille.
Here is Tamra's story:
I feel a connection to most who call this area home and feel a personal affront that some huge corporation wants to destroy our peaceful way of life and homes for the purpose of their bottom line. If this pipeline is so safe, why not use the already in place rights-of-way for the Interstate Highway System and run it beside that?

When I first heard of the pipeline possibly coming through these hills, I actually thought it was a joke. I mean, why would anyone want to destroy the beauty of this area? There was a discussion about the proposed pipeline outside of Wintergreen Hardware. The topic of our lost loved ones after the flood caused by Hurricane Camille in 1969 came up. After Camille, there were many whose remains were never found. I share a kinship either by blood or marriage to many of those lost, as do many in our little valley. I take this pipeline as an insult to the memory of those lives lost and those left behind.

With these facts in hand, Dominion should NOT be allowed to desecrate Nelson County. The Virginia Antiquities Act and General Cemetery Protection laws make it a felony to remove human remains from a grave without a court order or appropriate permit. Since sections of Nelson are effectively unmarked graveyards because of Camille, if Dominion insists upon moving forward, then they should have to foot the bill for comprehensive (and expensive) archaeological surveys and excavations for every single inch of land Camille touched to ensure that no unmarked burial grounds are disturbed. Anything less would not and should not be acceptable to ANY citizen of Virginia.