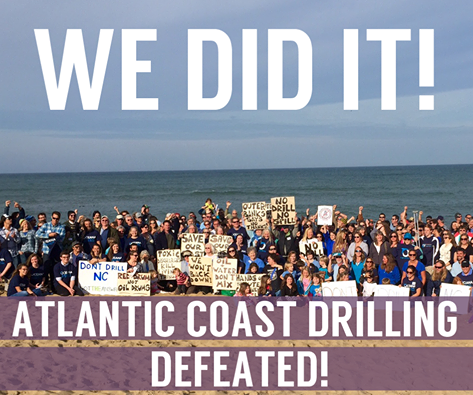 The following statements from Rep. Gerry Connolly and Lt. Governor Ralph Northam both praise Interior Secretary Sally Jewell's announcement this morning that the Atlantic Coast will NOT be included in its 2017-2022 offshore drilling lease plan. That's great news for anyone who cares about Virginia's coast, about the environment in general, and specifically about stopping runaway climate chaos caused by human combustion of fossil fuels. And yes, that includes natural gas, not just oil and coal, because in no way/shape/form is natural gas a "clean" fuel, despite the Big Lie propaganda you see on the sides of gas-powered buses, etc. Anyway, I just hope that this 5-year moratorium is extended indefinitely, preferably by a law passed by Congress after Democrats take back the House and Senate this November. 🙂
P.S. The image is courtesy of Environment Virginia; thanks to them for all their great work!
WASHINGTON – Congressman Gerry Connolly (D-VA) released the following statement today on the Department of Interior's decision to remove the Atlantic Coast from in its 2017-2022 offshore leasing plan:
Today's decision by the Department of Interior to remove the Atlantic Coast from its 2017-2022 offshore drilling lease plan is a responsible and important victory for all Virginians.
I've repeatedly made the case that drilling off Virginia's coast poses significant and irreversible consequences to Virginia's economy, jeopardizes the Defense Department's presence in the region, and threatens our coastal communities and natural resources.  More troubling, the flawed draft proposal asked Virginians to bear all that risk for less than a few months of national oil and gas supply.
I appreciate Secretary Jewell's acknowledgment of these very clear concerns, especially those shared by the Department of Defense, and her willingness to now exclude the Atlantic Coast from  future drilling activities.
In February 2015, Connolly led a letter with Virginia Reps. Bobby Scott and Don Beyer, urging Secretary Jewell to reconsider plans drill off Virginia's coast. That letter can be found here. In March 2015, he penned an Oped in the Washington Post "Offshore drilling is too risky"
Lieutenant Governor Northam's Statement on Bureau of Energy Management's Decision to Avoid Offshore Drilling on Virginia's Coast
RICHMOND – Lieutenant Governor Ralph Northam released the following statement today on the Bureau of Ocean Energy Management's decision to exclude Virginia from its revised 2017-2022 offshore oil and gas leasing program:
"I want to thank the Bureau of Ocean Energy Management and President Obama's administration for hearing concerns about offshore drilling from leaders here in Virginia.
Over the years, military officials, environmental activists and small business owners have warned of the potential impact of oil exploration off Virginia's coast. 40 percent of Hampton Roads' economy is tied to defense-related activities. Tourism and aquaculture generate billions of dollars for the Commonwealth. We cannot afford to jeopardize these important industries that are all tied to the health of our coastal waters.
Today's announcement is a win for Virginians. I look forward to continuing to work with federal and state officials as well as community leaders to sustain a healthy and prosperous Virginia that brings good-paying jobs to our communities."
Lt. Governor Northam submitted a letter to the director of the Bureau of Ocean Energy Management last month expressing his concerns with the previous version of the plan.
UPDATE: I agree strongly with this statement by CREDO. There's simply no place for any new fossil fuel development; at this point, we need to shut it down as quickly as possible and move 100% to clean energy — or we are totally f'ed.
"President Obama has spared the people of the Atlantic coast from another oil catastrophe, but in allowing new drilling in the Gulf and Arctic, he's keeping all of us on course for climate catastrophe," said CREDO Climate Campaigns Director Elijah Zarlin. "Any new offshore drilling is incompatible with a stable future and it is incompatible with the commitments that President Obama has made," continued Zarlin. "There is no excuse for any new offshore drilling and it is long past time for President Obama to draw a line to keep all oil, gas and coal on federal lands in the ground."