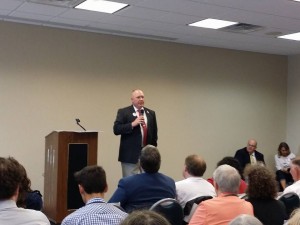 The following report (see below) is from 9th CD Democratic Committee Chair Isaac Sarver from today's convention (also, photo credit to Michael Hudson of the DPVA). Thanks to Bill Bunch for running, and congratulations to Derek Kitts, a "retired veteran of the United States Army" who "served our country for 24 years on active duty, including combat tours in Iraq, and Afghanistan," and who also was "awarded the Bronze Star twice…[and] the Purple Heart, all in the defense of American Freedom."
Yes, I'm well aware that the 9th CD is a "red" district that has become very tough for Dems to win in recent years. Still, Kitts seems to me the type of Democratic candidate who can really take it to Rep. Morgan Griffith (R), someone who is most certainly not representing that district as it deserves to be (not to mention is a major embarrassment to Virginia). Go git'm Derek!
Now that the dust has settled on the first contested 9th Congressional District Convention in my lifetime, I want to thank everyone who came out to Wytheville today to represent the Democratic Party of Virginia, Bernie Sanders, and Hillary Clinton. I am so glad to see the energy that was on display today in Wythe County, and know that those boots will be on the ground between now and November to turn these hills blue. Congratulations to our nominee for Congress Derek W. Kitts, and our delegates and alternate to Philadelphia Bill Bunch, Terry Frye, Victoria Huber Cochran, and Helen Kyle. I know you will represent us well. To those who helped with convention arrangements and credentials, particularlyKimberly Chiapetto, Dean Chiapetto, Deborah Sweeney Baum, Gary Hancock, Jeanette Sarver, Vee Frye, Steven Cochran, John Hopkins, and Terry Frye… you have my everlasting gratitude for making the process flow smoother. Finally, to the delegates who persevered over five hours of session, you make me proud to hail from the Fighting 9th and I thank you for your service to the party and democracy. Onward to victory!