Advertisement

If you're spending your weekend at the beach, with family and friends, or whatever other fun things you do for the Fourth of July weekend, you don't know what you're missing! Seriously, you could have been in Chesapeake, Virginia at the National Awakening Conference and Banquet, put on by none other than 2013 Virginia GOP Lt. Governor nominee, extremist/bigot E.W. Jackson. According to Jackson, you would have had the tremendous opportunity to hear from "amazing men and women" (his words, not mine; in reality, most of them are bigots of various kinds) like Rick Scarborough (see GLAAD's page on this guy, who raves about homosexuality and also said "If this country becomes 30 percent Hispanic, we will no longer be America"), Jerry Boykin (see the Southern Poverty Law Center's extensive entry on this piece of work), Dran Reeese (see California Conservatives Fabricate Another Story About Transgender Restroom Harassment), and many more of this ilk.
Also see below for screenshots of E.W. Jackson's tweets, in which he presents awards to Ted Cruz's even-more-extreme-and-bigoted father Rafael Cruz (see The Six Craziest Quotes From Ted Cruz's Father, Rafael Cruz and Ted and Rafael Cruz: Like Frightening Father, Like Scary Son, just for starters) and Fairfax County School Board member Elizabeth Schultz (see Audio: "Only voice of reason on the Fairfax County School Board" Goes Nuts Over Transgender Directive, Video: Heated Debate Over Transgender Rights in Fairfax County Public Schools and Exhibit A: Why Local School Board Elections Really Matter!, again just for a small sampling from her oeuvre d'odium).

Anyway, that's just a small sampling of the fun times being "had by all" in Chesapeake, Virginia this Independence Day weekend. See what you're missing out on? LOL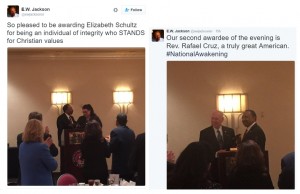 There's no paywall on Blue Virginia, and we definitely want to keep it that way! If you want to help support our work, you can donate here - thanks!
Also, you can
sign up for our weekly email list here
.