Advertisement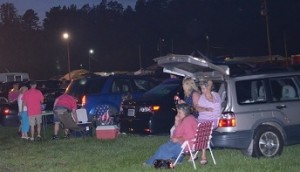 Patients won't be seen at the Wise Remote Area Medical (RAM) clinic before 6 am this Friday but by now they have begun to tailgate in the adjacent fairgrounds parking lot. This is health care in a state that has passed by $3 billion in federal Medicaid funding.
RAM returns to Wise for the 17th year 22 – 24 July; a proud accomplishment for Stan Brock's global organization and Virginia RAM led by Dr. Vicky Weiss. Hundreds of health care professionals and other volunteers pitch in to transform this patch of rural Virginia into one of the largest expeditionary medical facilities in the world serving thousands of patients over three short days.

These are health care refugees: the uninsured, underinsured, unemployed, working poor and anyone else who cannot afford health care services; the very people Medicaid expansion was designed to serve. This is the real outcome of the socially conservative conscience and hints at the long term consequences of this form of moral rationing. In no way is this a substitute for preventative care. Almost everyone has some chronic condition and many would benefit from not only physical but also mental health care. Of the Virginia residents seeking care,  some might find full out-patient access to care if they took advantage of the Governor's Access Plan. Integration of mental health services into these clinics has been a bridge too far so far but not for the lack of wanting by the RAM leadership.
Every RAM clinic is adaptive in an effort to serve as many patients possible with the resources at hand. This clinic is resource rich compared to many but even those are spread thin with the demand that exists. Many patients use RAM clinics as their primary provider and are accustomed the process that is designed to maximize the number of services provided. With support from organizations like Teresa Gardner's Health Wagon there is an opportunity for everyone to benefit from a medical examination, but only one specialty service, dental or optical, is available to a patient on a given day.
Virginia Lieutenant Governor Ralph Northam, a physician, is expected to attend this clinic. Last fall he volunteered as a service provider at the RAM clinic in Warsaw, Virginia.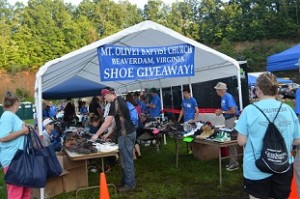 At this and many other RAM clinics, there are other resources available to patients. Local churches and charitable organizations offer clothing, shoes, and other items. Information about access to health care and educational presentations are also provided by not-for-profits.
While Medicaid was expanded in Virginia, Dr. Weiss in her role as President of RAM Virginia is working across the state to increase the number of these clinics. No small task, local organizations coordinate the infrastructure and important financial support to bring care to Virginians otherwise denied health care access.
Reporting in the Times News of Kingsport Tennessee, Stephen Igo described services available at this Wise clinic:
The event offers a Fast Track Medical option for patients who are not seeking dental or vision services in order to avoid lengthy patient check-in and processing lines. Typically, dental services are the most in demand of a broad range of health care services at the Wise County RAM.
Patients choosing the Fast Track Medical will not be able to obtain eye or dental services once inside the gate.
Complete eye exams will be offered by ophthalmologists and optometrists. Opticians will make prescription eyeglasses on site. Those who already have a lens prescription within the last 12 months from a local eye care provider or one (from another) RAM will be able to fill those prescriptions for eyeglasses.

Dental care will include cleanings, fillings and extractions. Oral surgeons will be available to perform biopsies to screen for mouth and throat cancer. All available spaces for dentures have been filled, but those with badly fitting dentures are encouraged to come for a possible realignment.
Individuals who have difficulty hearing or just want their hearing evaluated are encouraged to attend. Comprehensive hearing exams will be available by audiologists. Patients requiring a hearing aid will be assisted to obtain the devices. Hearing aid fittings will be made during the event and the devices returned at a later date.
Medical exams run the gamut from physical exams to complete medical histories. Prostate and testicular exams; ultrasounds and EKG's; women's health specialists and full range of exams; endocrinology; nephrology; otolaryngology; internal medicine; pediatrics; podiatry; and urology services will be available on site.
A plastic surgeon and dermatologist will be available to evaluate suspicious skin lesions and perform skin cancer screenings. Biopsies and removal of suspicious lesions may be performed when medically appropriate and indicated.
The Appalachian College of Pharmacy will provide an on-site pharmacy to assist patients with prescription medications. Positively no prescriptions from outside of RAM will be filled at this pharmacy. No narcotics will be stocked at this event. Pharmacy Connect options will also be available.
Registration will begin at 6 p.m. each day of the three-day weekend event. Patients will be served on a first come, first served basis with the exception of some selected appointments such as dentures services.
If transportation is needed, residents of Norton and Wise, Lee and Scott counties can call Mountain Empire Older Citizens, Inc. at (888) 877-6748. Dickenson, Russell, Tazewell, and Buchanan residents may call Four County Transit at (888) 656-2272. Immediate notice to arrange transportation is required.
All patients receiving any services at RAM must bring all prescription medication/information with them. Bagged lunches and water will be provided to patients. Patrons are also encouraged to bring sunscreen and an umbrella.
The region's Health Wagon is the driving force behind Wise County RAM. The Health Wagon is a nurse-managed mobile unit delivering free health care services to the residents of the region. Hundreds of other organizations, civic groups, businesses, churches and individuals join the Health Wagon to make the annual event possible.
There's no paywall on Blue Virginia, and we definitely want to keep it that way! If you want to help support our work, you can donate here - thanks!
Also, you can
sign up for our weekly email list here
.