Advertisement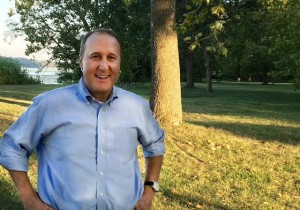 Virginia Democrats now have two announced candidates for Lt. Governor, Justin Fairfax and his former boss, long-time federal prosecutor (110 trials over 27 years, including major cases involving organized crime, drugs, corruption, opioids, etc.) Gene Rossi. We'll see if even more Democrats (e.g., Del. Eileen Filler-Corn) get into this wide-open race (unlike the races for Gov. and AG, both of which are done deals with Ralph Northam and Mark Herring as the presumptive Democratic nominees)…stay tuned!
Gene Rossi to Run for Virginia Lieutenant Governor

Former Career Federal Prosecutor Who Won Major Organized Crime, Drug, and Corruption Cases, Vows to Fight the Opioid Crisis, Push for Criminal Justice and Voting Rights Reform, and Close Gaps in Healthcare and Education 
ALEXANDRIA – Gene Rossi, a widely-respected federal prosecutor who dedicated his long career to bringing organized crime bosses, international drug traffickers, major financial schemers, and corrupt politicians to justice, announced today his campaign for Lieutenant Governor of Virginia.
"I will be a strong voice for justice.  I'm passionate about how our state government can better serve its citizens in many areas.  I have seen firsthand what works — and what doesn't.  Above all, we must be fair, firm, and compassionate in our approaches to the opioid crisis, criminal justice, voting rights restoration, healthcare, and education," said Rossi, who had more than 110 trials during a prolific 27-year career in the U.S. Department of Justice and the U.S. Attorney's Office in Alexandria.  Added Rossi, "In countless trials, I've battled violent and corrupt interests on behalf of the United States.  For close to thirty years, I gave voice to those who could not speak:  victims, those who lived in fear, the forgotten.  As Lieutenant Governor, I will continue this fight for all Virginians."
As an Assistant United States Attorney with a record 65 felony jury trials in Alexandria alone, Rossi won respect and accolades from all sides as a formidable trial advocate who worked hard to win convictions, while also fully respecting the right of every defendant to a fair trial. His notable career cases include a jury tax judgment against a corrupt Chicago Alderman; a jury conviction of an international drug kingpin who murdered over thirty-five persons; a cash smuggling prosecution against the Commanding General of the 54-nation African Union (and former president of Guinea); and a jury conviction of a notorious chronic pain doctor who ran a McLean, Virginia, "pill mill" and prescribed 1,200 daily doses of oxycodone to a single patient.  The doctor's two high-profile trials are the subject of the documentary "Dr. Feelgood."
Rossi, a recognized expert in trial advocacy, has been a teacher for over twenty years.  He has trained thousands of federal prosecutors and agents.  He is a trial instructor at Harvard Law School and teaches constitutional law at George Mason University in Fairfax. While working in the U.S. Attorney's Office in the Eastern District of Virginia, Rossi served with federal judges, probation, addiction specialists, and defense counsel in the "SCORE" program — an innovative second-chance drug court. SCORE made use of novel and cooperative approaches to critical reentry issues for drug offenders, including addiction, mental health, recidivism, and employment.  "I strongly believe in second chances," added Rossi.
Gene and his wife Diane Deaton Rossi live in Alexandria and have three children, all educated in Alexandria's public schools, including T.C. Williams High.  Gene has served as a volunteer youth and AAU basketball coach and is also a volunteer board member of Friends of Guest House, a nonprofit that helps women transition from confinement to the community.
There's no paywall on Blue Virginia, and we definitely want to keep it that way! If you want to help support our work, you can donate here - thanks!
Also, you can
sign up for our weekly email list here
.