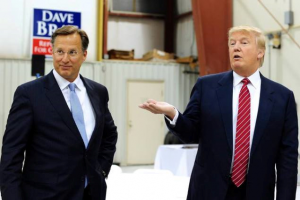 Originally published in DailyKos
Dave Brat cosponsored HR 3880, the Stopping EPA Overreach Act of 2015. According to the Congressional Research Service:
This bill amends the Clean Air Act to exclude carbon dioxide, water vapor, methane, nitrous oxide, hydrofluorocarbons, perfluorocarbons, and sulfur hexafluoride pollution from the scope of that Act.
The bill declares that current law does not authorize or require the regulation of climate change or global warming and nullifies certain proposed rules relating to greenhouse gas and carbon pollution emissions.
Dave Brat has told me twice in letters that because he is a parent, he cares about the environment. But, Dave Brat's actions speak louder than his words. Should this bill become law, Brat will be condemning your children and grandchildren to a very inhospitable planet in the not too distant future. Brat's utopian dream of ending government regulation of business obviously takes precedent over his claimed concern for the environment. I'm thinking we owe it to our children and grandchildren to deny Dave Brat another term in Congress.
---
We can't afford two more years of Dave Brat.
Vote for Eileen Bedell in the Virginia 7th District.
For more information or to contribute to Eileen's campaign AND to help vote out Dave Brat, just click below: