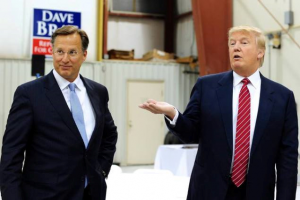 Previously published in DailyKos
Dave Brat cosponsored HR 6098, the "Transparent Recognition of Unjustified Tax Hoarding in Government Act of 2016 or the TRUTH in Government Act of 2016." According to the Congressional Research Service, 
"This bill repeals provisions of the Internal Revenue Code requiring the withholding of income, Social Security, and railroad retirement taxes from wages."
This is another totally irresponsible Dave Brat bill. Dave must know that in order to meet its operating expenses and contractual obligations the United States must have its tax revenues spaced out over the fiscal year. Yet, his bill would repeal the withholding requirement and leave the government struggling to pay its bills. Fortunately, there is not enough time in this session of Congress for this bill to become law.
—————————————————————————
We can't afford two more years of Dave Brat.
Vote for Eileen Bedell in the Virginia 7th District.
For more information or to contribute to Eileen's campaign AND to help vote out Dave Brat, just click below: