Dave Brat (VA-7) has just issued a statement concerning the latest Trump outrage, but he has failed the de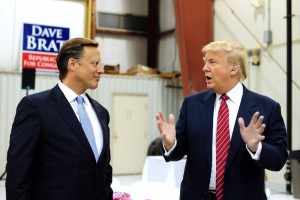 cency test:  he fell short of renouncing his endorsement of Trump.  Indeed, his condemnation of Trump was limited to the crudity of his words, and mentioned not at all the allusions to criminal ac
ts.  Brat portrays himself as a moralist and a man of steadfast principles, but when the going got tough, he crumpled.
Brat has long-standing ties to Trump and to the interwoven circles of the alt-right media; they boosted him from his earliest days and they, not the grassroots, are largely responsible for his victory over Eric Cantor.  Steve Bannon of Breitbart, now Trump's CEO, Laura Ingraham, and Mark Levin all played their roles in Brat's success, giving him hours of radio time and dozens of articles.  Dave Bossie, a friend of Bannon's and until very recently the president of Citizens United (leaving to become Trump's deputy campaign manager), is another powerful right-wing connection to Brat, credited by Bannon in this article with having been one of the first to take notice of Brat; Citizens United helped fund Brat's 2014 campaign.  Jeremy Peters of the NYT has documented some of this and more details can be found here.
So, Brat owes Trump big-time.  As a result, though he claimed that he would not make an endorsement in the 2016 presidential race until after the primaries — as a "matter of principle" – he all but endorsed Trump in 2015, calling him a "brother-in-arms" 11 days after Trump donated to him and right at the start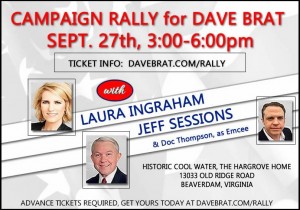 of Trump's own campaign.  In May 2016, Brat declared on Laura Ingraham's show that he was "all in" for Trump (the interview is fun to listen to because Ingraham drops big obvious hints to Brat about how much he owes her — and he is very slow on the uptake.  Fun, but it also confirms that the alt-right media played a yuuuge role in Brat's election).
Brat also shares with Trump a profound disrespect for women that no doubt ma
kes it more palatable for him to continue to endorse the sexual predator.  Brat's record on respecting women's reproductive rights is among the most dismal in Congress.  Among the long list of actions intended to limit or eliminate women's reproductive choices, is H.R. 816, of which Brat is a co-sponsor; it would "implement equal protection under the 14th article of amendment to the Constitution for the right to life of each born and preborn human person" and so prohibit abortion from the moment of conception.  There are no exceptions made in cases of rape or incest or even if the mother's life is endangered.  Trump has no doubt damaged many women, but we've not heard of his being willing to endanger their lives.
Fortunately, voters in Virginia's 7th have a great alternative in Eileen Bedell.  She believes in a woman's right to choose.  Period.  We need to give Hillary a progressive Congress.  Getting Brat out and Eileen in is of interest to us all!  See Eileen on the issues and please donate to her campaign.