As you can see from the following graph, Virginia Republicans currently – in spite of their outrageous gerrymandering – hold 11 Virginia House of Delegates seats won by Hillary Clinton a few weeks ago. Those Republican delegates are Jim LeMunyon (67th), Dave Albo (42nd), Tag Greason (32nd), Jackson Miller (50th), Mark Dudenhefer (2nd), "Sideshow Bob" Marshall (13th), David Yancey (94th), Scott Lingamfelter (31st), Robert Bloxom Jr. (100th), Randy Minchew (10th) and Rich Anderson (51st). Another two – Ron Villanueva (21st) and Tim Hugo (40th) – hold districts where Clinton barely lost. In theory, if Democrats could pick up the 11 seats won by Hillary Clinton, we'd be at 45 seats in the Virginia House of Delegates, within striking distance of taking back the House. And that's BEFORE the Supreme Court rules on a Virginia racial gerrymandering case they are now considering.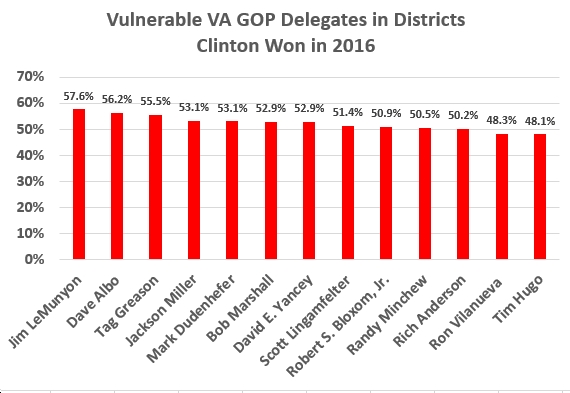 Also check out the next graphic (click to "embiggen"); this one shows Virginia House of Delegates districts ranked by the percentage Mark Herring won in 2013, so it could be a better proxy for the 2017 elections (although it all comes down to turnout/Democratic "dropoff"; in theory, the first graphic could be just as good a proxy, but only if Democratic "dropoff" is proportionately the same or better than Republican "dropoff"). Again, note the most vulnerable Republican Delegates — LeMunyon, Greason, Albo, Lingamfelter, "Sideshow Bob" Marshall, Randy Minchew, Ron Villanueva, Jackson Miller, Rich Anderson, David Yancey, Robert Bloxom Jr., etc. Sensing a pattern here?
So…now the key is for Democrats to recruit strong challengers – and for state and national Democrats to support them financially and in every other way – at LEAST for the most vulnerable 11 Republicans holding down Hillary Clinton districts, plus as many others as possible in districts that Mark Herring won (or got around 50% in), etc.  With 34 seats now, Democrats need to gain 16 in order to get to 50 and make that chamber a tossup. Is that possible in 2017?  Probably not, although let's see what the Supreme Court has to say, and regardless, let's try to get as close as we can in 2017, on course to taking back the House of Delegates in 2019 if at all possible.
By the way, it's important to point out that after years of losses at the state level (note that Republicans, the Koch brothers, etc. "got it" on this and reaped the huge benefits; Democratic "leaders" were asleep at the switch, despite being warned by people like…well, yours truly), Democrats have been severely harmed here in Virginia and across the country. Today, after the disastrous 2016 election (in which Trump is going to lose by 2.6 million votes in the popular vote yet win the Electoral College, barring the unlikely eventuality of that body actually doing its job and stopping an unhinged demagogue from becoming President),  making gains/winning back state legislatures is absolutely crucial going forward. And it all starts in Virginia 2017 — just a few weeks away. Let's do it!