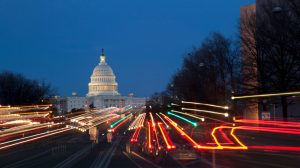 A dear friend of mine reminded me today of the good work we did a decade ago, why we did it, and how.  It's more necessary in these days of the Trump regime than ever.
In the waning days of the Bush administration, I was fortunate enough to work with a very well-funded, and highly regarded organization supporting aid to the developing world. We were, at the time, focused on one of the largest aid packages in the federal budget; a massive $50 billion bill targeted towards poverty and AIDS relief and prevention of other preventable disease including malaria, which is possibly the most horrifying thing in the world.
As a true blue, yellow dog Democrat, it was remarkably easy for me to find common cause with conservatives and Republicans on the issue. We all have a heart, and once you get past some of the more vicious propaganda, it became clear that there was a real, universal constituency for the issue.
Our approach was surprisingly effective, and I think there's a lesson to be learned for local parties and movements nationwide in our current circumstance.
We had a wide range of local groups already in place, with active members and discussion forum online. We also had a fairly large email list. Here was our plan:
1. Conduct large scale, national online petition drives in support of our position.
2. Conduct coordinated targeted Letter to the Editor campaigns, because local elected officials read LttE's.
3. Train local group leaders to conduct in-office meetings with elected officials, including our core talking points and printed petitions.
4. Conduct similar central office visits and large scale, national petition drops in DC, to show national power for our movement.
This was remarkably effective. It served many purposes. First, it allowed our members to become subject area experts and empowered them in their leadership roles. Second, it showed a genuine constituency for our agenda, IN DISTRICT, and made it clear that we could be counted on to support those who stood with us and work hard against those who failed to.
The Tea Party used a very thuggish and well funded approach to assail Obama's agenda. They were misinformed. They promulgated lies. They worked hard and showed up and they were successful.
When I think about progressive movements, I'm driven mad by their absolute failure to channel passion into effective organization. DFA and MoveOn have rarely managed to transform passion or organization into genuine effect. OFA ignored its broader mission and gave up on passion in order to defend the President's capitulation to the disloyal opposition, and never was able to capitalize on important political moments for impact. Occupy was counter productive, sullying the important message, with meaningless protest that made us all look dirty and foolish.
There is an effective way to approach this.
Local parties have the infrastructure. They are ready made to channel the passion of supporters into building relationships with local leaders, lifting up those leaders, and also standing in opposition to them.
Active engagement must be channeled. Passion needs a purpose. Power is built over time, during elections and governance. It must be moral, values-based, and focused, and it must be used effectively. We all marched against the Iraq War, for example, but it took years to turn back the tide of conservative militarism. We're still not there, yet.
The opportunity presented by the rising fascism of the Trump regime offers a chance for progressives to build their power and organization as never before, but it must be channeled effectively and put in service of something more than ineffective moments that dissipate. We have to let them know who we are, but we also have to let them know we're smart enough to know who they are. At every vote, every election and every decision, we are watching.