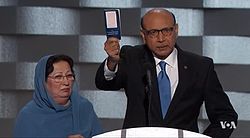 Yes, you read the headline right – no more Jefferson-Jackson Dinner in Fairfax County. Andrew Jackson – you're fired!
Held Sunday night in Tysons Corner, the annual dinner for Fairfax County Dems was a lovely & upbeat event, drawing a diverse crowd of young and old, Black, White, Asian, Latino & more. One thing that made it so enjoyable was the approachability and down to earth nature of so many of the Dem officials in attendance, including our always unpretentious Senator Tim Kaine, Attorney General Mark Herring, State Senators Jennifer Wexton and Chap Peterson, Delegate Mark Keam and more.
As for the major speeches of the night, here a few highlights (pardon my paraphrasing):
Senator Tim Kaine
Early on, Virginia was home to eight presidents, yet we suffered a decades-long drought when, on civil rights, we decided to move backwards with "massive resistance".

A Virginian on the national Democratic ticket in 2016 was a sign that the Commonwealth is back – thanks to activists like you.

What we're seeing now under Trump is a "stress test" for the Constitution.

The checks and balances that James Madison built into the Constitution are being proven, e.g., by:

Judges throwing out unconstitutional Executive Orders;
Media using freedom of speech to challenge president's scandals & lies;
Americans asserting our right for redress of grievances.

Our institutions will come out of this stress test ultimately stronger.

America is learning a lesson – we can have no greatness without goodness. "Make America good again."
Khizr Khan
When our values and rights were challenged, Terry McAuliffe came to Dulles, Mark went to court. You stood for Virginia, and Virginia will stand with you.
Thomas Jefferson said that the greatest danger to freedom is a government that ignores the Constitution.
The rule of law checks the tyranny of majority,
Our two world wars developed from the same ingredients: nationalism, economic ennui & fear of immigrants. Since then, the world has largely chosen progress and unity, with institutions like the UN. We can't go back.
The biggest lesson he learned from his speech to the DNC Convention, and the nationwide reaction to it, was "Never underestimate the power of your words."
Attorney General Mark Herring
Spoke about how we have "an Attorney General fighting for you", and recounted the many issues on which he has achieved solid successes, including for the rights of rape victims, immigrants and same-sex couples.
Governor Terry McAuliffe
After 3 years under Terry, Ralph Northam and Mark Herring, "we have a different Commonwealth". Examples include:

New EO to develop a clean power plan for Virginia;
Progress on jobs and education;
A more welcoming state, on gay marriage, etc.;
Restored more voting rights than any governor;
120 vetoes of bad Republican bills – none overridden.
The Gubernatorial Candidates spoke next, choosing very different approaches. Lt. Governor Northam gave an excited, rouse-the-troops speech full of applause lines, while Rep. Perriello followed with a very thoughtful discourse on the past and future course of the Commonwealth. Both were well-received.
Lt. Governor Ralph Northam
The 2016 campaign was too full of hatred and intolerance: not the Virginia we know.
Now is the time to win back the House of Delegates – be proactive.
Big emphasis on affordable health care and protecting woman's health care rights.
Former U.S. Representative Tom Perriello
Need to move beyond Virginia's racial past, e.g.:

Virginia's new law to protect African American cemeteries;
Challenge white supremacists, as we did recently in Charlottesville;
Retire Lee Jackson Day.

McAuliffe's new EO on climate change: opportunity for innovation, competing in the clean energy economy.
Dems need to do two things to win

Resist the negative GOP agenda.
Articulate our own positive agenda of economic opportunity and dignity:

Go to Virginia coal country, help them with economic development.
Confront the biggest emerging threat to jobs: Automation. Will require expanding our education system from K-12 to P-14.
Improving community colleges impacts two populations most: immigrants and rural communities – precisely the groups Trump is trying to divide. Our communities are closer together than we think – time for healing.
Finally, Delegate Rip Sullivan spoke about the opportunities Virginia Democrats have to win back the House of Delegates:
Dems are contesting 54 of 66 GOP-held seats, and 80 of the 100 total House seats.
You've heard about the 17 districts Hillary won where we have the best chance. But we will even field a candidate in District 1, Big Stone Gap, as far from NoVa you can get.
Of 78 new Democratic candidates competing, 42 are women, 19 people of color, 6 LGBT, 16 Millennials.
I welcome others who attended the dinner to add their observations in the comments. If, as Tim Kaine noted, greatness depends on goodness, then we are in luck – with lots of good Democrats ready to work like hell to elect and lead a government reflecting the most basic values of country and Commonwealth.