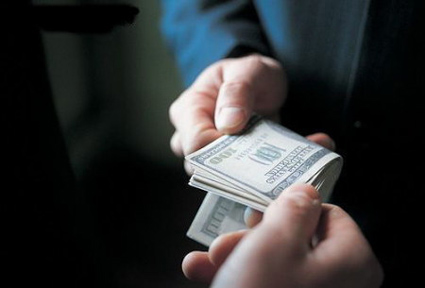 While Dominion is often content to avoid public comment on political issues – leaving it to its lobbyists behind closed doors to grease the palms of Democrats and Republicans alike – Virginia's most politically powerful corporate entity recently decided to toss a little mud at gubernatorial candidate Tom Perriello. Per the Richmond Times-Dispatch, the massive monopoly responded to Perriello's admirable pledge to refuse Dominion contributions by taking a cheap shot at Tom for taking "out-of-state special interest money."
It is truly special for a company that has given over $14 million in political donations in Virginia over the past two decades to point fingers in anyone else's direction. No other industry in Virginia even comes close. Those donations have been fairly evenly split among Democrats, Republicans and others, showing that the utility's goals are not ideological so much as part of their continuing effort to purchase Virginia's political class.
Sadly, they've mostly succeeded in that goal over the years. Just look back a couple of years to when Dominion authored a bill to exempt itself from public audits for five years, and politicians in Richmond practically stampeded one another to death to line up in support.
That bill, by the way, was supposedly to protect Dominion from the horrors of Obama's Clean Power Plan – which, under Trump, now appears dead on arrival. So it would make sense to rescind this free lunch given away to our dominant monopoly, right? So thought Senator Chap Peterson when he introduced legislation to do just that – and got shut down by members of both parties.
Nor has Chap had any success in the General Assembly by going one step farther and questioning why a public utility, granted the right to monopoly control in exchange for what should be strict regulation, is allowed to pay off its regulators with political donations.
But Chap's courage on this matter is now empowering others outside the Richmond swamp to stand up – with more than 50 General Assembly candidates refusing to take Dominion contributions. (As someone who's been beating this drum at BV & its preceding blogs for over a decade, I'm kind of proud to see this day dawning, TBH.)
Tom Perriello is at the head of this parade, showing exactly the type of strong, progressive, independent leadership we should hope to see in a governor of Virginia.
Without such leadership, Virginia will continue to trail badly behind most other states (including staunchly Republican ones like Texas, Kansas and Arizona) in renewable energy (ranked 37th) and energy efficiency (ranked 33rd) – losing the race to compete in the emerging clean energy economy.
Without such leadership, we will continue to fall behind in government ethics (graded a "D" by the Public Integrity Project) – continuing to allow monied interests to decide policy matters based on what is best for them, not us.
Politicians define themselves by what they stand for and what they have the courage to stand up against. It takes cojones to stand up to Dominion in Virginia. What a rare opportunity the June 13th Democratic primary and November 7th election provide to tip the political scales against Dominion Power – in favor of people power. Don't miss this chance.