Advertisement

by Lowell
As our country headed towards Election Day 2016, the overwhelming consensus among national political pundits and prognosticators was that Hillary Clinton would be the next President of the United States. Meanwhile, here in Virginia, the overwhelming consensus among state political pundits and prognosticators was that Ralph Northam would be unopposed for the 2017 Democratic gubernatorial nomination. Instead, as it turned out, neither of those predictions turned out to be accurate, as Clinton lost to Trump and as Tom Perriello stepped up (in early January) to offer Virginia Democrats a choice.

Which brings me to my first point; that although primaries can get rough at times (having lived through many of them over the years, such as Jim Webb vs. Harris Miller in 2006 or Leslie Byrne vs. Gerry Connolly in 2008, I'm well aware of that fact), overall I strongly believe that competition for voters is a great thing, just as competition for customers among restaurants forces everyone to either up their game – tastier food, better service, lower prices – or go out of business.
So here we are, with just over four weeks to go until Virginia Democrats head to the polls on June 13 to select nominees for Governor, Lt. Governor and numerous House of Delegates districts, and we've got serious competition for "customers." Fortunately for Democrats, we have many excellent candidates running up and down the ballot, including at the top of the ticket. Ultimately though, elections do force us to make a choices, and after watching the gubernatorial race closely since January 4, I've made mine: Tom Perriello for Governor of Virginia.
My reasoning is very similar to that of previous endorsements by Blue Virginia "front pagers," such as Kindler's and Adam Siegel's well-written, well-reasoned pieces on why they support Tom Perriello for Governor this year. Kindler's endorsement, for instance, emphasized Perriello's ability to bridge the "Hillary-Bernie divide" (as Kindler called it), to articulate "a powerful, coherent progressive vision" and to counter the "Trumped GOP." For his part, climate activist Siegel emphasized Tom's leadership on energy and environmental issues (e.g., see Tom's "Where I Stand on Two Pipelines" video below), his progressive populist vision and his enormous "intellect and thoughtfulness." Having gotten to know Tom well over the past decade, since he first called me out of the blue in the fall of 2007, and having watched him closely the past four months, I couldn't agree more with all those points.
I'd add that Tom has brought enormous – and much needed – energy, passion and urgency to what had frankly been a sleepy, mostly uninteresting affair. Instead, what we've seen is Perriello leading the way repeatedly — not just against Donald Trump, but for progressive ideas and ideals on issue after issue.
For an example of what I'm talking about, check out Tom's "Ambulance" ad (below), which has "gone viral" (416k views on YouTube alone as of right now) – and for good reason. To me, this ad encapsulates a great deal about Tom Perriello, and all in a good way — the right messaging, the right timing, the right attitude, the right delivery/articulation, etc. Frankly, if Tom Perriello isn't the type of person Democrats should want to be leading the fight against the Trump administration's ravages and depredations, then I'm not sure anyone is. Which is why, to my mind, Virginia Democrats should be thrilled that Tom decided to run and should seize the opportunity presented to us to put this guy in the Virginia Governor's Mansion.

I could go on for hours about all the areas where Tom Perriello has led in this campaign, but here's just a short list.
Again, I could go on all day with this, but I think you get the idea. Now, let me just address one other criticism of Tom Perriello that I've heard repeatedly during this campaign: that he once held an "A" rating from the NRA and used pro-gun rhetoric. First of all, today Perriello proudly holds an "F" rating from the NRA (see image below), which he correctly calls a "nutjob, extremist organization."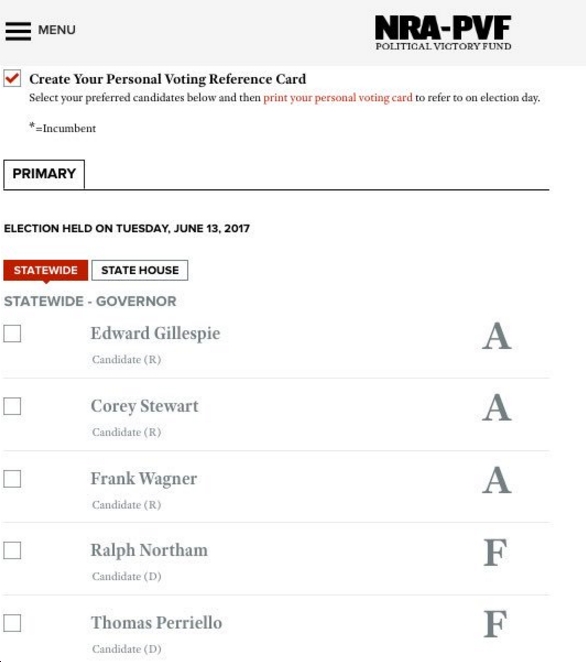 Second, since Perriello held his "A" rating back in 2008-2010, he clearly has had a major change of heart. As this article in today's Roanoke Times explains:
After Sandy Hook and after he was voted out of office, Perriello served as president and CEO of the Center for American Progress Action — a progressive research and advocacy organization — where his team released a study showing more gun violence occurs in states with weak gun laws. He also campaigned for Manchin-Toomey gun background check bill that would require background checks on all commercial gun sales. He saw the aftermath of Sandy Hook as an opportunity to make a difference in gun laws.
Finally, I'd note that Perriello's website promises, "As Governor, I will advance common-sense gun safety reforms that protect Virginians, prioritizing keeping guns out of the hands of criminals, terrorists, intimate partner abusers and stalkers, and individuals suffering from severe mental illness, and restricting access to weapons and ammunition that have no defensible role in sport or home defense."
Now, of course you don't have to buy this, but just speaking for myself – and as someone who deeply admires people like Lori Haas and other courageous, indefatigable gun violence prevention advocates while despising the NRA with a burning passion – I have great confident that, as governor, Tom Perriello will fight to protect us from the scourge of gun violence.
The bottom line: In my view, we really do "stand at a defining moment," as Tom's kickoff video argued, where "so much of what we've taken for granted here in Virginia in my lifetime seems to be at risk." For my part, I will do everything I can to prevent this state – and country – from lurching backwards under the "leadership" of the likes of "Enron Ed" Gillespie or neo-Confederate Corey "Trump before there was Trump" Stewart. Who is best to lead that fight — and to lead Virginia forward, along a path that unites rather than divides, that helps create an economy which works for everybody (not just the wealthiest individuals and most powerful corporations) — is the question facing Virginia Democratic voters in just over four weeks. I will, of course, work hard for whoever Democrats nominate on June 13. But for my money, the right leader for these troubled, dangerous, disturbing times is clear: Tom Perriello for Governor of Virginia.
There's no paywall on Blue Virginia, and we definitely want to keep it that way! If you want to help support our work, you can donate here - thanks!
Also, you can
sign up for our weekly email list here
.