The following is just a small sampling of Virginia Democrats' condemnation of Donald Trump's announcement this morning that he would ban transgender people from serving in the U.S. military. Note that others, like Democratic LG nominee Justin Fairfax, retweeted/shared several of these as well. Meanwhile, what we've gotten from Virginia Republicans (I've checked Facebook and Twitter feeds for Ed Gillespie, Jill Vogel, John Adams, as well as Virginia's GOP congresscreatures, the VA GOP, etc.) has been, overwhelmingly, a deafening silence. That includes people like Rep. Barbara Comstock (R-VA10) and Rep. Scott Taylor (R-VA02), [UPDATE: see below for Taylor's statement, which opposes Trump's ban; good for him] both of whom have pretended (at times) to be kinda/sorta LGBT-friendly. So much for that, eh? As for Ed Gillespie, he's his usual profile in cowardice, of course. Meanwhile, here are a bunch of Democrats standing up against the White House bully and for patriotic Americans.
I disagree with this decision. If you are qualified to serve, you shouldn't be banned from the military https://t.co/cCrSq9DMQV

— Senator Tim Kaine (@timkaine) July 26, 2017
Also – did the President really consult military leaders on this? Four Star General told SASC a week ago they wanted time to review this

— Senator Tim Kaine (@timkaine) July 26, 2017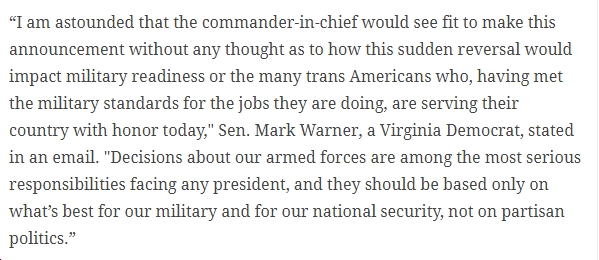 .@realDonaldTrump the military isn't a platform for your backward anti-LGBT agenda. Let's welcome all who want to serve, not discriminate.

— Terry McAuliffe (@TerryMcAuliffe) July 26, 2017
You won't defend our healthcare, you won't defend our servicemembers—what do you stand for, Ed? https://t.co/CZKNOFKaTp

— Ralph Northam (@RalphNortham) July 26, 2017
.@realDonaldTrump: Anyone who wants to serve our country in the military should be welcomed. They're patriots and should be treated as such.

— Ralph Northam (@RalphNortham) July 26, 2017
Virginia Democrats know discrimination is wrong—including in our military. Our LGBT servicemembers deserve better than this. https://t.co/a7f5qWNJnx

— Virginia Democrats (@vademocrats) July 26, 2017
Those "tremendous medical costs" Trump used to justify discriminating against American soldiers?@DeptofDefense spends 5x as much on Viagra https://t.co/D6tncDZYbo

— Rep. Don Beyer (@RepDonBeyer) July 26, 2017
Thread: @SenDuckworth, who served her country and was wounded in combat, calls Trump's attacks on transgender servicemembers "indefensible." https://t.co/e5yhCdL0AC

— Rep. Don Beyer (@RepDonBeyer) July 26, 2017
Does Trump think Kristin Beck's service on Seal Team 6, where she was awarded bronze star & purple heart, was "burdensome" or "disruptive?" https://t.co/SlDg3ZUyxX

— Rep. Don Beyer (@RepDonBeyer) July 26, 2017
Donald Trump turns his back on them against the advice of military leaders & over bipartisan opposition in Congress.

This is deeply wrong.

— Rep. Don Beyer (@RepDonBeyer) July 26, 2017
An estimated 15,000 transgender troops are now serving this country in the military, with courage and determination. https://t.co/vomElMjhDv

— Rep. Don Beyer (@RepDonBeyer) July 26, 2017
I welcomed Pres Obama's decision allowing transgender troops to openly serve. I thanked Sec Carter. I voted to protect it. This was progress pic.twitter.com/MmnjAZWBoy

— Rep. Don Beyer (@RepDonBeyer) July 26, 2017
Our brave transgender servicemembers deserve honor and praise, not this President's fake news. A patriot is a patriot.

— Gerry Connolly (@GerryConnolly) July 26, 2017
Gender has nothing to do with one's ability to bravely serve his or her country. pic.twitter.com/6RbxBB2gHW

— Rep. Donald McEachin (@RepMcEachin) July 26, 2017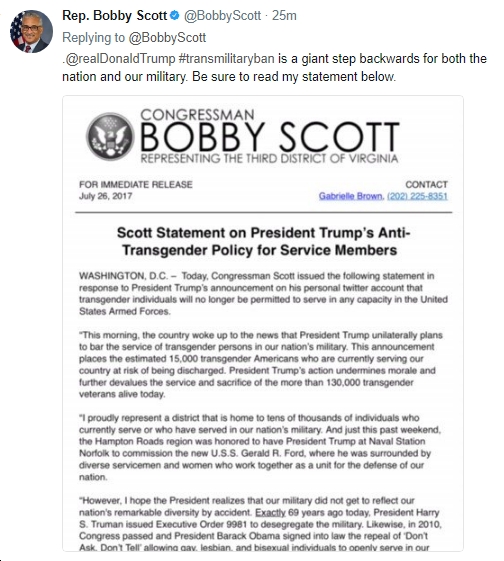 If one is willing to carry American flag into battle & die for USA, I don't give a damn what their sexual orientation/gender identity is.

— Gene Rossi (@rossi4va) July 26, 2017
Trump's ban on transgender military members is un-American and wrong. https://t.co/DUZQCgQ8uj

— Hala Ayala (@HalaAyala) July 26, 2017
Our transgender servicemen and women deserve our deepest honor and respect. Anyone who risks their life for our country is never a "burden."

— Melissa M. Dart (@MelissaMDart56) July 26, 2017
Rep. Scott Taylor (R-VA02):
"Our office is currently waiting for the Department of Defense (DoD) to provide information requested on this issue. I am troubled that they seemed to be unaware of this potential policy change and how it was made public. I understand the DoD is in the middle of a review of relevant policies and I believe this ban is premature. There are heroic military members willing to put their lives on the line and give the ultimate sacrifice on our behalf, regardless of their gender identity. I support the ability for those who meet all military requirements, medical and otherwise, to have the opportunity to serve our great country. I recently supported the Hartzler amendment on the basis of individual medical readiness, which should always be a priority for the military. Readiness is crucial for us to continue to have the most highly capable fighting force in the world."
UPDATE 6:39 pm: We finally get a mealy-mouthed, wimpy statement from Ed Gillespie.