Today was the first "debate" between Angela Lynn and her opponent, Steve Landes, and between Kellen Squire and his opponent, Rob Bell, sponsored by the Senior Statesmen. In these ridiculously gerrymandered districts, where strongly Democratic Charlottesville City is conveniently relegated to its own district, these two incumbents have been in office for an eternity, mostly going unchallenged year after year. I can only assume that scheduling this debate for 1:30-3:30 on a Wednesday afternoon was for the purpose of making sure that only the doddering, old, wealthy Republicans in Albemarle County would attend.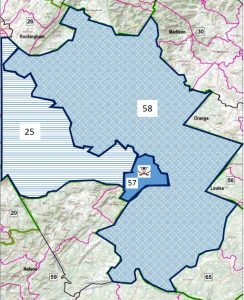 Lynn and Landes went up first. (Link to Angela Lynn's livestream here.) The format was a short opening statement, followed by several written questions from the audience, which each candidate answered along with one rebuttal, followed by a short closing statement. Lynn talked about why she originally ran in 2015, and why she was running again, explaining that voters deserved to have a choice in this gerrymandered district. She said that she wasn't a quitter, that she was going to keep fighting for Virginians. Landes talked about how honored he was to have served as delegate and how good he was at listening to his constituents. He said "one thing that's important about listening is just to listen." #tautology
Lynn and Landes took turns answering questions about the Tebow bill, which Landes supported, but Lynn would not have, since it takes money away from public schools. She said, about protecting our public schools, "public isn't a bad word, it's a good thing!" They then answered a question about revenue sharing between the City of Charlottesville and the surrounding counties. Angela wanted to keep it intact, at least for now, because these are long-standing agreements that voters agreed upon about how different jurisdictions will pay for various services. Landes, who had previously attempted to eliminate the revenue-sharing through a budget amendment, but then had to back off on that notion, argued that it's unfair to the counties to have to give money to Charlottesville.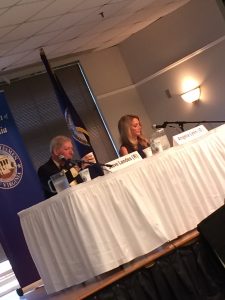 Next, they responded to a question about the voter ID law, which Landes thought was important to prevent fraud, and Lynn argued was just another form of voter suppression. This very Republican-heavy crowd cheered heartily for fighting the alleged voter fraud, and smirked, rolled their eyes, and shook their heads at the notion of voter suppression. Specifically, the minorities and young people who Lynn said would be most likely to have a harder time voting weren't in attendance at this Wednesday afternoon event. She spoke very passionately about voting and democracy, but this mostly fell on deaf ears. The next question, whether they favored ending gerrymandering, didn't go much differently. Lynn asked why Landes introduced a redistricting bill and then didn't support a Democrat-sponsored bill worded exactly the same way. But these Republicans in the room just didn't care about gerrymandering–they in fact applauded when Landes said that he didn't think an independent redistricting committee should take the responsibility for drawing districts out of the hands of the General Assembly.
Next up, Kellen Squire and Delegate Rob Bell debated. Kellen opened with his personal background, his career as an ER nurse, and how that related to his feelings after the 2016 election and the impulse to run for office. Bell, oddly enough, spent most of his opening speech talking about his work on sexual assault and stalking bills, and commended Governor McAuliffe and Delegate Toscano for being such great partners in these efforts. I can only assume that he was attempting to sound like a moderate, although certainly his voting record doesn't reflect anything of the sort.
The first question was about whether they would support extending a current Northern Virginia-specific gun safety regulation to Charlottesville, in light of the recent violence. Neither candidate was strongly in favor, although Kellen was more circumspect, citing Thomas Jefferson's restriction of guns at the University of Virginia.
The most bipartisan response to any question at the entire event, was about the Medicaid expansion. (I looked to see if the man in the MAGA hat applauded it, but he didn't seem to.) Squire explained how failing health insurance systems affect hospitals and the costs taxpayers pay to treat people in hospitals who could have received preventative treatment much more efficiently. Bell tried to justify his Medicaid vote, arguing that expanding it would only increase the number of people who rely on it.
Squire and Bell were asked their opinions on ending gerrymandering. Bell gave a detailed explanation of the various strategies behind drawing districts. And supported having public forums and discussions about which strategy to follow, but as with Landes, thought that the General Assembly should retain responsibility for drawing districts. Squire argued that legislators have lost the right to draw districts, because they've done so dishonorably. He referred to Gillespie having bought the internet searches for every citizen of the Commonwealth to figure out how to strategically draw districts.
The final question was on campaign finance reform, whether they would favor restricting donations. Squire vehemently agreed with finance reform. He described corporate contributions like heroin–at first the pushers give it to a candidate for free, and then, seeing how easy that is compared to making a thousand phone calls to voters, the candidate gets a dependency. And before you know it, there's some expectation associated with that large corporate donation. He said his biggest fear isn't losing this election, but becoming the kind of politician he's always railed against. Bell claimed that the Virginia campaign system is just dandy, because everything is completely transparent, all contributions must be reported, and everything is documented on VPAP. So he sees no need for reform.
The two candidates gave their closing statements. Squire talked again about his reasons for running, how humbling it was to see so many people assembled to participate in the democratic process. Bell, oddly again, spent his closing statement talking about the work he'd like to do on mental health legislation, and what a great partner Senator Creigh Deeds is.
This was a tough crowd, to be sure. But both Angela and Kellen held their own. I would guess there were only one or two undecided voters, if any, in the crowd. There was very little "cross-over applause," except on the issue of Medicaid expansion and on money in politics. I would say based on what I saw today that our goal for this election cycle should probably be to go hard on turning out our own voters, and save persuading Republicans for another year.