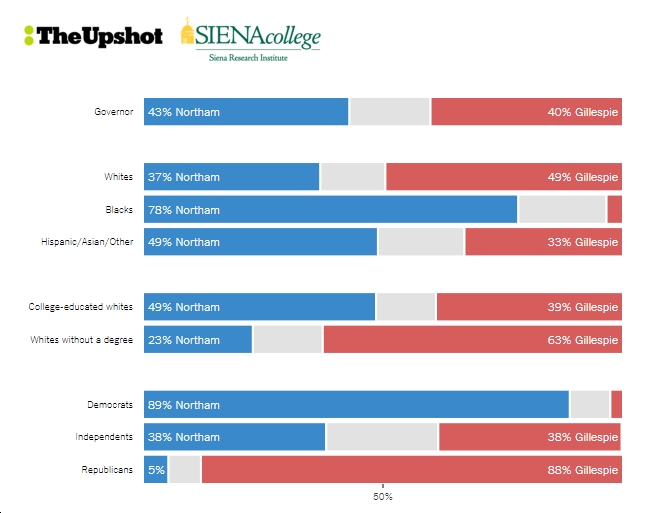 Coming down the home stretch…tight race, just like we love 'em here in Virginia, huh? Heh. By the way, looking at the cross tabs here, one thing looks a bit odd: self-reported 2016 voters break 41%-39% for Clinton over Trump, when Virginia actually went by 5 points for Clinton. Regardless, the bottom line is it's coming down to Get Out the Vote (GOTV) at this point, so…with a bit over two days to go, let's do that!
New York Times Upshot/ Siena College Virginia Gubernatorial Poll:
Tight to the Finish: Northam 43%, Gillespie 40%
Gillespie Up 9 with Men; Northam Up 13 Points with Women
Loudonville, NY. Democrat Ralph Northam and Republican Ed Gillespie are locked in a tight race to be Virginia's next governor. Heading into election day, Northam holds a narrow three-point lead, 43-40 percent, according to a New York Times Upshot/Siena College Research Institute poll of likely Virginia voters released today. By a small 43-34 percent margin, Virginians think the state is on the right track. While 39 percent of likely voters approve of the job President Donald Trump is doing, 51 percent disapprove, including a plurality of independent voters.
"This is a classic barnburner election that will have both  candidates and campaigns working hard until the polls close Tuesday night," said Siena College Poll Director Don Levy. "Northam and Gillespie are both strong with their bases: Gillespie has the support of 88 percent of Republicans while Northam is supported by 89 percent of Democrats. Independents are evenly divided, giving Gillespie an ever-so-slight one-point edge, 38-37 percent.
"There is a traditional gender gap, with Northam leading among women by 13 points and Gillespie leading with men by nine points. Gillespie leads with white voters 48-37 percent, while Northam has a huge 79-4 percent lead with black voters," Levy said. "Gillespie has a small three-point edge with voters 65 and older. Northam has a similar narrow lead among voters 35 to 64 and has a very big 51-20 percent lead with voters under 35. Northam leads big in NoVa and comfortably in the Richmond area. Gillespie has a wide lead in the west, while the central part of the state and Tidewater region are closely divided.
"Turnout, turnout, turnout. Whichever campaign does a better job of mobilizing their voters and getting them to the polls on Tuesday is likely to be the campaign celebrating Tuesday night," Levy said.