The Virginian-Pilot has discredited itself in endorsing Ken Stolle for Sheriff of Virginia Beach.  Perhaps the brevity of its statement and its acknowledgement that Democrat John Bell is highly qualified reflects its discomfort in departing from its past reporting of dubious practices in the Sheriff's Office.  In fact, the pattern of Stolle's financial dealings bears a striking resemblance to those of former Norfolk Sheriff Bob McCabe, who's under FBI scrutiny, as the Pilot has reported HERE and HERE.
For example, in relating the fishy way a $9 million healthcare contract was awarded in 2010 to Conmed, which ended up paying out nearly 1 million of those dollars to the families of two inmates dead of medical neglect, Virginian-Pilot reporter Aaron Applegate offered this insight on Stolle and his predecessor, Paul Lanteigne (emphasis mine):
LESS THAN A YEAR after stepping down as sheriff, Paul Lanteigne helped land a $9 million contract to provide health care for inmates in the jail he used to run….Before stepping down as sheriff at the end of last year, Lanteigne lined up a job with Conmed Health Management, a health services provider that had tried unsuccessfully to do business with Virginia Beach in the past. Lanteigne became a senior director of governmental affairs for Conmed and helped prepare the bid, which resulted in the approximately $9 million, three-year contract to provide health care for the city's 1,350 inmates.

The company was recommended by a panel appointed by Virginia Beach Sheriff Ken Stolle, said John McConnell, city procurement services coordinator.

Stolle and Lanteigne have long been political allies and friends…."To be completely candid, Paul had a huge advantage," Stolle said. "He knew exactly what we needed."

Had Lanteigne been a city employee, he would've been prohibited by city ordinance for one year from accepting a job with a company that does business with the city.

Because he was sheriff, a constitutional officer in Virginia, the rule doesn't apply, Deputy City Attorney Roderick Ingram said. Lanteigne sought a legal opinion from the city attorney's office in June 2009 before taking the job with Conmed….Stolle, a former state senator elected sheriff in November, said he didn't take part in the bid-review process because he and Lanteigne are friends.

"I didn't want there to be any impression that I was trying to steer the contract to Paul," he said. " I didn't want there to be appearance of collusion between us."

Lanteigne supported Stolle in his run for sheriff, giving him $10,000 in campaign contributions, according to the Virginia Public Access Project, which tracks money in politics. Conmed gave $2,000 to Stolle.

Stolle hired Lanteigne's daughter, Ashley, who had previously been his legislative aide, as a public information officer. Her salary is $53,500.
A few days later, the Virginian-Pilot issued an editorial highly critical of Stolle:  (emphasis mine):
SHORTLY AFTER Virginia Beach Sheriff Paul Lanteigne retired a year ago, he began e-mailing sheriff's employees, asking about the jail contract to provide health care to inmates.

The employees provided their former boss, now a senior director with Conmed Healthcare Management Inc., with drafts of the bid specifications, though they did not share the drafts with other potential bidders until weeks later, a Virginian-Pilot investigation showed.

In September, Lanteigne's company was awarded the $3.5 million annual contract.

Nothing about Lanteigne's handling of this procurement process was appropriate. Not his work for a private company soliciting business with the public agency from which he had just retired. Not his e-mails to former subordinates, who were used to doing what he asked. Certainly not his use of information obtained solely because of his stature that gave his company an advantage in pursuing a multimillion-dollar contract.

As The Pilot's Aaron Applegate reported Sunday, Sheriff Ken Stolle, who succeeded Lanteigne on Jan. 1, didn't change his department's policy dealing with bid specifications until late October, when The Pilot began asking questions about Lanteigne's knowledge of the draft specifications.

Stolle, who said he didn't know the former sheriff was getting the information about the contract from department staffers, also said he purposely avoided getting involved with the bid process because of his longtime friendship with Lanteigne.

But Lanteigne and Stolle knew the opportunities to capitalize on such long-standing relationships within the department were many. They both had a duty to be extra cautious to avoid any appearance of impropriety.

Instead, it now appears that Lanteigne milked his contacts while Stolle looked away.

State officials say Lanteigne broke no laws, but procurement experts said his obtaining draft specifications was not consistent with industry standards. Every bidder, they said, should get the same information at the same time. What Lanteigne did violates the most basic tenet in the bid process: its insistence on fairness for all.

Sadly, while city employees are banned for a year from accepting a job with a company that does business with the city, the sheriff, a state constitutional officer, must abide by no such restriction.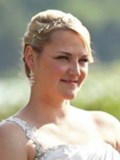 Stolle eventually cancelled Conmed's contract in 2013, two years after the entirely preventable deaths of two inmates from medical neglect.  They were Douglas Poole (no photo available) and Jacquelynn Schwartz LaClair (right).  Douglas Poole died on November 7, 2010; he was a black man, 54 years old, the father of three and grandfather of five.  Jacquelynn LaClair, a 31-year-old white woman, had been married for just six weeks when she died on July 18, 2011.   Both were serving 10-day terms: he, for driving on a suspended license; she, for contempt of court.
Here is a segment of one of numerous Virginian-Pilot articles on Douglas Poole's tragic and preventable death:
The afternoon of Nov. 3, Poole reported to jail staff that he was had [sic] severe pain in an eye. He was unsteady on his feet and sweating. He then collapsed and struck his head on a table, the suit says.

He was taken to the infirmary, where the medical staff inferred "that he was malingering," the lawsuit states. When he was taken back to his cell, a deputy, a doctor and nurses told other inmates that Poole was "faking blindness," it says.

Poole later reported that he felt nauseated and he again fainted and remained unconscious for 15 minutes. When he tried to rise, he struck his head on a toilet and lost consciousness again, the suit says.

"The inmates in his cell block began frantically banging on the window and the deputies only then removed him from the block," the lawsuit says. At the infirmary, Poole's blood pressure was recorded as 197 over 90, which is high. Jail staff called 911, and Poole was taken to the nearby emergency room in handcuffs.
Handcuffs.  I have zero medical training and even I know those are classic stroke signs.  Dangerous at-death's-door black man has got to be handcuffed.  But that was the least of it:  Douglas Poole died of a cerebral hemorrhage that his medication would very likely have prevented.
What did Ken Stolle do to remedy this?  To make sure no inmate died of neglect again under his watch?  Fire the company responsible, right?  NO!!  He took more money from them – naturally, why not?  In 2009 and 2010, he had received $1,000 each, but after Douglas Poole's death he got $2,500 annually.  Paul Lanteigne continued to contribute to the Stolle stash too, and one can't help but notice a slight uptick in his donation in 2011.
Had Ken Stolle acted responsibly after Douglas Poole's death and ended the Conmed contract, perhaps Jacquelynn Schwartz LaClair would still be alive.  Well, if he'd acted morally and ethically and not participated in a bogus bidding scheme to begin with, perhaps a competent company would have been hired and Douglas Poole would be alive as well.
The circumstances of Jacquelynn Schwartz LaClair's death are as senseless as Douglas Poole's.  This is an excerpt from one of a several Pilot articles on the tragedy; note that Ashley Lanteigne is on the job commenting on both her father's employer and her own:
On April 3, an officer gave Schwartz a ticket, charging her with driving 76 mph in a 55-mph zone, according to General District Court records online. A judge imposed a $150 fine and ordered her to attend driving school, which she completed after the couple returned from their two-week honeymoon in the British Virgin Islands, said Schwartz's husband, David La Clair.

When Schwartz reported to court on Friday to present her certificate, sheriff's deputies said they smelled alcohol on her and administered a breath test, which she failed, David La Clair said.

A judge then ordered her jailed for 10 days for contempt of court, according to online court records.

When David La Clair heard what happened, he drove to the Virginia Beach Correctional Center to see his wife but was told he could not, he said. The couple lived in York-town and worked in Newport News.

They spoke on the phone that night, and Schwartz told La Clair the last alcohol that she'd had to drink had been wine the night before. She sounded scared but otherwise OK, he said.

La Clair hired an attorney, and they got Schwartz's case placed on the docket for Monday, hoping to free her. He was waiting in the courtroom that morning when two police detectives pulled him outside and told him his wife was dead.

Earlier that day, between 5 and 5:30 a.m., Schwartz's cellmate had called for help after a feverish Schwartz started shaking and saying she heard dogs barking in the next cell, La Clair said the detectives told him.

Deputies placed Schwartz in an observation cell, which jail staff monitor via a camera system and, at least twice an hour, in person, said Ashley Lanteigne, a spokeswoman for the Sheriff's Office, which runs the jail.

Less than 90 minutes later, at 6:20 a.m., a deputy found Schwartz unresponsive, police said.

Lanteigne said she couldn't comment on what happened due to the ongoing police investigation. It's unclear whether Schwartz received medical treatment prior to her death.

She had no history of medical or mental health issues, La Clair said.

"I have no idea why they wouldn't call an ambulance when she started exhibiting this erratic behavior," he said. "And I have no idea why they weren't watching the observation cell. And I have no idea why they put her in there alone. And the bottom line is that she isn't with us anymore, my wife of six weeks, and I loved her more than anything."
Well, right – why wouldn't they call an ambulance?  Because the company was incompetent and its staff unable to recognize DTs when they saw it?  And who can imagine that isolation is the best thing for a hallucinating patient?  And for that matter, why should nurses (and I believe they were LPNs and not RNs to boot) be expected to make a diagnosis?  Where was a doctor?
After LaClair's death, even Stolle realized that Conmed needed to go.  Its successor since 2015, when they began donating to Ken Stolle's campaign committee, is NaphCare.  NaphCare has contributed $7,500 to Stolle, and its president, Byron Harrison, $15,000, in nice regular annual donations of $7,500.  Nice little boost to the coffers over Conmed.
But healthcare for inmates isn't the only area where there are suspicious donations; as noted here:
Stolle's other big donors include Global Tel-Link ($21,000) which provides phone service for Virginia correctional facilities and Catering by Marlins ($30,000) , which of course manages food service for correctional facilities.
So, given the Pilot's own earlier criticism of Stolle, the similarities in his pattern of behavior to that of Bob McCabe, and their knowledge of his drastic mismanagement of the Correctional Center, have they endorsed Stolle with an eye to future sales?   One can only speculate.
John Bell is the Democrat up against Stolle and he IS, as the Pilot acknowledges, highly qualified.  Here are BELL and STOLLE speaking at a candidates' forum on October 16.
Bell, as a former Deputy Chief of the Virginia Beach Police Department, would be coming to the position with plenty of administrative experience – and he would be a new broom, which is so desperately needed.
Supporting John Bell is how we can help Virginia Beach residents have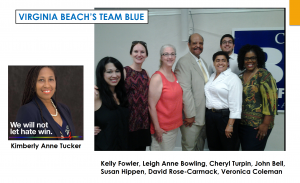 better lives AND it will help out Virginia Democrats statewide.  Getting out the vote for the city-wide Sheriff's race and for the Treasurer's race (Susan Hippen for Treasurer) will help our statewides and all the excellent candidates we have running for state delegate seats in Virginia Beach:  Kelly Fowler, Kimberly Anne Tucker, Leigh Anne Bowling, David Rose-Carmack, Veronica Coleman, and Cheryl Turpin.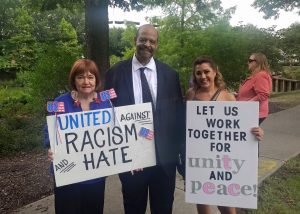 John Bell for a New Sheriff in Town!