Advertisement

According to VPAP (see graphic, below), Ralph Northam won 58 out of 100 Virginia House of Delegates districts, even though he "only" won 53.9% of the vote (to 45.0% for Ed Gillespie and 1.1% for Libertarian Cliff Hyra).  See below the graphic for some detail on how this played out, and also how Dems ended up with only 49 or 50 House of Delegates seats, despite Northam winning 58 House of Delegates districts.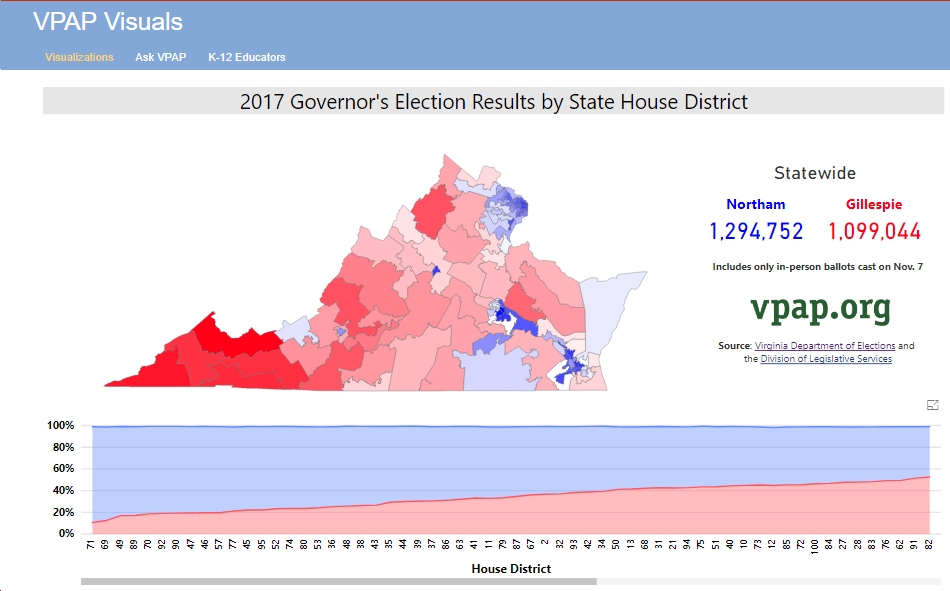 In HD-62 (Chesterfield County), Northam won 49.5%-49.4%, while Democratic House of Delegate candidate Sheila Bynum-Coleman lost to incumbent Republican Del. Riley Ingram 51.7%-48.2% (clearly, there were some Northam/Ingram voters here).
In HD-76 (Suffolk, Chesapeake), Northam won 49.8%-49.2%, but unfortunately there was no Democratic candidate in this district against Del. Chris Jones (R).
In HD-83 (Virginia Beach, Norfolk), Northam won 50.3%-48.3%, while Democrat David Rose-Carmack lost to Del. Chris Stolle 56.6%-43.3% (lots of Northam/Stolle voters here).
In HD-28 (Stafford County, Fredericksburg), Northam won 50.8%-47.8%, but Republican Robert M. "Bob" Thomas, Jr. appears to have defeated (pending recount?) Democrat Joshua Cole 50.08%-49.73% (11,833-11,749; definitely some Northam/Thomas voters here).
In HD-27 (Chesterfield County), Northam won 50.9%-47.6%, but Democrat Larry V. Barnett barely lost to Republican incumbent Del. Roxann Robinson 50.21%-49.78% (some Northam/Robinson voters made the difference here).
In HD-84 (Virginia Beach), Northam won 52.1%-46.7%, but Democrat Veronica R. Coleman lost to Del. Glenn R. Davis, Jr. (R) by a 51.65%-48.12% margin (a good number of Northam/Davis voters here).
In HD-100 (Accomack County, Northampton County, Norfolk), Northam won 52.7%-46.3%, yet Democrat Willie C. Randall lost to Del. Robert S. Bloxom, Jr. (R) by a 52.18%-47.64% margin.
In HD-40 (Fairfax County, PW County), Northam won by a whopping 54.7%-44.4%, yet it appears that Del. Tim Hugo (R) held on, pending possible recount, to defeat Democrat Donte Tanner by a tiny 15,103-14,988 (50.11%-49.73%) margin. Clearly, there were a lot of Northam/Hugo voters here…
Most astonishingly, in HD-94 (Newport News), Northam won by a 13.3-point margin (56.0%-42.7%), yet somehow the incumbent Republican Delegate, David Yancey, holds a miniscule edge of 11,597-11,584 over Democrat Shelly Simonds, pending recount. Obviously, there were a TON of Northam/Yancey voters here. Sigh.
Another interesting district is HD-68 (Chesterfield County, Richmond City, Henrico County), where Northam romped (56.7%-42.2%), yet Democrat Dawn Adams barely defeated incumbent Republican Del. Manoli Loupassi 50.38%-49.55%. So…tons of Northam/Loupassi voters, but not enough for Loupassi to survive, given Northam's 14.5-point edge in the district.
So what this the result of Republican gerrymandering? Not according to Kenton Ngo, who tweeted a bit earlier today: "My earlier pronouncements that VA House 2011 wasn't a dummymander appear to be wrong. @vpapupdates says Northam won 58/100 Delegate seats (not counting D-leaning absentees) while winning 54% of the vote…I think because Rs have, against all odds, picked up a D problem…What usually happens is that Democrats are packed into a number of 80%+ D seats because of urban racial voting patterns/VRA compliance, and the MOST Republican districts don't get to that level. Easier to gerrymander. But now, rural Republicans are so heavily concentrated…that you can't crack them up to gerrymander as easily. Can't drag Republicans out of SWVA. There are now 5 R seats that were 75%+ Gillespie. Spatial concentration is hitting urban Democrats AND rural Republicans in Virginia. (Hard to transfer to other states.)"
There's no paywall on Blue Virginia, and we definitely want to keep it that way! If you want to help support our work, you can donate here - thanks!
Also, you can
sign up for our weekly email list here
.