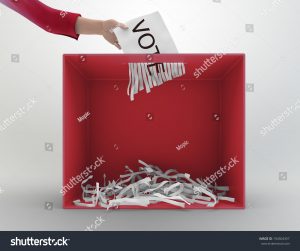 Back on December 9th, the Washington Post's Editorial Board called for a new election in Virginia House District 28. For those just turning in, hundreds of the district's voters, including some a precinct were mistakenly issued ballots to vote in the neighboring 88th House District. Voters in the 88th District, meanwhile, were mistakenly given ballots to vote in the 28th.
Part of the problem comes from the fact that there are split precincts between these two districts. A split precinct is a voting zone where part of the residents are in one district, while others are in another district. Sometimes the dividing line between the districts in this case can be a street, or even a property line! Unfortunately, registrations were also crossed for this year, resulting in some folks within the same household getting ballots for different districts.
If that wasn't confusing enough, there's also an issue of candidate names. Joshua Cole is the Democrat running in the 28th, while Mark Cole is the Republican running in the 88th. Many voters this year connected with candidates rather than party affiliation, so seeing the last name "Cole" may have caused some voters to not even question the ballot they received.
Given that there is only a 82-vote victory margin, and 147 votes were erroneously cast — 86 ballots in District 28 and 61 ballots in District 88 — the result of the election could very well be decided by the voters who were given incorrect ballots.
A federal judge recently suggested that the best course of action is a new election. I couldn't agree more.
While the Republican Party is understandably in opposition to a Special Election, and the Democratic Party is obviously in favor of one, the issue at hand transcends either party. For voters in the District 28 (and District 88 technically,) what's on the line isn't just the results of an election, but a fundamental trust in our electoral process.
Voters trust that as long as they keep their registration up to date, and exercise their right to vote, that the system should work as intended. But as things stand right now, hundreds of voters were disenfranchised due to no fault of their own, their electoral voices taken from them during perhaps one of the most important elections in a generation. As Democrats, we pride ourselves in striving to make sure elections are as open and as accessible as possible; as Virginians, we know that trust in our elections is vital.
The fabric of our democracy has been tested several times this year by Trump and his administration. We have to ensure that – at least here in Virginia – we strengthen that fabric rather than weaken it. That starts by ensuring voters can trust our elections.