As hundreds of thousands marched yesterday – led by amazing, courageous, passionate, brilliant, inspiring young people – against the scourge of gun violence in this country, what were Virginia Republicans tweeting about? A lot of them either said nothing at all/silence or tweeted about mundane stuff like attending a Little League baseball game or whatever. But then there were a bunch, including the Republican Party of Virginia, leading Republican candidates for U.S. Senate, and the Virginia Senate Majority Leader who had…uh, stuff to say.
Check it out below, starting with the ever-entertaining-in-an-insane-kinda-way Corey Stewart, who almost defeated Ed Gillespie last year for the VA GOP's gubernatorial nomination,, and now is running a self-described "vicious" campaign to take on Sen. Tim Kaine this summer/fall.
2A Rally in Roanoke @realdonaldtrump https://t.co/OH0vRZtsqX

— Corey Stewart (@CoreyStewartVA) March 24, 2018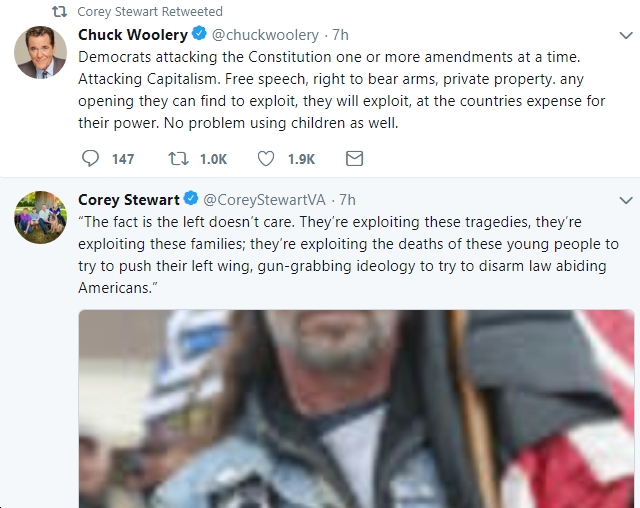 State Sen. Dick Black (far-right R), who also is obsessed with controlling women's bodies, persecuting LGBT people and  heaping praise upon war criminal Bashar Assad.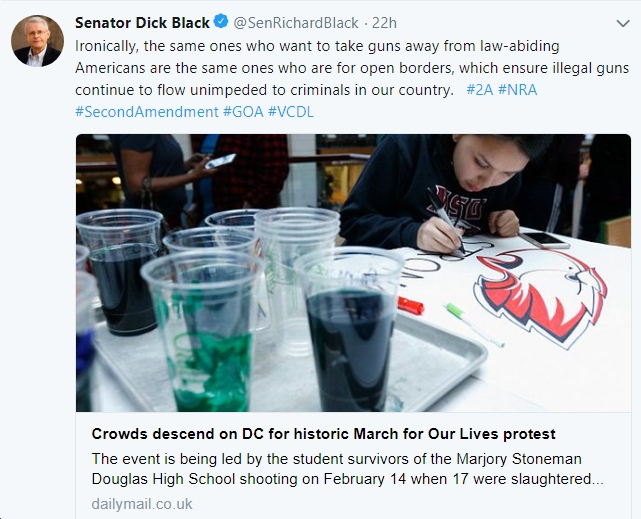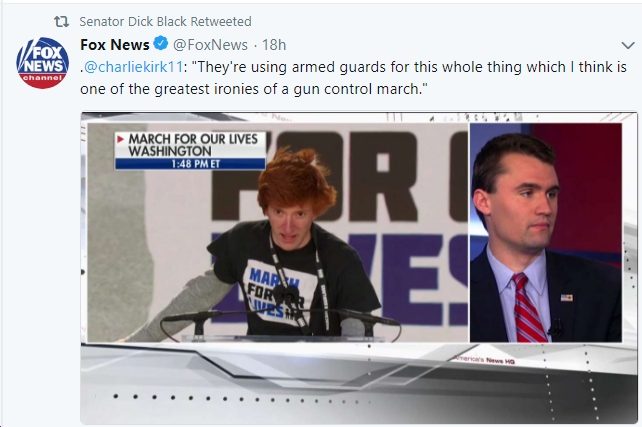 This one, by Rep. Tom Garrett (R-VA05), was actually tweeted out in the days leading up to the #MarchforOurLives, but it very much sums up the mindset of a lot of right wingnuts about how a woman's right to control her own body is somehow equivalent to the epidemic of gun violence in this country.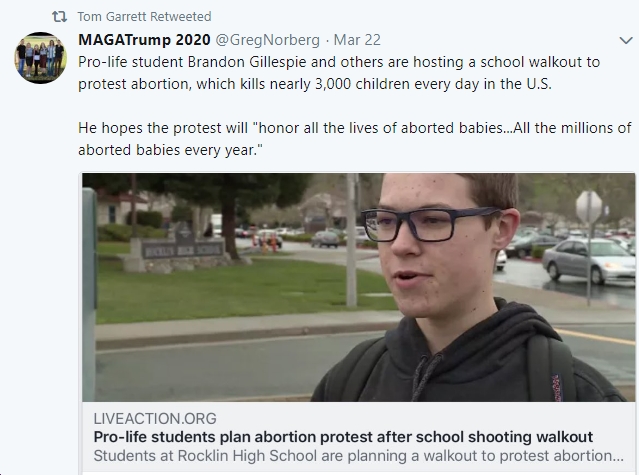 Check this drivel out from far-right, 2018 Virginia Republican U.S. Senate candidate, Del. Nick Freitas


Gun nut extraordinaire Virginia House Majority Leader Todd Gilbert (R) chimes in with his…uh…thoughts?


Virginia Republican Party spokesman Garren Shipley shows where his party's head is at…not a pretty picture.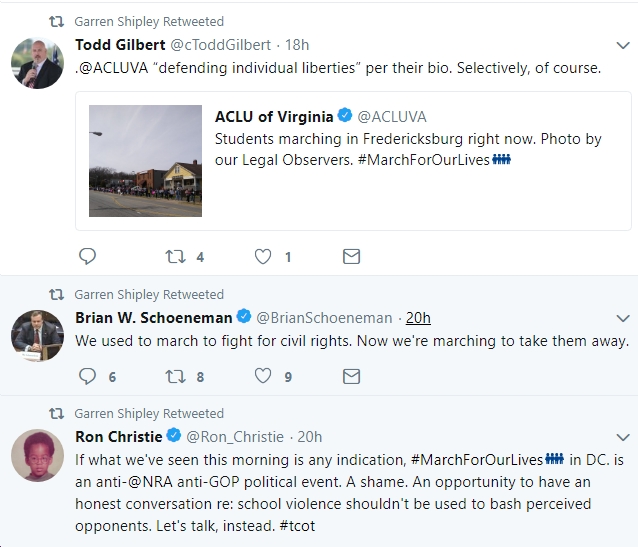 Long-time conservative blogger and 2011 Republican candidate for District 37 of the Virginia House of Delegates Brian Schoeneman chimes in with this gem.


And last but…ok, last (LOL), here's former VA GOP Chair, former Republican National Committee member and former Virginia Delegate Jeff Frederick, the gift that keeps on giving (or something).