by Adam Siegel
At the 39th annual Virginia Coal and Energy Alliance/Southern States Energy Board Conference and Expo on Monday, Alliance Chairman Jeff Taylor spoke out firmly as to Governor Ralph Northam
We really appreciate the governor (Democrat Ralph Northam) working with us. … He stepped up to the plate and did what he said he would do.
This comment came after the Governor's Saturday signing of legislation providing a special tax credit for Virginia meterallugical coal … a credit that Governor McAuliffe had a different take on as he "repeatedly vetoed the coal tax bill."
This tax credit has been strongly supported by southwest Virginia legislators and the coal industry — for the first, as a (potential) tool to boost economic activity and jobs in a depressed part of the Commonwealth; for the second, as a means to boost profits while avoiding dealing with the socialized costs from the production and burning of coal.
As a quick note, as of 2015, coal mining employed only 3,200 people in Virginia — in an economy with over 4 million people in the work force.  In other words, coal mining represents less than 1/10th of 1 percent of the Commonwealth's employment.  Even with mediocre solar policies, Virginia has more people working in the solar industry than in coal.
In the shadow of pipelines
Northam's signature on the coal-subsidy bill, to promote further polluting industry profiteering at taxpayer cost, is certainly overshadowed by the continued saga over Dominion and EQT's fracked natural gas pipelines. In that case, Governor Northam isn't just refusing to use his legal authority to reduce environmental impacts from pipeline construction and operations (if not to simply stop them), but is asserting incorrectly (aka, "falsely") that that authority – which New York's Governor Cuomo has used – supposedly doesn't exist. In addition to local environmental damage (tree cutting, risks to watersheds, etc …), these pipelines have been equated to the equivalent of constructing 42 new coal-fired power plants – a climate disaster, in other words. And analysis shows that the pipelines also create significant economic risks (and, likely, significant costs) for Virginians and for Virginia's economy.
Thinking about coal subsidy and pipeline support
Contemplating these Governor Northam's support for coal subsidies and Dominion's pipelines, what is striking is that both positions represent old-school concepts of economy vs. environment, of trading off (perceived) near-term gains for long-term costs, and of subsidizing polluting industry profiteering while increasing the socialized costs from producing and using polluting energy.
In both the coal subsidy and pipeline construction cases, there are narrowly defined jobs interests. Among other things, that leads to specific unions (first and foremost LiUNA) loudly backing the polluting projects and thus providing a "labor" voice pressuring the Governor to support pollution. The fact is, dispassionate analysis calls into question industry and union jobs claims.  Meanwhile, both coal subsidies and new gas pipelines will enable increased, adverse environmental impacts and pollution while fostering a weaker Virginia economy and competitive position than we'd see with a real embrace of the clean-energy revolution. That includes plunging clean-energy technology prices in a variety of areas – smart technologies enabling energy efficiency, energy storage, electrified transportation (especially buses as a path forward), and clean energy (efficiency, solar and wind).
It is also telling, at least to this writer, that Governor Northam has "moderately" put polluting interests in these situations before those of Virginia's 2016 Blue Wave voters desires and preferences.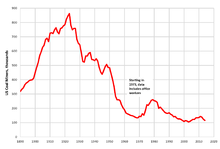 NOTE: The mining industry has been notable for increased productivity for the past century — more tons with fewer workers not just per ton, but in total. Increased coal production has essentially no correlation with employment increases, as the mining industry has been leveraging technology to get the miner out of mining.