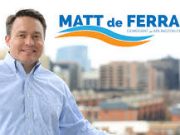 With just over ten days to go until Virginia voters head to the polls, I'm thinking through who to support in various races around the Commonwealth. One of these races is in my home county of Arlington, where Democrats hold a primary on June 12 to select our nominee for County Board. The two candidates are Matt de Ferranti and Chanda Choun, both of whom are impressive (note: Chanda Choun has a great/inspirational biography and could have a bright future ahead of him politically) and either of whom would make a far better County Board member than the incumbent, lifelong-Republican-turned-"Independent" John Vihstadt.
In the end, of course, I can't vote for both Matt AND Chanda, so after talking to Democratic friends, checking out their websites, watching the Arlington County Democratic Committee forum, etc., I've decided to join a TON of people I like and respect – Yasmine Taeb, Jarrod Nagurka, Mary Detweiler, Adam Ebbin, Laura Saul Edwards, Paul Ferguson, Cragg Hines, Andy Joskow, Lisa Sockett, Takis Karantonis, Vivek Patil, Alfonso Lopez, and many others – and endorse Matt de Ferranti. 
First, a few highlights from Matt's website, etc. include:
He has an impressive background of community service, including "[beginning] his career teaching in Houston's Fifth Ward, the hometown of civil rights leader, Congresswoman Barbara Jordan"; "work[ing] for Feeding America, the country's network of food banks, seeking to end hunger in America"; "work[ing] as an advocate for Habitat for Humanity and Rebuilding Together on low-income homeownership"; "work[ing] at the Education Trust to eliminate the achievement and opportunity gaps that leave far too many students without the skills they need to succeed in the 21st century economy"; and now "work[ing] for the National Indian Education Association, where he serves as Legislative Director, seeking to improve educational opportunity and outcomes for Native American students." Great stuff.
Extensive involvement in Arlington and in helping to electing Democrats, including "join[ing] the County's Housing Commission in 2013 and Arlington Public Schools Budget Advisory Council in 2014"; "[service] on the Joint Facilities Advisory Board, which brings Arlington County, Arlington Public Schools, and the community together to plan for our future"; and "[service] as a Precinct Captain, Area Chair, and, most recently, as Joint Campaign Co-Chair to elect Democrats from the School Board all the way to the Governor's Mansion."
On the issues, I'm very much in sync with the way Matt thinks, including a "steadfast" commitment to Metro; keeping the promise that was made "to residents along the Columbia Pike corridor to invest in better transportation solutions"; preserving open space and Arlington's tree canopy; building the Aquatics Center at Long Bridge Park; working both "housing affordability for middle class Arlingtonans" for and "affordable housing for our neighbors in need"; "embrac[ing] the green-tech economy and innovative sectors such as software companies," and "partner[ing] with [Arlington Public Schools] in making sure that schools are funded to meet our commitment to a world class education system."
Philosophically, Matt's attitude is the same as mine; that we need to not be penny wise/pound foolish, but to make smart, strategic investments in Arlington's future and not just look at the "cost" side but ALSO at the "return on investment" side. Unfortunately, the incumbent seems to think more like a Republican in looking overwhelmingly at the costs but not the benefits of making smart, necessary investments in keeping Arlington one of the greatest places to live in the country.
Finally, I believe that Matt's temperament and approach, in addition to the experience and values I outlined above, is VERY well suited to being a valuable member of the Arlington County Board. From everything I've heard about him, as well as my interactions with him, I've found him to be responsible, reliable, fair-minded, calm, sensible, thoughtful, consensus-oriented and pragmatically progressive.
Of course, regardless of which Democrat you support for the Arlington County Board nomination, I encourage everyone to vote on June 12. For my part, though, I'll be casting my vote enthusiastically for Matt de Ferranti.