When this news came the other day ("Based on issues identified during inspections and complaint inspections by the Virginia Department of Environmental Quality (DEQ), the Mountain Valley Pipeline (MVP) project team has agreed to temporarily suspend pipeline installation in Virginia."), some of my friends and allies were gleeful, with Tom Perriello for instance tweeting, "Huge win – construction suspended on Mt Valley Pipeline!"
Now, though, the Virginia DEQ has done almost exactly what the cynical, suspicious side of me always felt would happen (and what DEQ head industry tool David Paylor hinted at yesterday) – namely, exactly what their fossil fuel industry masters wanted them to do. With that, check out this bull**** (also see screenshot below; love the "Protecting Virginia's Environment" propaganda, by the way), issued at 5:30 pm the evening before the Fourth of July, clearly for minimal public attention. And remember, that's how these folks prefer to operate – with as little public scrutiny or input as possible. Let's make sure that they get the exact opposite, instead.
P.S. If you want to protest this shit, click here to find out about the "Die-In for Clean Air and Water Let us Stand with Red and Emily" at the Bell Tower on Capitol Square in Richmond this coming Saturday from 2 to 3 pm.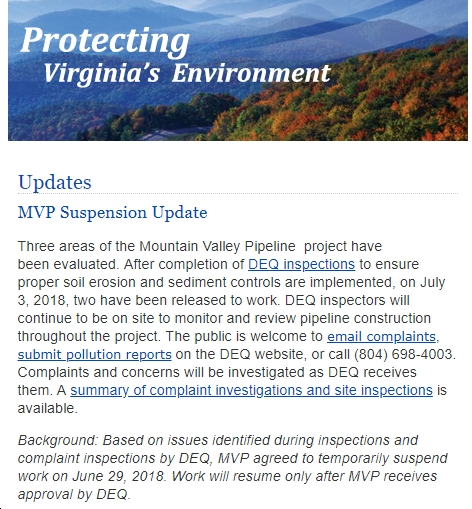 UPDATE 9:30 pm: As if that's all not bad enough, check out this crap…