This piece originally appeared in Richmond2Day
Hurricane Florence has wreaked havoc in the Carolinas, and we are all torn by the devastating images we see by the hour.  We in the Richmond area got our own taste, with a series of tornadoes rolling through the area, hitting Chesterfield County particularly hard and bringing widespread flash flooding.  Indeed, flash flood warnings have been issued regularly throughout the state and Florence, in downgraded form, has been drenching southern New England and has caused flooding in New Hampshire.  While Virginia didn't get hit as hard this time as we'd all feared, what has occurred is bad enough.  And besides – we know our address is on Hurricane Alley.  The names Sandy, Gaston, and Isabel are just a few of those seared in our memories (see list).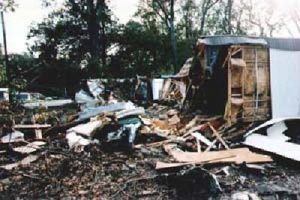 Rep. Dave Brat (R, VA-7), however, has voted consistently against funding hurricane andother disaster relief, even though Virginia has relied on such assistence on numerous occasions in the past and certainly will be this year in the aftermath of Florence.  For example, following Hurricane Isabel in 2003, 93,139 Virginians applied for federal relief from 99 jurisdictions in Virginia, and by January 2004, the Federal Emergency Management Agency (FEMA) had approved $257 million to individuals and businesses in Virginia to help them recover (details here).
Brat has also voted against extending funding for the National Flood Insurance Program (NFIP), despite that Virginians have received $720,147,929 in claim payments from the program since 1978.  Communities participating in the NFIP include all but one of the counties in Brat's district:  Amelia, Chesterfield, Culpeper, Goochland, Henrico, Nottoway, Orange, Powhatan, and Spotsylvania.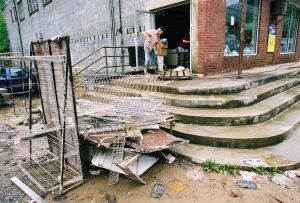 Brat's hardline position against offering emergency aid to fellow Americans – and to his own constituents – flies in the face of Central Virginia's values.  We believe in neighbor helping neighbor.  Most Americans do:  88% believe that the federal government has a duty to provide aid in natural disasters.  It's called compassion, and the human race probably wouldn't have survived without it.  But compassion is lacking in much of Dave Brat's voting record; in fact, during his first term in Congress, Brat earned the nickname the "Abominable No-Man" for his refusal to fund – well, just about anything.
Brat has explained his votes by citing his concerns over the federal deficit and the national debt (the debt is the accumulation over years of deficits).  Brat uses fear to whip up support for his extremist and minority view of the state of the economy.  Likening the US economy to a household budget – something politicians of all stripes do – Brat insists that doom awaits if we continue to be in the red.
During the Obama administration, for instance, Brat would urge people to "go look at the National Debt Clock" to "see for themselves" that we were in dire straits.  But, since voting for President Trump's tax cuts, which in slashing corporate taxes have decreased revenues and so increased the deficit (and debt) (analysis here), the Clock has mysteriously disappeared from Brat's speeches (you can see it here).
Are such fears legitimate?  Is the US economy just like a household economy?  And is America therefore so bankrupt that we must abandon fellow Americans who've lost everything – and perhaps be abandoned ourselves, come the next flood or hurricane?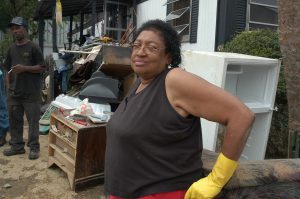 The short answer is "no."  The US economy is a tad too complex to be tallied in a checkbook register, and most working economists (vs. armchair theorists like Brat) had not been particularly alarmed – up until the start of President Trump's Trade War.  According to this Fortune article, because the US economy is the most powerful in the world, it can outmuscle its debt provided it keeps on its traditional path and does not adopt the tariffs and the anti-immigration policies advocated by Brat (following Trump). These protectionist measures are the greatest threat to the health of our economy, not helping Americans rebuild after disasters.
But Brat takes the pearl-clutching view of the economy. And he is apparently unmoved by images of devastated families and businesses, voting again and again to oppose hurricane and flood relief.  Leaving compassion aside – what a nearsighted view he has!  Surely from a strictly economic point of view it can only aid economic growth for families and businesses to get back on their feet and contribute to the economy again as quickly as possible.
Furthermore, Brat does not present an accurate picture of who receives aid.  In 2014 during his primary race against Eric Cantor, Brat actually used Cantor's support of the NFIP to attack him.  In order to garner support for his own political aims, Brat was not above spreading false information – as a self-proclaimed expert in economics – to convince people to take a position against their own interests:
"Who does that go to? A lot of the money goes to gazillionaires on both coasts who have homes in nice real-estate locations."
While there are legitimate criticisms of the NFIP (see here), and the program needsreform, Brat's statement is patently false:  The NFIP insures more than 5 million homes, and Americans in all 50 states have received claim payments from the NFIP.  Brat is correct that over the course of the NFIP's 50-year history, some wealthier counties have benefitted disproportionately from this program (not, however, "on both coasts," but primarily in Texas and Florida) – but so do many lower-income counties.  There can be no doubt that most of the voters in Brat's district who live in communities participating in the NFIP would be hard-pressed to recover from serious flood damage without this program.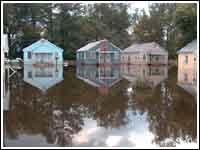 Nevertheless, Brat has consistently voted against the NFIP.  Brat's recent votes come in the context of the widespread devastation of last year's hurricanes.  2017 saw one of the most active hurricane seasons in history, with Harvey, Maria, and Irma causing nearly all of the flood damage in the US.  Millions of people in Texas, Florida, Georgia, North Carolina, South Carolina, Louisiana, Mississippi, Tennessee, Kentucky, Puerto Rico, and the US Virgin Islands suffered in these disasters, with thousands losing their lives.  Most of them are not "gazillionaires" and they cannot recover from the hundreds of billions of dollars of loss on their own.
And, as we in the Richmond area well know, we don't need a hurricane or tropical storm to have flooding.  Urban and suburban areas have become far more prone to flooding simply from heavy rains, as increased growth leaves less open ground to absorb water.  Greater density of construction, and even the flood control walls that prevent rivers from overflowing, sometimes also cause flooding by catching and holding run-off rainwater.
In addition, hundreds of thousands of Virginians live within the flood zone of creeks, rivers, dams, and reservoirs.  Just last month, parts of Lynchburg were evacuated over fears that College Lake Dam would fail and cause Lynchburg to be flooded with 17 feet of water in seven minutes.
And then there's sea level rise:  a recent study has shown that Virginians living on the coast have lost $280 million in home value since 2005 owing to floods caused by the rise in sea levels.
Brat's voting record on hurricane and flood relief deserves to be examined in detail, since it's goes very much against the interests of his constituents, of Virginia, and of the nation as a whole.
Dave Brat's Voting Record on Disaster Relief:  Too Extreme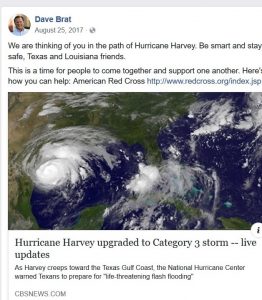 August 25 2017: in advance of Hurricane Harvey, Brat sends these warm thoughts to "friends" on the Gulf Coast.
September 8 2017: two weeks later, Brat has forgotten all about his "friends" and voted "no" on H.R. 601:  a hurricane disaster relief and long-term recovery bill.
The bill passed the House with huge bipartisan support (316-90), passed the Senate by a wide margin, and was signed into law by Trump.  Brat was way outside the norm on this one.
September 11:  just three days later, Brat issues this statement, linking our coming together after 9/11 and Hurricane Harvey to the unified response he predicts for the aftermath of Hurricane Irma: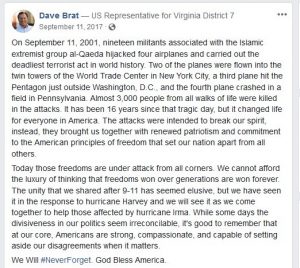 "The unity that we shared after 9-11 has seemed elusive, but we have seen it in the response to hurricane Harvey and we will see it as we come together to help those affected by hurricane Irma.  While some days the divisiveness in our politics seems irreconcilable, it's good to remember that at our core, Americans are strong, compassionate, and capable of setting aside our disagreements when it matters."
These are lofty words, but what about action?  When Brat had had the chance to "come together to help" victims and show them compassion a few days earlier, he chose to turn a deaf ear.
October 12, 2017:  Brat votes against HR 2266,  intended to provide FEMA and the Agriculture Department with additional funding for hurricane relief, fighting wildfires, recovery efforts, and the NFIP .  This was a bipartisan bill co-sponsored by another Republican member of the Virginia delegation, Rep. Goodlatte.
Again, Brat's position was extreme; the bill passed the House 353-69, passed the Senate easily, and was signed into law by Trump.
Here's an excerpt from Brat's statement (see his full explanation here):
"There was no way to anticipate or plan for Hurricanes Harvey, Irma, and Nate. These storms created devastation for millions of Americans, and I agree that Congress must provide emergency relief to get these communities back on their feet again. I voted to support initial Harvey Aid in the House, but I did not support the final package that failed to include spending reforms in September. Once again, a hastily-drafted emergency hurricane relief package was given to Congress this week, and I could not support it. While there is a time and place for emergency spending, our country has finite financial resources and zero effort was made to responsibly pay for the relief spending in the bill."
What is the "time and the place for emergency spending" if not following upon an emergency that Brat himself acknowledges could not have been anticipated?  And even if Brat is right that systematic planning is a good thing, is the time to make that point when millions are in desperate need?  Doesn't the compassionate person grant the emergency relief and follow up at a calmer moment with a better policy for the future?
December 21, 2017:  Brat votes against H.R. 4677, also intended for hurricane and wildfire relief.  Brat was in the minority on this vote, too, though not such a small one:  the bill passed 251-169.  This bill would allot money to the Army Corps of Engineers for construction, repair, and to alleviate coastal flooding; to the Small Business Administration for loans to small businesses and homeowners for disaster relief; and to the Department of Agriculture, to alleviate losses of crops and livestock sustained in the hurricanes and wildfires of 2017.
July 25, 2018:  Brat votes against S. 1182, which extends funding for the NFIP.  Brat was again in an extreme minority on this vote:  an amended version of the bill passed the House 366-52; the Senate passed it 86-12, and Trump signed it into law.
Every member of the Virginia delegation, Republican and Democrat, voted in favor of this bill with the exceptions of Brat and Rep. Tom Garrett (VA-5).
The amendment came at the insistence of some House Republicans who, while they recognized the need to keep the NFIP afloat during hurricane season, wanted to put pressure on Congress to consider needed reforms to the program.  The Republican Policy Committee's summary of S. 1182 includes the following:
"The House Amendment to S. 1182 only extends the program until November 30, 2018, maximizing pressure on Congress to enact a permanent solution that makes necessary reforms and provides certainty for insurance providers and housing markets."  (full text)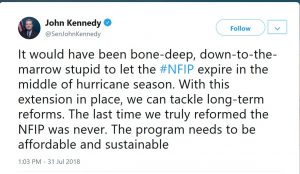 Not mincing his words even a little bit, Louisiana's Sen. Kennedy (R) acknowledges the need for reforming the NFIP – but also for immediate action.
But Brat voted with a tiny minority to strip this vital program of funds not only right in the middle of the hurricane season that is upon us today, but a few months AFTER floods in Central Virginia, including in his own district:  Culpeper, Goochland and Henrico, and the Richmond area had all recently been hit when he cast his vote.
Dave Brat has shown plainly that he is driven first and foremost by a hardline ideology that is based on factual error, blind to practical realities, and void of compassion.
As we approach the midterms, we voters in the 7th District should bear in mind that if Dave Brat were not in an extreme minority in Congress, and votes had gone the way he wanted, he would have left us high and dry in the middle of hurricane season – and not the kind of high and dry we want!