Courtesy of VPAP, here are some campaign finance numbers for several Virginia local candidates covering the period October 1-25. As VPAP notes, "This is the final public look at candidate finances before Election Day."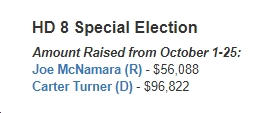 Arlington County Board
Democrat Matt de Ferranti raised $66,141 – far more than his Republican, er, "Independent" opponent John Vihstadt's $27,423. De Ferranti has $10,853 cash on hand while Vihstadt has $58,330.
Henrico County: Brookland Supervisor
Democrat Danny Plaugher raised $27,020 and has $12,297 cash on hand; Republican Dan Schmitt raised $35,332 and has $16,088 cash on hand.