Christian Worth is the Democrat running to flip VA-24 in a special election on December 18 – THIS TUESDAY!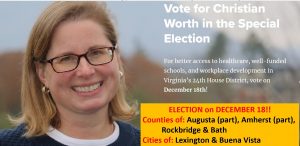 If she wins, there'll be a 50-50 tie in the Virginia House of Delegates and we'll be one step closer to a majority!

A split House of Delegates will almost surely guarantee ratification of the ERA in Virginia and the prioritization of the issues we Democrats most care about.
It would be fantastic.
And CHRISTIAN is fantastic!  Check out her website HERE.