Virginia elected officials respond to the bats***-crazy "Obamacare" ruling last night by a right-wing, activist judge in Texas. Now, I guess we'll see what two stolen Supreme Court seats will get Republicans…and how badly they will harm tens of millions of Americans.
Sen. Tim Kaine:
"This is devastating news for the tens of millions of Americans who could lose their health care. Americans with a history of cancer, diabetes, heart disease, asthma, an injury, or a whole host of other medical conditions who were protected under the Affordable Care Act are now at risk of losing their insurance. For the sake of all protected under the ACA, an appeals court needs to overturn this decision, and the Trump Administration needs to stop its cruel attacks on our health care."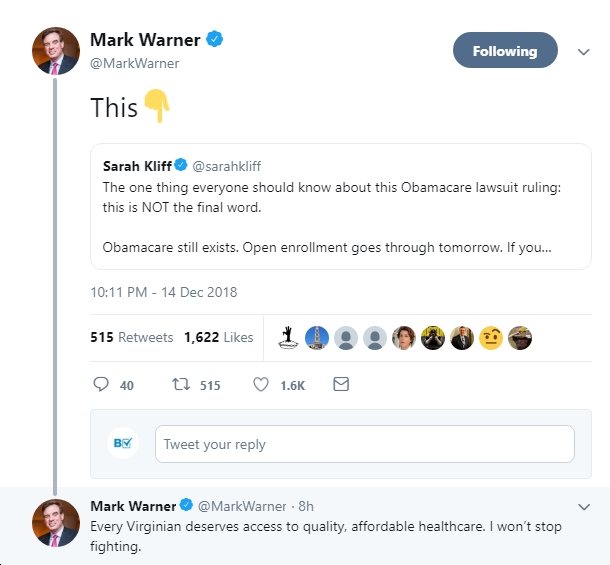 "This reckless court decision endangers the lives of millions of Americans who are going to lose their health care. It is an ideological decision in a case that has no legal merit. Last month's election results showed how important access to health coverage and protections for pre-existing conditions are for American families. We will take immediate action in the new Congress to intervene in this case and appeal this decision. House Democrats will do whatever it takes to make sure the protections enshrined in the Affordable Care Act endure. The lives and wellbeing of millions of Americans – including those living with pre-existing conditions – are on the line."

STATEMENT OF ATTORNEY GENERAL MARK R. HERRING
~ On a Texas federal district court ruling that found the Affordable Care Act unconstitutional ~
Attorney General Mark R. Herring released the following statement on last night's ruling in a Texas federal district court that found the Affordable Care Act, including its protections for Americans with preexisting conditions, unconstitutional. In June, Attorney General Herring 
intervened to defend against the suit
, leaving him and his colleagues to defend Americans' healthcare after President Trump switched sides and joined with Republican state attorneys general in trying to strike down the law.
"I intervened to defend Americans against this suit because I recognized that, even though the legal theory was far-fetched at best, the suit still represented a real and clear threat to Americans and their healthcare coverage. Now, thanks to clever venue shopping and the support of President Trump, the politicians who brought this suit have scored a political victory, but I suspect their legal victory will be short-lived. This fight isn't over by a longshot. I'm going to keep working to protect the millions of Virginians who have benefited from the ACA , and who deserve better than the constant attacks Republicans continue to launch on their healthcare.
"I would also remind all Virginians that today is the final day to sign up for healthcare coverage on the healthcare marketplace. This ruling doesn't change your ability to buy insurance for you and your family, but the deadline is today. So ignore President Trump and his allies and go buy the coverage you need at 
www.Healthcare.gov
."
If this ruling takes effect and is allowed to stand, companies could discriminate against the approximately 1.3 million Virginians, or 25 percent of all adult Virginians, who have a preexisting condition. This ruling could raise prices for premiums and prescription drugs for all Americans, and undo the Medicaid expansion that Virginia finally passed this year.