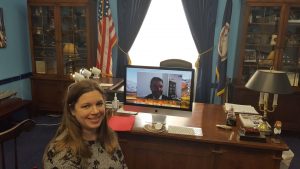 by Cher Muzyk
We are essentially a one-income family. My husband is an attorney employed by the federal government and earns over 90% of our income. He was deemed "essential" during the partial government shutdown, meaning that he was required to work every day, even though he was not being paid. No sick days were permitted, even when I suffered from pneumonia just after the holidays and could have used help caring for our children while I recovered. My husband works hard to keep our country safe and I believe that he deserves to be paid on time. We were able to pay our bills because we had a small savings but we could not have made it for months. Many families I know in the area suffered a great deal more than we did and had to go to food banks to feed their families. When President Trump announced that the partial shutdown could last months or even years, we were terrified. And that is why I called my Congressman Rob Wittman almost every day for a month demanding a personal meeting with him.
As an activist, I do not sit passively by allowing my family and my community to suffer from the effects of bad political decisions. I speak out and I am part of the democratic process. With regard to the shutdown, I realized that the only thing I could do to make a difference was to share my family's shutdown story to try to personalize the shutdown for the nearly 80% of Americans who said they were not personally affected by it.  After attending the AFL-CIO-sponsored rally in DC, Reuters interviewed me and our story made it onto multiple media outlets in the US, including ABC World News Tonight, and even internationally, including BBC News.
After my initial requests for a meeting with Wittman fell on deaf ears, I filled out the meeting request form online and added a link to the media's account of my family's shutdown story.  Within one business day, I heard from Wittman's communications director letting me know that  my request for a meeting was approved at the exact date and time I had requested. I followed up with the office several times letting staff know that I would not drive all the way from Nokesville into the city unless I would be meeting with Wittman directly.
Even though we have differing political views — I am a progressive Democrat and Wittman is a die-hard conservative Republican (who has voted with Trump 90.6% of the time according to fiverthirtyeight.com) — I was desperate.  I  felt compelled to share my personal story with him in the hopes that he would somehow see things differently and do something, anything, to help end the shutdown. So this past Friday morning, armed with more than a dozen letters from VA-01 residents imploring Wittman to end the shutdown, I dropped my kids off at preschool and headed down I-66 to Capitol Hill.
I had no idea how it was going to go, since Wittman very rarely meets with constituents.  I planned to disagree with everything he said. I steeled myself like I do when forced to listen to FOX News while in an office waiting room.
When I arrived, two young men, I assume interns, met me at my assigned parking lot and walked me directly to Wittman's office in the Rayburn building.  Several staffers introduced themselves and then Kathleen, the communication's director, welcomed me and then ushered me into Wittman's office. As she opened the door, I stepped in and first saw Wittman's wall of fish, and then his desk. I was very surprised to see that Wittman was not sitting at his desk, but instead his smiling face was front and center on a large Apple monitor prepped and ready at the very edge of his desk. It turned out that because Congress was not in session on Friday, Wittman did not come into his DC office and instead decided to participate in our meeting via Skype. He did not mention where he was, but I assumed it was his home office because he said he had been doing radio interviews that morning.
Once the shock of seeing him on a screen wore off, I got right into my family's story and presented the constituent letters I brought with me, because I did not know how long I was going to have to speak to him. Wittman listened intently and repeated over and over how he put forth bills guaranteeing that all federal employees would eventually be paid. He appeared well-meaning in his bid to make sure we eventually would get paid, but did not seem to understand the urgent need to be paid on time – and that missing two paychecks means financial disaster to many families.  I brought up the tone-deaf comments made recently by Larry Kudlow and Wilbur Ross. Wittman shook his head in disgust and said that the comments were inappropriate and not helpful.  He even brought up the tongue-lashing Senator Ted Cruz received at the hands of  Senator Michael Bennet. To me, it seemed Wittman was attempting to separate himself from the likes of those hard-line Republicans, which was astounding to me based on all previous communications I have seen, heard, or read from Wittman.
Unbelievably, Wittman then told me that he had been working together with a "Virginia Delegation" of lawmakers to try to come up with solutions to end the shutdown. I asked him who he had been working with and he told me Senators Tim Kaine and Mark Warner. Wittman told me that he has a long history with Tim Kaine, that they have known each other for decades, since they were both in local government. Wittman mentioned no other Virginia elected officials. And in order to discourage this or any future administration from threatening a shutdown for a political purpose, Wittman stated that he was going to try to get a bill passed that would remove the classification between essential and non-essential federal employees, keep all workers on the job during a shutdown, and guarantee on-time pay for all government workers during any future shutdowns.
As our conversation continued, I asked him why the federal budget and the border wall had to be connected. I explained to him that it felt to us that we were being used as political pawns and were innocent victims in a political game. While he did not answer me directly, he told me that Republicans had to take the fault for some of the shutdown situation because they had two years to secure the border while enjoying a majority in both houses, yet they could not come to an agreement among themselves.  Wittman blamed Paul Ryan directly.
I asked him about his repeated public statements that we need "the wall," and he replied that a wall "from sea to shining sea" is not needed and further, that no wall is needed along the Rio Grande and "many other places."  The longer we debated the subject, Wittman's description went from wall, to barrier, to "some sort of physical structure." When pressed, he  agreed that our money would be better spent investing in technology, such as drones and sensors, rather than building a wall. I was flabbergasted when he commented that a physical wall will not solve the humanitarian crisis at the border.
Wittman stated that, in his view, we need more skilled and well-trained border patrol agents, hundreds if not thousands of immigration judges, and the construction of a permanent federal facility (not run by a private prison) with the sole purpose of providing asylum seekers with healthcare, food, and a safe place to stay until they are processed.  Wittman's argument was that in some places (identified and vetted by experts in the field) a physical barrier is necessary to  "encourage asylum seekers to enter our country legally at border crossings." He told me that whatever Congress decides is the budget for border security, only a very small percentage, literally in the single digits, should be used for construction of any physical barriers or structures along the border. He revealed a new idea that he said he has been working on that would involve the Department of State placing US immigration judges in consulates in countries in Central and South America so asylum seekers can start the immigration process before walking 2,000 miles and creating a backlog at the US border. Finally, Wittman listened to me and stated that as a conservationist he agreed with the litany of environmental issues that make a physical wall at the border a horrible idea and again downplayed its importance. Not once did Wittman mention illegal drugs coming in from Mexico, human trafficking, or any other dangers to Americans from south of the border.
Very obviously missing from our conversation was any mention of President Trump by Wittman. I told Wittman that I was surprised to hear him speaking about issues in a more moderate manner than he does on social media, in his emails, or when his staff speaks for him on the phone. He said that it is very difficult to communicate nuanced messages in 180 characters. I told him it would be a better idea to hold town halls and communicate directly with constituents. He said that after the shutdown he was going to get back to his "Tele-Town Halls" because he believed they were effective. He also said that he would work with his communications team to make sure his official communications did not have too much of a "political slant."  No response on my in-person town hall suggestion.
In the end, Wittman disagreed with shutting down the government and holding families like mine hostage in order to solve a "problem" that Republicans could have solved – but chose not to do so – and now everyone is suffering for their lack of governing.  I looked at my watch and realized that 45 minutes had flown by. When I walked out of his office, my head was spinning. I could not believe that I had 45 minutes of uninterrupted time speaking with Wittman, albeit while he was on a screen, about some of the most important issues facing our country. I was dumbfounded by how receptive he was to my unabashedly progressive commentary and how he appeared to value my opinions. I actually felt exhilaration after hearing from a much more moderate Wittman. My mind was racing. Who is this person? Wittman boasted about working with Tim Kaine and never once mentioned Trump?  Wittman blamed his own party for causing this shutdown?  He pledged to work hard to keep asylum seekers safe, fed, and healthy?  He said that the crisis at the border is a humanitarian crisis? I was perplexed but hopeful.
Sadly, my hopeful feelings did not last long, because within hours after the shutdown ended (and our meeting), Wittman sent an email railing against "illegal immigration." He called for the end of family reunification immigration calling it Trump's favorite term "chain migration." He once again stood with Trump calling for the end of the Diversity Immigrant Visa Program which Trump has opposed and called those immigrants who qualify for the program "the worst of the worst." And Wittman stated, "We must secure our border, and it is my hope that Democrats will finally come to the table to protect Americans."
I cannot believe the same person made these inflammatory comments only hours after our conversation. Clearly, no ground was broken during our time together. Nothing was learned. No seeds planted. It was just Wittman telling me what I wanted to hear, placating me. No wonder he is rarely willing to speak publicly about any of his views, because they change with his audience. Wittman is not to be trusted. He is a political chameleon, shape-shifting his way through each interaction. He camouflages himself to conform with the opinions of those around him. I would respect him more after our meeting if he would have given it to me straight rather than cajoling and misleading me. We could have agreed to disagree and called it a day. That being said, the meeting was not a waste of my time. Having fact-based discussions and working together honestly to find intelligent, nuanced solutions to our problems is not only effective governing, it is the American way. We live in a participatory democracy and I participated. Too bad Wittman did not. We deserve better.