Sad news from Prince William County, where long-time (37 years!) Supervisor John Jenkins (D-Neabsco District) "passed away on Wednesday, Feb. 6 at Inova Fairfax Hospital. He was suffering pneumonia after complications from knee surgery in October." According to the PW County website:
John D. Jenkins began serving on the Board of County Supervisors in 1982 as the representative for the Neabsco District and is the longest serving incumbent Supervisor on the Board.
During his tenure, he has twice served as Vice Chairman of the Board and has served on numerous regional, state and national committees. The committees include two terms as Chairman of the Northern Virginia Regional Commission, two terms as State President of the Virginia Association of Planning District Commissions, one term as State President of the Virginia Association of Counties and serves as Past Chairman of the Virginia Railway Express Operations Board.  In 2003, Governor Warner appointed Supervisor Jenkins as a member of the Virginia Information Geographic Information Network (VGIN) Advisory Board. He currently serves as Chairman of the Potomac and Rappahannock Transportation Commission.
Supervisor Jenkins participates in numerous veterans organizations including the Veterans of Foreign Wars, American Legion, Disabled American Veterans and many other civic and community groups and is an ardent supporter of youth activities and programs that serve Prince William youth.
Supervisor Jenkins is a retired Regular Army Lieutenant Colonel, a graduate of the University of Nebraska at Omaha, a graduate of the U.S. Army Command and General Staff College and holds a Masters Degree in Technology of Management from The American University. He and his wife, Ernestine, live on Windflower Court in Dale City.
My deepest condolences to John Jenkins' family, friends, colleagues and people of his district. See below for some statements from those who knew and worked with him…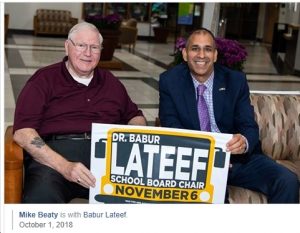 From PW County School Board Chair Babur Lateef:
I am saddened by the passing of my good friend Supervisor John Jenkins. John was the long serving County Supervisor for the Neabsco District. He had committed his life to his community, his county, and his country. Well known as a pillar of Prince William Politics, he has spent his life successfully advocating on improving the education and services for Dale City and Prince William County. He was a patriotic soldier, fantastic father, incredible husband, and a dedicated public servant. His list of accomplishments and the lives he has touched is impossible to fully inventory. I will have more to say over the next few days. My deepest condolences to his family and my dear friend Earnestine Jenkins. May God make it easy for all that loved him.
Del. Hala Ayala (D)
This week has been so difficult to say the least. This morning, I woke up to the news that Supervisor John Jenkins (The people's Supervisor) has died. John was so much more than a friend, he was a mentor.
Many moons ago, I met John and Ernestine. I date this back to 2008. I didnt get into local politics and had volunteered on the Presidential and statewide races and engaged in activisim. I met John and Ernestine at a local function. Meeting John was like meeting a gentle lion. Smart, witty and quite. He was intentional when he spoke. He said to me once, that words are to be used wisely.
John saw something in me that I didnt see in myself. He took me to my first PWC Democratic Meeting. He introduced me to a future Senator, Jeremy McPike. Who at the time was beginning a Delegate race. John said, "Hala.. this is a guy you want to get behind." And I did.
John helped me navigate my political path, he gave me advice and taught me the ropes. He also encouraged me to run for the House of Delegates. Although he knew it would be tough, he was very intentional with his words and sentiments. He said you go, run! I have your back. And he did. John's decades of service is beyond measure. He has dedicated his life to public service and the service of others. You called John, he was there.
Today, a piece of my heart is missing and broken. I not only lost a friend and a mentor, but lost the person that was like a father to me. It's hard to say good bye … I wished I had more time to say thank you… just one more time.
John, may you memory and your spirit be eternal. RIP.
State Sen. Scott Surovell (D)
RIP Supervisor John Jenkins. John was the longest serving supervisor in Prince William County and got a lot done over three decades after serving in the U.S. Army.
State Sen. Jeremy McPike (D)
It has been one of the toughest weeks I can remember. Now The Honorable John Jenkins has left us.
John has been a constant in Dale City growing up. John was always there and at every event. As Dale City grew John was there. 4th of July parade John was there. Sporting events, graduations, Dale City Civic Association, Dale City Volunteer Fire Department, weddings and funerals- John was there. John Jenkins was the father of Dale City and to everyone who grew up there knew and loved this man. We have lost a treasure.
As a kid growing up I remember seeing him be at each opening day of baseball to throw out the first pitch. Many kids like me looked up to John – not just because of his stature, but because he exemplified life in public service. One of the greatest honors was to return to those same fields this past spring and throw out the first pitch standing beside him.
My prayers go out to Ernestine. We love you and are with you and your entire family always.
RIP John Jenkins. Dale City and all of Prince William are forever grateful. It has been an honor and privilege to call you friend and mentor.
PW County Supervisor Martin Nohe (R)
This morning, Prince William County lost one of our greatest citizens. Supervisor John Jenkins has represented his constituents on the Board of County Supervisors longer than anyone else in PWC history. But what made him remarkable was not the length of time that he served, but rather the commitment, passion, and dedication that he showed every minute that he was in office. There is no one who loved serving this community more than John, and it is difficult to imagine that anyone will have the opportunity to represent what is best in Prince William County for as long as John did anytime soon. It is every bit as hard to imagine that anyone will have the opportunity to do it better.
As far as I can tell, John loved four things. First was God, to whom he prayed every day and, when he did so publicly, he did so with eloquence and grace. Second (and a VERY close second at that) was his wife Ernestine who was beside him through every happy moment and sad moment of their 60 year marriage. Third was his three sons and daughters-in-law and the many grandchildren and great-grandchildren with whom he posed for a giant family portrait every year. And fourth came Prince William County, and in that regard, he was a role model to anyone who aspires to represent the people of the place where they live.
The mark that he will leave on our entire community, but especially on the neighborhoods of Dale City, is eternal and extraordinary. John did not grow up in PWC, but more so than any of the hundreds of thousands of other "transplants" who have come here over the past 50 years, John Jenkins made this county his home and did everything in his power to make it the best that it could be.
I took this picture with John at the Dale City Parade July 4th a few years ago. While Independence Day is a celebration of our entire nation's great history, during that parade it always felt like a celebration of our county, which was in large part due to the work that John and Ernestine put into it each year. When I walked up to him and asked if we could take a selfie, he smiled and replied, "Yeah! Get on in here!!" We were both tired and sweaty after a long parade on a hot day, but John was still generous with a smile and some words of encouragement about whatever the next crisis was going to be at the upcoming Board meeting. He asked to see the picture and we both laughed a little about it and said, "That's a good one!" This picture is how I will always remember John: a big smile on his face, enjoying time with the family, friends, and citizens that he loved so much.
Prince William County's loss is Heaven's gain. Our community will never be the same without him, but we should be glad to know that it is an immeasurably better place because he love it so much.
Prince William County Democratic Committee Chair Don Shaw:
My heart goes out to the Jenkins family in this difficult time. John was a mentor, dear friend, and pillar of the community. We have lost a true gentleman who dedicated his life to serving others. I remember many long discussions with John about his love for his family and his community, where it's been and what his vision was for its future. He will be sorely missed.
PW County Board Chair candidate Ann Wheeler (D)
Prince William County has lost a true champion of the people, and a beloved Supervisor. My heartfelt condolences go out to the Jenkins' family. His presence and guidance will be missed throughout the county. I know I will miss him.
Potomac District Supervisor candidate Kenny Boddye (D)
A great man has been called to Glory. Supervisor John Jenkins' history of service – both in uniform and in public life – makes him a legend in our community. It is one of the greatest honors of my own life to call him friend.
I send my heartfelt condolences to Ernestine Jenkins and the rest of the Jenkins family. I'm sure I am joined by countless others in our Prince William Family when I say our prayers are with you.
Rep. Gerry Connolly (D-VA11)
Prince William County has lost a giant figure whose legacy and imprint will live on throughout our community. John Jenkins was my dear friend and my heart breaks for his family. My full statement: pic.twitter.com/fnqBRMKvpV

— Gerry Connolly (@GerryConnolly) February 7, 2019