Advertisement

Back in early May, long-time Prince William County Supervisor Martin Nohe (R) was upset in a Republican "firehouse primary" by outsider/gadfly Independent-turned-Republican John Gray. As I wrote at the time, Gray ran as a hard-core Trumpster (e.g., virulently against "criminal illegal aliens" and Prince William County "becoming a sanctuary county," also against what he calls "so called 'transgender rights'"), who Kenny Boddye correctly pointed out "represents the xenophobic views of Corey Stewart, and the transphobic views of Bob Marshall." Given his extremist views, perhaps we shouldn't be surprised that Gray posted on his Facebook page about campaigning with "alt-right internet troll and conspiracy theorist" (e.g., "Pizzagate") Jack Posobiec. Still…is this really what the Republican Party has descended to? (that was a rhetorical question, as we all know the answer is a resounding "YES!")
With that, here's some background on John Gray's new BFF Jack Posobiec:

"An American alt-right internet troll and conspiracy theorist best known for his pro-Donald Trump comments on Twitter. He has promoted fake news, including the debunked Pizzagate conspiracy theory that high-ranking Democratic Party officials were involved in a child sex ring. He has been retweeted by President Trump."
"Posobiec promoted the discredited conspiracy theory that Seth Rich had leaked e-mails from the Democratic National Committee to WikiLeaks."
"In June 2017, shortly after Republican congressman Steve Scalise was shot during a baseball practice, Posobiec falsely tweeted that Loretta Lynch had previously called for 'blood in the streets' and that Bernie Sanders had ordered his followers to 'take down' Trump.
"Posobiec has frequently tweeted about the white genocide conspiracy theory."
"He has repeatedly published posts containing the white supremacist code '1488', or the Fourteen Words, and is a supporter of the slogan."
"In May 2017, Posobiec hired neo-Nazi brothers Jeffrey and Edward Clark to help create a documentary about the murder of Seth Rich for The Rebel, a far-right Canada-based website. Jeffrey Clark was arrested by the FBI on gun charges after saying that the Jewish victims of the October 2018 Pittsburgh synagogue shooting "deserved exactly what happened to them and so much worse". Posobiec later said that he had never heard of Jeffrey Clark and had never made a documentary about Seth Rich, even though HuffPost published photographs of Posobiec and the Clarks working together."
This could go on all day, but you get the picture. So why is the Republican nominee for Prince William County Board Chair, John Gray, posting on his Facebook page about campaigning with this guy and weirdly referring to him as an "investigative journalist?" One can only conclude that Gray likes, admires and agrees with Posobiec's views. One can also conclude that Prince William County voters need to turn out in droves this November and vote Democratic, up and down the ballot, starting with Ann Wheeler for Chairman of the Board, and also: Raheel Sheikh for Coles District Supervisor; Kenny Boddye for Occoquan District Supervisor; Andrea Bailey for Potomac District Supervisor; Maggie Hansford for Brentsville District Supervisor; Danny Funderburk for Gainesville District Supervisor; Margaret Angela Franklin for Woodbridge District Supervisor; Victor Angry for Neabsco District Supervisor; etc.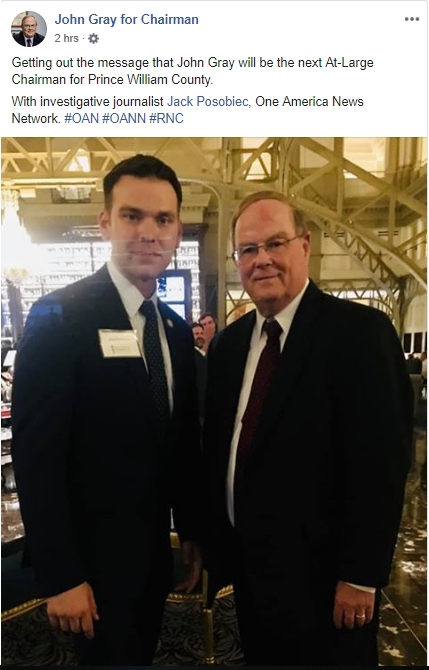 There's no paywall on Blue Virginia, and we definitely want to keep it that way! If you want to help support our work, you can donate here - thanks!
Also, you can
sign up for our weekly email list here
.