by Robert Rigby, Jr.
In the past two weeks, Vinson Palathingal, a Republican candidate for an at-large spot on the Fairfax County School Board in the November 5 elections, has sought and received the endorsement of an anti-Muslim activist and a lead operative for an anti-LGBTQ hate group. Palathingal has also engaged in race-baiting and poverty-baiting in his loud opposition to Fairfax's policies on racial and socioeconomic equity.
Last week, for instance, Palathingal did an interview with and received the endorsement of notorious anti-Muslim activist, former Trump aide and current unofficial advisor Sebastian Gorka. During the interview, Gorka and Palathingal spent most of their time trashing teachers' unions. Another Republican at-large candidate, Priscilla DeStefano, has also done an interview with Gorka.
This week, Palathingal received and welcomed the endorsement of Cathy Ruse, who is a leading lawyer for the DC-based Family Research Council (FRC). The FRC has been labelled as an anti-LGBTQ hate group for its rhetoric that LGBTQ people are diseased, mentally ill and pedophiles. Ruse herself has led efforts (what her husband Austin calls "Cathy's team in Virginia") in opposition to policies in several Northern Virginia school districts designed to be inclusive of LGBTQ students and their families, including in FCPS. Her blogging and other methods no doubt increase the risk of harassment of LGBTQ students and faculty in FCPS schools.
Springfield District far-right Republican candidate Elizabeth Schultz and Providence District anti-LGBT Republican candidate Andrea Bayer are also linked to Ruse and the FRC.
Then there is Palathingal's tempest in a teapot about Fairfax County Public School's boundaries and the "One Fairfax Policy." "One Fairfax" is a policy adopted by both the Fairfax County Board of Supervisors and the Fairfax County School Board to consider racial and economic equity in their decision-making going forward. Palathingal has riled people up with the notion that this policy will lead to busing of students for hours across the county (this is absurd; FCPS has no intent to bus children away from neighborhood schools) and will depress property values by bringing in children of lower economic status and lower scores to well-off schools.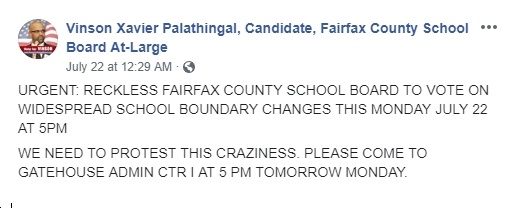 So who do Palathingal, DeStefano, Schultz and Bayer (and the other Republicans on their ticket) expect to vote for them, if they seek and welcome the endorsement of anti-Muslim and anti-LGBTQ hate figures, and then turn around and race-bait by opposing policies of equity, as though that were a dirty word? At the rate they're going, no one will be left in this highly diverse county to check the box for them on November 5.
I call on Palathingal, Schultz, Bayer and DeStefano to reject the endorsement and association with anti-Muslim Gorka and anti-LGBTQ Ruse, and to reject race-baiting in their rhetoric around the pro-equity "One Fairfax Policy." If they do not, I call on the other Republican candidates on their ticket to distance themselves from these polarizing candidates.
Regardless, people of good will should be sure to vote in the Fairfax County School Board election on November 5, and to take their friends and family with them to vote as well. The civic health of our community is on the line if these fear-mongers take office.