Advertisement

Good to see Beto O'Rourke coming to Virginia to campaign for Democratic candidates (Dan Helmer for House of Delegates, Brian Powell for Roanoke County Supervisor, Amy Laufer for State Senate, etc.). I hope to see a lot more of this from 2020 Democratic presidential candidates between now and November 5.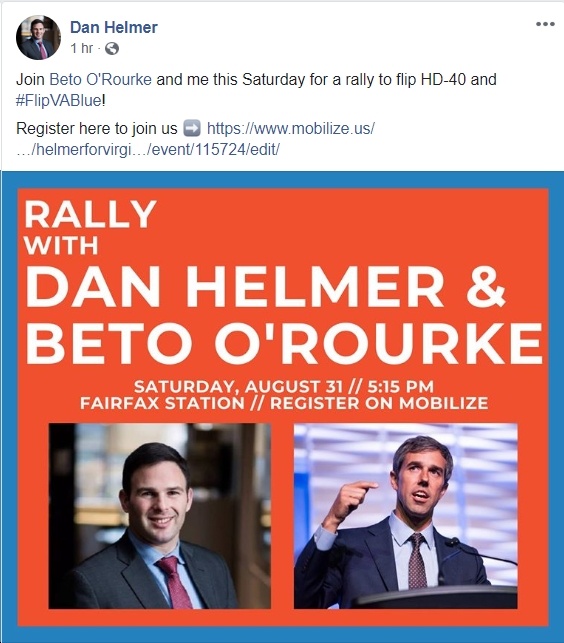 From the Brian Powell for Supervisor campaign:
Beto O'Rourke to make Campaign Stop in Roanoke County
Presidential candidate, Beto O'Rourke, will be making a campaign stop in Roanoke this Friday at Wine Gourmet, a local small business owned by Brian Powell, candidate to represent Cave Spring on the Roanoke County Board of Supervisors.   Beto and Brian will be joined by other local Democratic candidates and elected officials.
"This stop by a presidential campaign goes to show that local issues matter and small business issues matter," said Brian Powell.  "Our conversations need to extend beyond Roanoke County, as we are part of the bigger picture.  We can't let our regional boundaries, our economic boundaries, or our political boundaries stop us from engaging at all levels.  Beto O'Rourke's decision to stop in Southwest Virginia goes to show, politics isn't all about DC, it is about our smaller communities, our residents, and the issues that impact their daily lives."
Event Details
Location: Wine Gourmet, 3524 Electric Road, Roanoke, VA 24018