by a contributor from Chesterfield County
State Sen. Amanda Chase (R-SD11) is very upset her campaign signs are bad for local small businesses.  Three of her large, 8-foot-by-4-foot signs had to be removed recently, at the request of local Chesterfield business owners, because they were scaring away their customers. First, local furniture store owner Brandon Martin posted on Facebook his discontent for a large sign blocking his view off of Hull Street. (note: the store, Hoo's Pickin', is located at 4218 Old Hundred Road in Chester)
The business owner went on to complain that, while the sign was actually on the property adjacent to him, it blocked his entrance and he worried customers would think he supported the State Senator, which he does not.  Apparently, this is the second year in a row that candidates have blocked the view of his small business from the highway.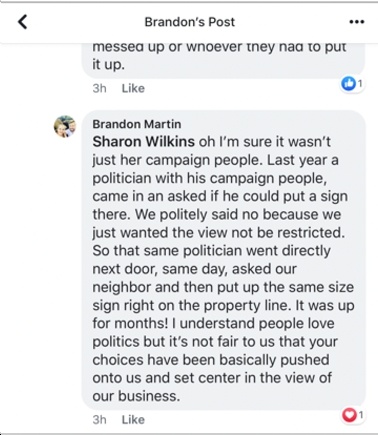 But it wasn't only Mr. Martin who had a problem with the giant Senator Amanda Chase signs. A sign was also placed in the parking lot of a local Chesterfield car wash service. After the sign was first installed, customers with monthly subscriptions began to call and cancel. The sign was then removed.  This did not sit well with Senator Amanda Chase; in response, she took to her personal Facebook page to disparage her own constituents.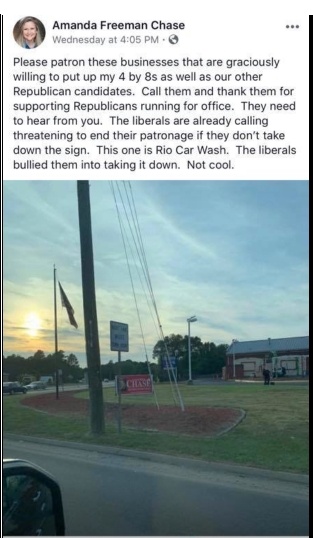 "Not cool" Senator Chase said, when the free market pressured the car wash business to remove her sign. Let's not forget Senator Chase's personal boycott of Uber in favor of a government-funded taxi ("In the second half of last year, Chase's office called Capitol Police to have them transport her several times to Virginia Commonwealth University Medical Center so she could visit an aide who was in the hospital, to the Carytown business district, and for trips that were a brief walk from Capitol Square, according to records the Richmond Times-Dispatch obtained in a Freedom of Information Act request."), as the Richmond Times Dispatch reported here.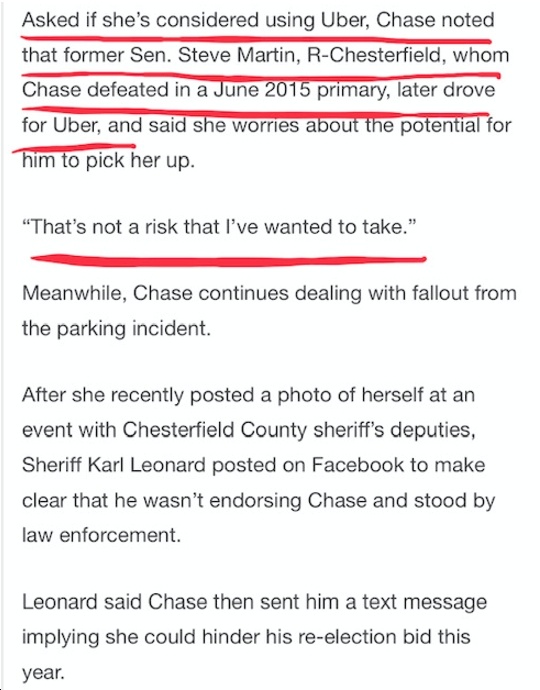 But wait — it gets worse! Remember last October 2018, when Senator Chase claimed "the best cure for a liberal is a job?", as she posted on her Facebook page here?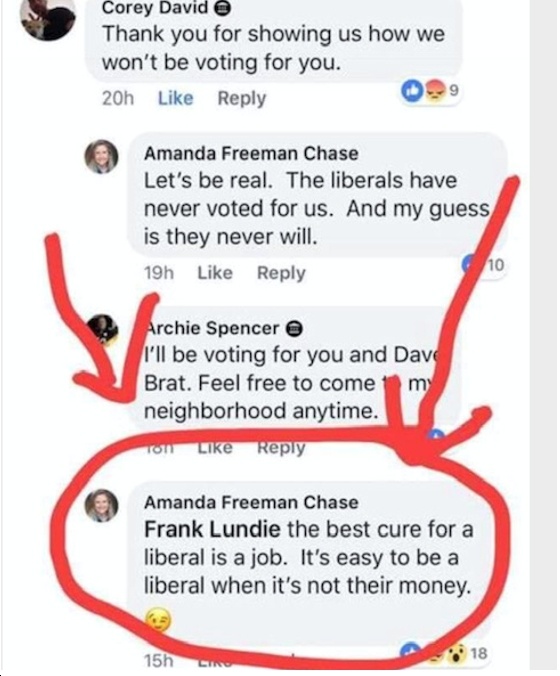 Well, after the car wash sign was removed, her supporters were up in arms, with one writing:
"We need to remind the businesses the people bullying them typically don't have the money to visit their business often. The liberal bully's [sic] don't have jobs they are too busy taking down signs and bullying people who have different opinions."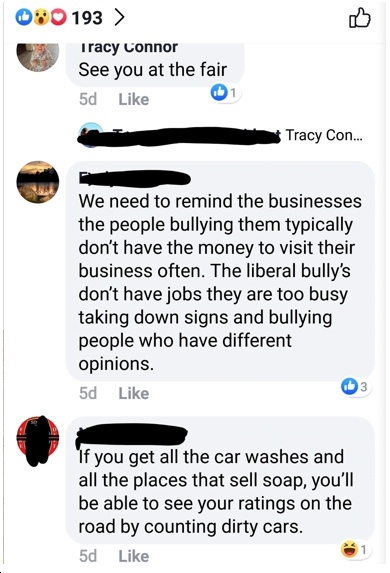 Then Senator Amanda Chase liked her supporter's comment, conveying agreement with this belief that supposedly liberals are "bully's" [sic] and that supposedly "liberals don't have jobs."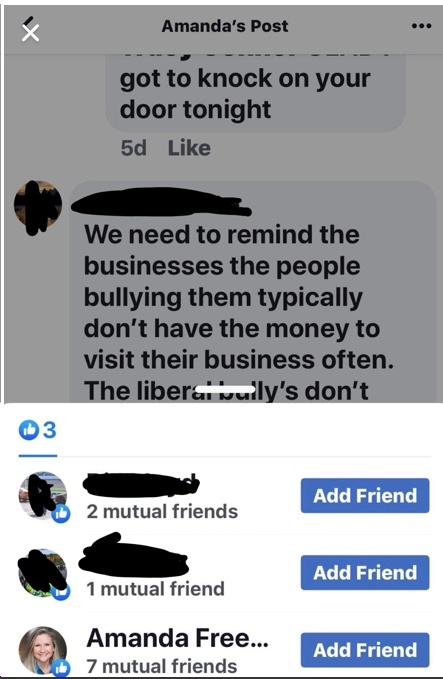 And finally, another sign was removed from a Mexican restaurant, after customers expressed their displeasure about it ruining their family dinner.  Amanda's supporters called to protest, but with no success. The sign located at the Mexican restaurant was immediately removed after customer complaints.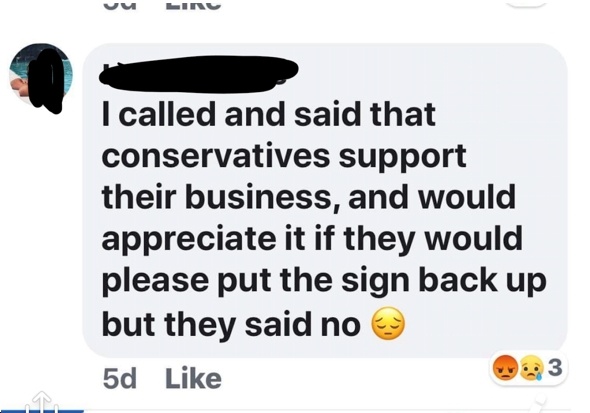 By the way, isn't it interesting (and hypocritical) how Senator Chase and her supporters like to claim they're all about "liberty" and "freedom" and "free enterprise," yet want to force businesses to put up with her giant signs, even if the businesses don't want the signs? Also, you've got to love how Chase and her supporters get angry when people choose to spend their money elsewhere, which is 100% their right to do. Kinda like when Tucker Carlson, Sean Hannity, etc. get upset at boycotts of their shows' advertisers, which again, is 100% within the rights of Americans who freely choose to spend their money where they want to spend it.