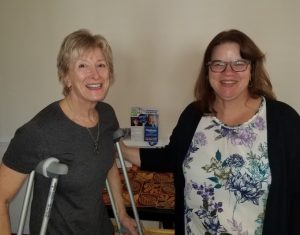 by Susan Harrison
The morning of November 9th, 2016…not a great start to what I'd hoped was going to be the Year of the Woman.  Hearing the presidential election result was a stunning setback to my adoption plans, as I'd recently submitted an application to become a U.S. citizen, assuming my first year as a naturalized American would see our first female President.  Although I have never self-identified as a feminist – or seen myself as an activist – I suppose my simple belief in equality for all makes me part of the movement.  I saw the election result as a rejection of that ideal to a degree I was unprepared for.
The advent of the first Women's March offered me an opportunity to express the deep concern I was feeling for my new country. Clearly many people felt the same and the worldwide rallies echoed my distress, fear and hope. The downtown venue for the Los Angeles March, where I then resided, was overwhelmed by the crowd that overflowed into side streets.  Women with whole families, friends, fathers, boyfriends, brothers and sons of seeming all nationalities.  It was called the Women's March but I saw our whole nation represented.
I had asked many of my friends to join me, but most weren't immediately responsive.  Some later decided to attend, but others expressed the view that "marches don't really make a difference." I now beg to differ because, across the country, a young academic was herself setting out on a journey at the corresponding Women's March in Washington, D.C.
For me personally, the Year of the Woman didn't materialize until the 2017 statewide elections in Virginia. Midway through that year, I'd moved to Richmond to be close to my newborn, preemie grandchild.  I promptly applied for a Virginia driver's license and, with it, registered to vote for the first time.  As our granddaughter's health stabilized, I began to look for activities that would help allay my concerns for the country. ­­­­­ Being a newly naturalized American, I had a fresh sense of our constitution and history, which collectively describe how an imperfect community of immigrants has struggled towards a more decent society through peaceful, civil action.  I drove to downtown Richmond and volunteered to work for the Democratic Party. I was directed to the campaign of my local candidate, Debra Rodman, who was running for the 73rd District seat in the House of Delegates (the lower chamber in the Virginia State legislature).
I found my way to the campaign nerve center where I met Mary, who had offered her home as head office and rendezvous for the hundreds of volunteers and campaign staff supporting Debra. Mary also helped to organized the handouts and maps for the many volunteers.  The candidate herself was running to unseat an incumbent who had been in office for 17 years.
Who was Debra Rodman? She was a mother with two sons and a supportive husband. She was a professor of Anthropology and Women's Studies at a nearby college and an expert witness in U.S. Federal immigration court for families and LGBT individuals seeking political asylum. I greatly admired her achievements and commitment from a distance, but as a canvasser and a bit of a shy person I was happy to work on her behalf in the background.  That changed when, while knocking on doors close to my home, I slipped on the steps of my next potential convert and broke my foot.  That put me out of commission for a bit, but I was back working for the campaign by Election Day.
I was happier than I had been in a year when I learned of her election success, part of a 34-seat Democratic swing in the 100 seat House. I was unaware that my husband had contacted the newly elected Delegate with a probably embellished story of how an elderly volunteer had broken bones in aid of her campaign and suggested she drop by our home for a surprise visit.  I was stunned and thrilled to meet Debra when she came to my home. But the real delight was hearing her story about how she'd come to run for her seat and the role that the Women's March had played the previous year.
Debra said she'd attended the Women's March in D.C. with several friends.  Afterwards, they'd talked about what came next and learned of a meeting the following week, where the question was asked in effect: "Who in attendance will run in this safe, Republican seat?"  Debra raised her hand with several others and subsequently found herself at the "firehouse primary" being vetted with other potential candidates – all of whom except her had prepared speeches.  She rose to speak and was surprised by her own extemporaneous eloquence (the occupational hazard of a professor I guess) as she was chosen to represent the party in the 73rd District. Debra built her campaign with grassroots support and very little financial support from the state-wide party and knocked off an incumbent who had run unopposed in the previous election. Since being in office over the past two years she helped pass Medicaid Expansion, giving health care access to over 400,000 Virginians, and sponsored bills expanding LGBT equality and voting rights.
I now had a response to my friend's assertion that "marches don't really make a difference." True, the March itself didn't change the facts on the ground, or the occupant of the White House. But it galvanized me to put the civics lessons I'd studied for my citizenship exam into practice and to step behind a young woman who had not, until that day, thought the answer to the question "Who will run in this seat" was: "I will!"
When I think of Debra Rodman it is with real hope and pride in our country because she is not the only person who has decided to take this particular path. We have many heroes who emerged from our collective post-election hangover.  I wonder how many young electoral candidates began their journey at the Women's March. I feel honored to know one of them. The Year of the Woman was not what I had expected, but the following Year of Heroes Stepping Up to the Plate made me proud to be a new citizen.
Thank you.
Susan Harrison