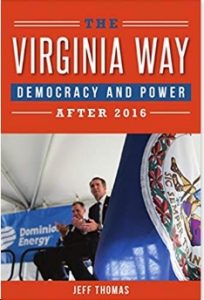 I just finished reading Jeff Thomas' new book ("The Virginia Way: Democracy and Power After 2016") and strongly recommend it. I'll provide some highlights/takeaways, below, But first, I wanted to share Thomas' thoughts, which he said to go ahead and post on Blue Virginia, about why he wrote the book. Also, see Thomas two posts on Blue Virginia about the book: 1) The Virginia Way, Part 1 – Historical Myths Constrain Our Present Reality; and 2) The Virginia Way, Part 2 – New Threats to Old Powers. With that, here's Thomas' explanation for why he wrote the book (bolding added by me for emphasis).
I wrote the book primarily for ordinary citizens. I wanted to help Virginians who read the paper, blogs, or social media, watch the news, or are in school, but who are not very involved in public life, to learn about the problems in our state politics and government so they can help solve them. The selection of the case studies is to help connect what happens in state politics to the events that affect readers' everyday lives. 
I also wanted to offer a framework so people can understand that seemingly one-off events and the myth of Virginia's clean government are actually connected in service of an anti-democratic, donor-centric ideology. When I read the paper as a kid, there were so many things that did not make sense and seemed unconnected. The book shows that there is a reason why things are happening as they are.
When I started this endeavor four years ago, I had read all the books on modern Virginia, and found that there were none published in this century that accurately described the state of our state. The stories printed on the front pages everyday were not in accord with what books were saying about Virginia government. There was a niche that needed to be filled, and the methodology really was as simple as distilling what is on the front pages everyday. Books still matter a great deal: they have a permanency, and reading them is a highly personal, mentally intimate activity. You do not have to have any expertise or familiarity with state politics to understand the book and get a lot out of it, but at the same time, I think even experts will find it interesting and compelling. What I hope the book offers to people is a comprehensible and accessible work that anybody can pick up and use to understand state government. How they use that information is up to them. 
I also wrote the book for our so-called elite political class. It is unfortunate that there are a few people in Virginia who are truly evil, but in my experience, most Virginia politicos of all stripes sincerely try to do what they perceive as right. It is important to show in a well-documented way that the socio-historical framework in which many of them live and think was deliberately imposed on them through the Byrd machine's historical propaganda. They were taught as children not to think or act freely, and not to question the majesty of Virginia. I want to reiterate because it's so important: Virginians were intentionally taught not to think or act freely, and not to question the majesty of Virginia. That is very hard to realize and fight alone, but many of the people profiled in the book have realized it and thus achieved catharsis, and it is the truth.
It is also very hard for people to look at our world and try to figure out how to solve problems in isolation. It can seem overwhelming, like it is too much to take on. But the book shows that there are lots of people in Virginia who are working and organizing all the time. So individual readers are not alone.
Personally, I wrote the book because I actually believe in the promise of Virginia. Virginia claims the mantle of historic destiny, but the facts demonstrate that while Virginia is not a functioning democracy, it can be. I actually believe in democracy, public education, the press, creativity and freedom. Ultimately, I wrote the book because I have faith in Virginia.
First off, I want to commend Jeff Thomas for the tremendous amount of research he put into this book. As Thomas writes in his "Methodology" section, he "read everything written by Virginia political reporters for the two years covering roughly President Trump's inauguration through early 2019," with the goal of providing "a rough summary of the major issues in Virginia politics and government as they existed in the late 2010s." Impressive.
Thomas then "selected six comprehensive themes for describing the functioning of Virginia politics and government – the Virginia Way, corporate power, higher education, local government, state policy, and good government," examining "the most consequential case studies in each category from late 2016 to early 2019":
"Virginia Way history and mythology in past and present;

corporate power, as exercised by Dominion Energy, the author of Virginia's energy policies;

higher education, as illustrated by the University of Virginia's affirmative action for the wealthy;

local government, as manifested in Richmond's public schools;

the most important state policy debate of the last five years, over Medicaid expansion;

democracy, as demonstrated in the three branches of government and how they affected the people's interests in good government by elections, gerrymandering and voting rights."
On points #1 ("Virginia Way history and mythology") and #2 ("corporate power"), I guess I'm not quite as optimistic as Thomas about the corrupt, "corporate-centric philosophy" known as the "Virginia Way" actually being defeated — although I absolutely agree with him that it needs to be dismantled. I'm also not convinced that what we saw in 2017 and 2018 was more a "backlash to the Virginia Way" than a massive backlash to Donald Trump. But Thomas does make an interesting case, including the argument that running against the "Virginia Way" has "proved a successful political strategy for legislators," with voters "increasingly elect[ing] people who rebelled against the pay-to-play system of the state's politics."
That includes a rebellion against the power of Dominion Energy, where "the intersection of money and politics was at its most egregious," by groups like Josh Stanfield's Activate Virginia and Michael Bills' Clean Virginia, anti-pipeline and pro-climate-action activists, and politicians like Tom Perriello (who, tellingly, lost the June 2017 Democratic primary to Ralph Northam, basically crushed by the "Virginia Way" establishment, which clearly feared that Perriello would shake things up in ways not to their liking). At the moment, it's unclear who's going to win this battle, but in the time I've been involved with Virginia politics, I can't remember Dominion's political power ever being challenged as it is now. As Thomas writes, Dominion is currently facing "the direst challenge to [its] decades-long reign as the state's legislative hegemon." This, of course, is a great thing. Where I'm less optimistic than Thomas is in my view that Dominion is heavily entrenched, and sadly NOT just among Republicans, but also among powerful Virginia Democrats like Senate Minority Leader (and quite likely Majority Leader come January 2020) Dick Saslaw. It's worth noting that Saslaw, along with Dominion Energy CEO Tom Farrell, slimeball Senate Majority Leader Tommy Norment (R) are three of the main villains of this book.
On point #3 (higher education), Thomas deserves tremendous praise for his investigation into how the University of Virginia "picked winners and losers based on whether the students' acceptances benefitted donors." As Thomas writes:
"Despite…assurances to the public and to high-level administrators, a new batch of more than five hundred pages of documents obtained through the Freedom of Information Act and revealed here for the first time demonstrated that a multiyear operation by which the children of the ultra-wealthy received special treatment through consistent coordination between Advancement and Admissions through Senior Assistant Sean Jenkins in the President's Office…one of the most unsettling functions of the Advancement Office was to hunt for intelligence – including highly personal details – on applicants' family wealth…parental wealth substituted for academic achievement and created a double standard for the rich and the rest."
Given the slimy, incestuous "Virginia Way," it's not at all surprising, by the way, that "UVA Board members were the Governor's largest campaign contributors." The people who suffered from this system, meanwhile, were those lacking wealth or connections, even if they would have made excellent UVA students. Which, among other faults, is a fundamentally anti-Jeffersonian system. Kind of ironic for Jefferson's own university…
Point #4 ("local government, as manifested in Richmond's public schools"), has the "Virginia Way" at work yet again, for starters with the opposition to a cigarette tax (Altria, formerly Philip Morris, is a very powerful player in Virginia politics, "headquartered in adjacent Henrico County") to raise money for Richmond's crumbling schools, How "crumbling" are we talking about? How about some teachers "wear[ing] breathing masks all day in order to teach," "extreme hot and cold conditions, leaking bathrooms, falling tiles and infestations of bugs and rodents in their classrooms?" Yet despite this obvious, pressing, even desperate need for new revenues to address these problems, in the end, the City Council voted down the cigarette tax 6-3, "with just one member who had taken money from Altria voting for the tax." Appalling…and so "Virginia Way!"
Meanwhile, Thomas' chief villain – Tom Farrell, CEO of Dominion – was busy pushing a new local sports arena, at a cost of "an astonishing $620 million in public funds…money that would be necessary to fund emergency repairs at decaying and dangerous elementary schools." In opposition to Farrell and his allies, Thomas describes the efforts of former Doug Wilder advisor and DPVA Chair Paul Goldman, which among other things included a referendum on funding school modernization (it passed with 85% of the vote in November 2017) and a "Choosing Children Over Costly Coliseums" referendum. That coliseum issue is very much alive at the moment, by the way, with a new article ("UPDATE: Stoney to introduce now-$1.5 billion Richmond Coliseum redevelopment plan Monday") just coming out in the Richmond Times-Dispatch on Thursday. We'll see how it plays out in coming months, and how it impacts the political ambitions of Richmond Mayor Levar Stoney, as well as Richmond's K-12 students and teachers.
Point #5 (the Medicaid expansion debate)  gets at how the "Virginia Way" basically "could predict that the gravitational pull of donors' money would eventually tip Republicans into supporting that which they claimed to abhor." According to Thomas, the main reasons why Medicaid expansion didn't pass earlier than 2018 was basically "hatred of McAuliffe" by Republicans. Personally, I'd give more weight to Democrats picking up 15 seats in the Virginia House of Delegates in November 2017, as well as a new president in the White House (other than the hated – by Republicans, that is – Barack Obama), but there's no doubt that the $$$ and business groups (e.g., the Virginia Hospital & Healthcare Association – VHHA) were almost unanimously in favor of expanding Medicaid, and that there were literally ZERO serious arguments against doing so.
Finally, Point #6 (democracy, or perhaps lack thereof) discusses "voting rights, gerrymandering and elections" in Virginia, where the "Virginia Way…functioned as an anti-politics machine that discouraged citizen participation." That includes disenfranchisement of ex-felons, which resulted in "roughly one in five African Americans in Virginia" not being allowed to vote, and which also made Virginia an extreme outlier – and not in a good way! – among the 50 states. As for gerrymandering, this is a system in which "more than 1.3 million Virginians voted for Democratic House of Delegates candidates in 2017, compared with 1.1 million who vote for Republicans," yet somehow Republicans managed to hang on (albeit barely) to a 51-49 majority in the House of Delegates. Great, huh? Also note that "the decade of the 2010s concluded with only a single election [the upcoming one in November] in which Virginians voted in constitutional districts not distorted by illegal partisan gamesmanship."
In the end, I agree with Jeff Thomas that there's change – at long last! – in the air regarding the "Virginia Way" of doing things. I'm definitely more skeptical than Thomas that this change will come about, let alone to the extent that is necessary, but I admire Thomas' positivity, as well as the superb, must-read (if you want to understand Virginia politics, that is) book about "the people, politics and power that run the Commonwealth." Great job!