Advertisement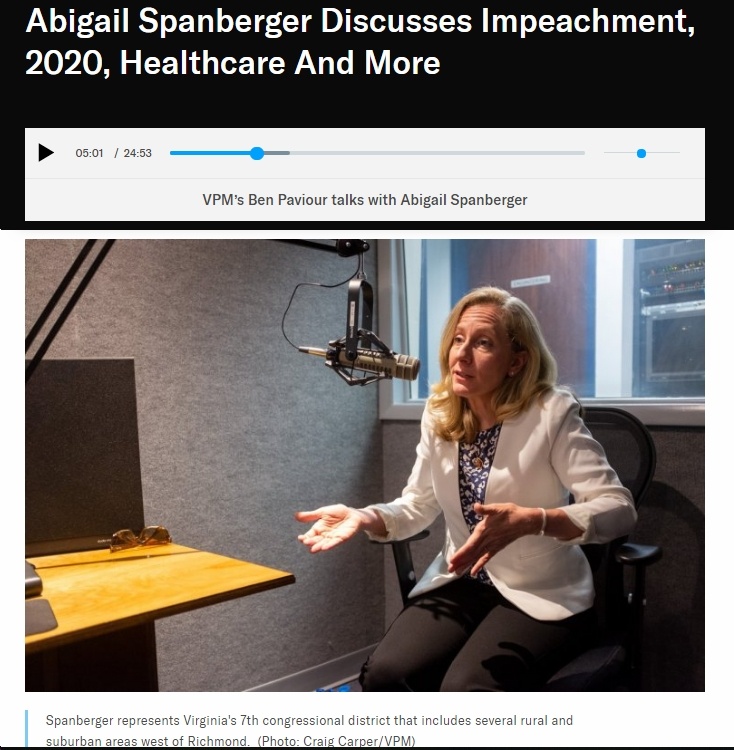 Virginia Public Media just posted an interview with Rep. Abigail Spanberger (D-VA07), and there's some interesting stuff in there. See below for some highlights. From my point of view, though, the most important part is what Spanberger had to say about the 2020 presidential race, which is that she is *not* focused on the 2020 presidential race, but instead "on the 2019 elections as a Virginian." Which, of course, is absolutely the correct answer, with crucial Virginia legislative elections – Democrats need just one (or two, depending on how you look at it) seat(s) in the State Senate and two seats in the House of Delegates to take control – now just 78 days away. Here's what Spanberger had to say on that subject, after being asked repeatedly about who she might support in 2020.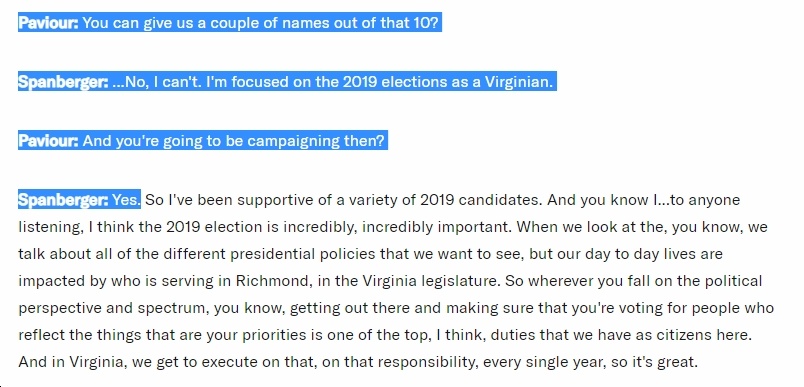 Great answer: 1) the top priority right now is VIRGINIA 2019; 2) these elections are "incredibly, incredibly important"; 3) "our day-to-day lives are impacted by who is serving…int he Virginia legislature"; 4) "getting out there and making sure that you're voting for people who reflect the things that are your priorities is one of the top…duties that we have as citizens here." Bingo!
A few other interesting comments by Rep. Spanberger in the interview:
Intelligence: "The fact that we continue to see the President either criticize the intelligence community when he doesn't like what it is that they have to say, or the President's efforts to try and ensure that people within the intelligence community, at least at the highest ranks, are aligned with his worldview…that's a dangerous precedent to set because we want to have the best information in the world available. Whether we like what's coming from the intelligence community or not."
National debt: "We're going to spend more money to service our debt than we will to educate our children. And for me, that is just a striking, striking imbalance in terms of what our priorities are. And so the fact that we're not having broader conversations about the cut in revenues and our continued spending, I think is truly troubling."
Broadband: "…when we're talking about roads and bridges and tunnels, we also need to be talking about broadband internet. It is the infrastructure of now and of the future. And if it's not in place, we're going to continue to see divides between rural and suburban and urban communities."
Gun violence: "There's no one solution to addressing gun violence…I think that while we should be debating everything, the first thing we need to do is insist that that first step is taken. The House of Representatives, we passed a good bipartisan bill, two good bipartisan bills, and neither of them have been taken up for a vote."
Arming teachers: "I think arming teachers is the worst idea I've ever heard. Well that's a little bit hyperbolic. I think it's one of the worst ideas I've ever heard, and for a couple of reasons."
Immigration: "The fact that we need to open yet another shelter for unaccompanied minors speaks to the fact that we need an overhaul in our immigration system and we need comprehensive immigration reform… the notion that we would be building another facility because we're going to continue to separate families, for me is just wholly unacceptable."
Mueller Report and impeachment: "In the Mueller report, it outlines that there have been 27 investigations opened out of that investigation, seven people are in jail. So there's a lot of…there are a lot of reasons to continue trying to get to the bottom of what did and didn't occur… I think the conversations to say that it's all it's over, everything's done is…it doesn't allow us to address the continuing substantial threat to our elections infrastructure, and it certainly negates the constitutional responsibility that Congress has to ensure that it's fulfilling its oversight duty."
What she's hearing from constituents: "Healthcare. Period. …I was touring, I was on a farm tour yesterday in the northern portion of the district, healthcare…healthcare still continues to be the number one issue in our rural communities. As I mentioned, broadband Internet is a significant economic issue, and educational issue and healthcare issue as well."
There's no paywall on Blue Virginia, and we definitely want to keep it that way! If you want to help support our work, you can donate here - thanks!
Also, you can
sign up for our weekly email list here
.