Advertisement

See below for an interesting infographic, courtesy of VPAP, showing how old Virginia cities and counties are going to be in 2030 – just over ten years from now. The "grayest" places, interestingly, are almost all going to be jurisdictions that are "red" politically. For instance:
Lancaster County

, which went 56%-44% for Ed Gillespie (R) in 2017, will be 40% ages 65+ in 2030
Highland County, which went over 2:1 for Gillespie in 2017, will be 38% ages 65+ in 2030

Northumberland County,

which went 62%-38% for Gillespie in 2017, will be 36% ages 65+ in 2030
Middlesex County, which went 62%-37% for Gillespie in 2017, will be 35% ages 65+ in 2030
With very few exceptions, it continues like that…politically "red," rural parts of Virginia –

Bath County, Nelson County, Carroll County, Pittsylvania County

, etc, etc. – aging VERY rapidly.
In stark contrast, check out the "blue" areas of Virginia…highlights below the map.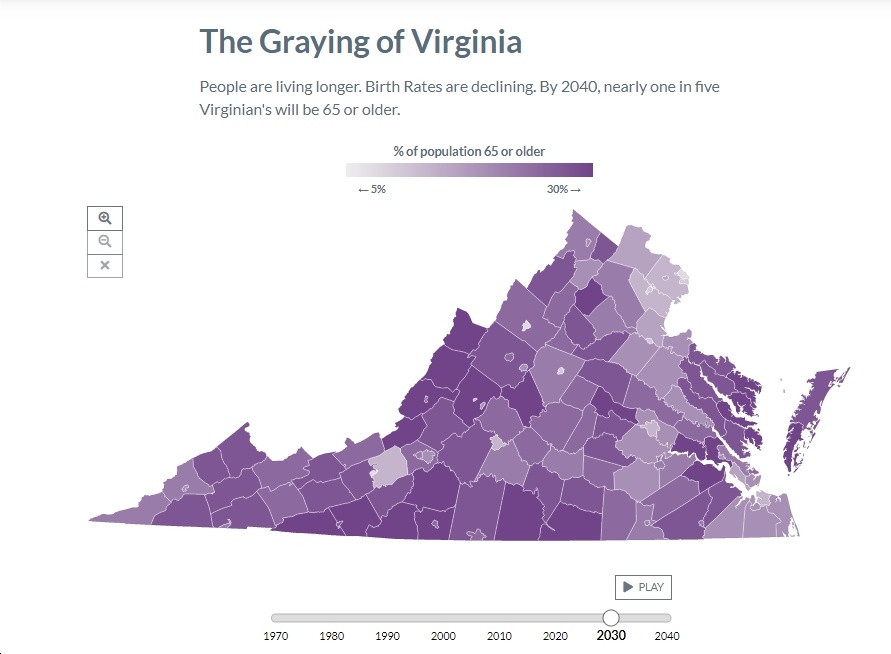 The politically "bluest" areas of Virginia will generally be the youngest in 2030.
For instance, deep-blue Arlington County will only be 10% ages 65+ in a decade from now.
Charlottesville City will only be 12% ages 65+;

Alexandria City

also only 12% ages 65+; Richmond and Norfolk cities only 13% ages 65+; Prince William County only 14% ages 65+; Fairfax County only 15% ages 65+; Loudoun County only 15% ages 65+; Roanoke City only 18% ages 65+; etc.
Bottom line: the "red" parts of Virginia are turning "grey," while the "blue" parts of Virginia are mostly staying young.  This gibes, by the way, with projections showing that "Much of the state's projected population growth in the next 20 years will be concentrated in 10 large counties and cities in the eastern part of the state, particularly in Northern Virginia, currently home to the 8th, 10th and 11th districts." Very good news if you want Democrats to win elections; very bad news if you're the the Virginia GOP.
P.S. If you look ahead even further, to 2040, the results don't particularly change. Here are the oldest and youngest Virginia jurisdictions in 2040…again, "red"="grey."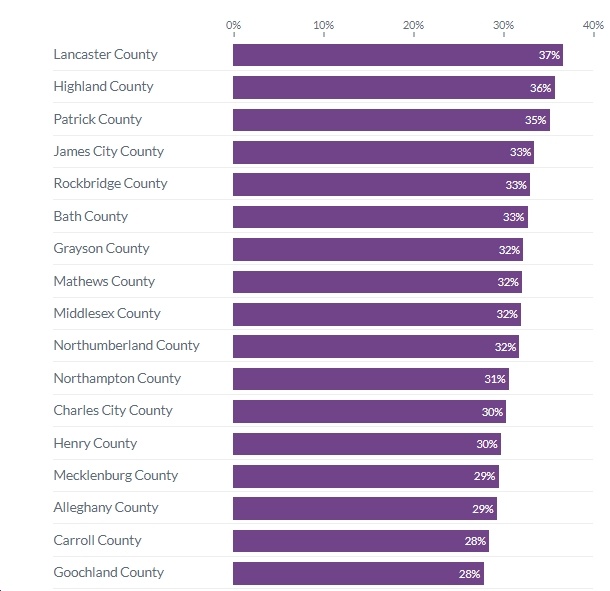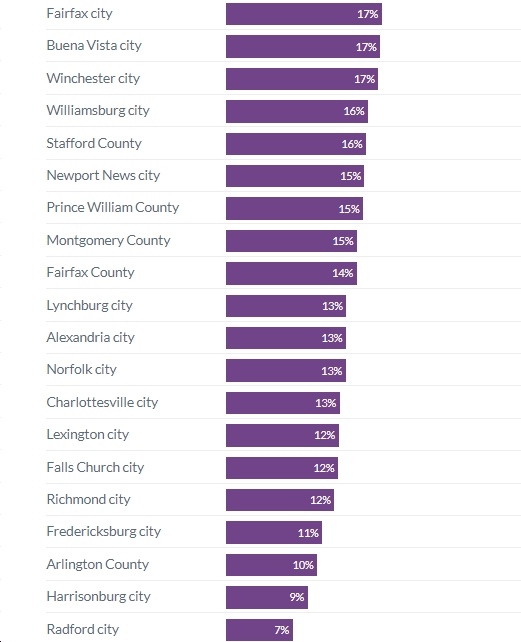 P.P.S. Other than politics, see 'This will be catastrophic': Maine families face elder boom, worker shortage in preview of nation's future for an idea of how a rapidly aging population can impact families, the economy, you name it.
There's no paywall on Blue Virginia, and we definitely want to keep it that way! If you want to help support our work, you can donate here - thanks!
Also, you can
sign up for our weekly email list here
.