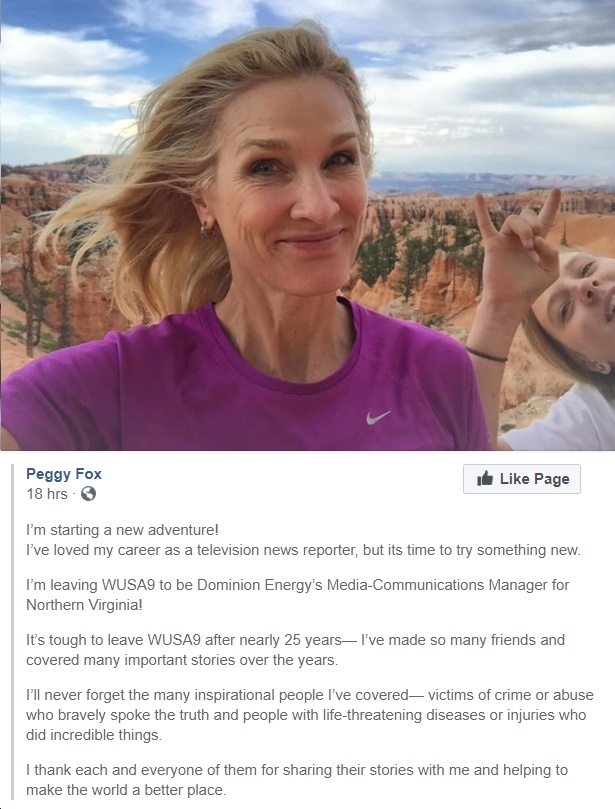 Earlier this week, WUSA-TV9's Northern Virginia Bureau Chief, Peggy Fox, announced on Facebook that, "after nearly 25 years," she'll be leaving WUSA9 to be Dominion Energy's Media-Communications Manager for Northern Virginia." A lot of people congratulated her, which is fully understandable on a human level of course. But let's be clear – this isn't good news, certainly not if you care about quality local journalism. And then there's the Dominion Energy part.
First, though, a quick excursion down memory lane to one of Peggy Fox's biggest moments, back to September 18, 2006, when she asked then-Senator George Allen (R) at a Fairfax Chamber of Commerce debate about whether or not he had Jewish heritage. This question came in the wake of the "macaca" incident, and reports – which turned out to be accurate – that the term "macaca" was not a made-up word, as Allen was fallaciously claiming, but actually a commonly used racial slur in North Africa, where Allen's mother grew up (in a French-Tunisian Jewish family). As you can see in the video, Allen's response was to attack Peggy Fox, claiming that she was somehow "making aspersions" about his having Jewish ancestry, which again turned out to be 100% accurate – and certainly not an "aspersion" in any way. As the Washington Post's Marc Fisher wrote at the time:
Clearly, this is a touchy topic for Allen, who greeted Channel 9 reporter Peggy Fox with utter contempt and derision after she asked him to clarify his mother's background during the debate before the Fairfax Chamber of Commerce. Fox was going after a perfectly legitimate piece of information; especially in this time of politicians touting their religious bona fides, and especially after Allen claimed to have never heard of the word "macaca," which he famously hurled at an Indian-American operative from the Jim Webb campaign ("macaca" turns out to have its roots in French, Allen's mother's native tongue.)
So anyway, that was a big moment not just for George Allen and Jim Webb, but also for Peggy Fox, thanks to Allen attacking her for asking a legitimate, relevant question. Which, by the way, is what serious journalists are supposed to do. And Peggy Fox was definitely a serious journalist, something I thank her for!
Unfortunately, since 2006, we've seen a lot fewer serious journalists around to ask such questions, given the hemorrhaging of journalism jobs that's taken place as the internet and other forces have demolished the traditional, highly profitable business model for that industry. The results have not been pretty. The facts are:
"From 2008 to 2017, newsrooms shrank by 23 percent, according to the Pew Research Center."
"The gutting of newsroom staffs across the country by corporate owners has been brutal"
Also, "The news business is on pace for its worst job losses in a decade as about 3,000 people have been laid off or been offered buyouts in the first five months of this year. The cuts have been widespread. Newspapers owned by Gannett and McClatchy, digital media companies like BuzzFeed and Vice Media, and the cable news channel CNN have all shed employees."
And "2019 has been particularly brutal…this year has seen: 200 layoffs at BuzzFeed; 250 layoffs at Vice; 800 layoffs at properties owned by Verizon, including HuffPost and Yahoo; more than 1,000 layoffs or buyout offers at newspapers owned by Gannett, McClatchy, and GateHouse; the loss of every staff writer at the East Bay Express, a California alt-weekly; at least 43 layoffs at the Dallas Morning News, 23 at the St. Louis Post-Dispatch, 12 at the Cleveland Plain Dealer, and 45 at The Penny Hoarder, a personal-finance publication in Florida; the loss of 16 full-time and 16 part-time/freelance positions at New York Media, owner of New Yorkmagazine; the firing of Ebony's seven-person digital team; 11 business-side job losses at Quartz; and at least six job cuts at Pennsylvania's Reading Eagle, with 81 more threatened to follow."
Here in Virginia, it's also really bad: "The Times-Dispatch went from 42 news and sports reporters to 26, cut its staff of photographers from nine to six and cut the number of editors from 20 to 13…The Pilot (recently purchased by Tronc, which has its own problems) has shrunk about 45 percent…The Roanoke Times, the second largest BH Media property in the state, saw its newsroom staff drop about 35 percent."
Also note that here in Virginia, long-time Virginia political reporters with decades of institutional knowledge have left for greener pastures. These folks include: former AP Virginia State Capitol Correspondent Bob Lewis, who went to McGuireWoods; former Roanoke Times political reporter Michael Sluss, who went to McGuireWoods as well; former Virginian-Pilot political reporter Julian Walker, who went to the Virginia Hospital & Healthcare Association; former Richmond Times-Dispatch editorial page editor Bart Hinkle, who went to Dominion Energy; former Richmond Times-Dispatch reporter Jeremy Slayton, who went to Dominion Energy as well; former Roanoke Times editorial page editor Christina Nuckols, who now works for the Virginia Department of Medical Assistance Services; etc.
So basically, what we've been seeing is seasoned, high-quality "legacy" Virginia reporters – now including Peggy Fox – bidding adieu (whether a fond adieu or not) to journalism, and going to work mostly for corporate interests and/or trade associations.
Why? Clearly, money and job stability are huge parts of the equation, namely that journalism these days doesn't have much of either of those things, while the corporate world can offer both. Also note that over the past decade or so, the work of journalists has changed a great deal, from being an actual reporter – breaking stories, covering events, digging for information, maybe even doing "deep-dive" investigative journalism – to being more of a "content creator" (e.g., reacting to the news headlines of the day, producing one's own video) or even "MoJo" ("mobile journalist," as one former reporter described it to me), including heavy emphasis on social media, and "clickbait" for views/"eyeballs." Also worth noting is that travel newsroom training and travel budgets have been cut, along with salaries and staffing levels. Take all that together, and it must be a lot less fun to work in journalism today than it was 10, 20 years ago.
Which is why it's completely understandable why veteran journalists are leaving their industry. But that doesn't make it any less damaging to the ability of the public to understand what's going on in state capitols, local politics, etc. Even worse, IMHO, is that many of these excellent journalists are putting their talents in the service of corporate actors, which of course already had a huge advantage over regular people, the environment, etc.
Now, obviously not all (or even most) corporations are bad, let alone evil, and some do great work, so I'm not against journalists working for corporations in general. What I'm *not* thrilled about is the decline in local and state journalism, combined with folks going to bad actors like Dominion Energy. Again, I get *why* a reporter like Peggy Fox would accept a (presumably lucrative) offer from Dominion Energy. But…yeah, that company is really bad, from its horrible record on energy efficiency and renewable energy, to its corrupting of our state's politics, to its promotion of the "reckless, racist ripoff" Atlantic Coast Pipeline, etc. So of course, I'd infinitely prefer to see Peggy Fox – and the other journalists who have moved on to greener pastures – digging for stories about Dominion than defending all that. Sadly, though, given the state of the journalism industry, those days appear to be largely behind us at this point. Sigh.