See below for some photos, video and comments re: yesterday's Union Hill event  ("Our Air, Our Health, Our Future: The Fight to Save Union Hill") yesterday. Here's a brief description of what it was all about. For more background on this situation, see ideo, Photos: Former VP Al Gore and Rev. Dr. William Barber Hold "Moral Call for Ecological Justice in Buckingham" Forum, Citing Environmental Justice Concerns, Virginia State Conference NAACP Urges Federal Appeals Court to Stop Atlantic Coast Pipeline, Video: Al Gore Rips Dominion, Says the Atlantic Coast Pipeline Is "a colossal, world-class ripoff of the energy ratepayers in in the state of Virginia", "The inaccurate data provided by DEQ and ACP is further example of erasure of the Black community, and it is textbook environmental racism." , etc.
The Town Hall will take place on the ancestral land of Taylor Harper, a former slave who bought a portion of the plantation land he once toiled in Union Hill. This community has been targeted for a massive, dangerous fracked-gas compressor station that would be part of the proposed Atlantic Coast Pipeline – a highly controversial, expensive and unneeded project.
You'll hear from several Harper descendants as well as other Union Hill landowners who likewise trace their ancestry to the courageous women and men who founded this historic community, and other area residents. The Town Hall will also feature speakers from the Southern Environmental Law Center and Chesapeake Bay Foundation who are representing community members in efforts to stop the compressor station.
The fight for Union Hill is part of a broader struggle for environmental justice in Virginia. It also includes the Atlantic Coast Pipeline, the Mountain Valley Pipeline, the Chickahominy power plant, the mega dump (called "Green Ridge") in Cumberland County and other projects that threaten vulnerable communities. Together, communities across the commonwealth are calling on our public officials and agencies to promote environmental justice so that no community is made to suffer for private gain.
From Ali Symons:
Our Air, Our Health, Our Future: The Fight to Save Union Hill event this afternoon in Union Hill, Buckingham Co. #WeAreAllUnionHill
It was pretty incredible to hear that one of the reasons Dominion chose the site of Union Hill to put their biggest compressor station along the ACP is because it has exceptionally good air quality. So this community was penalized for having better than average air quality — meaning that, under air quality standards, they could afford to have their air despoil somewhat because they have extra reserve of good air quality.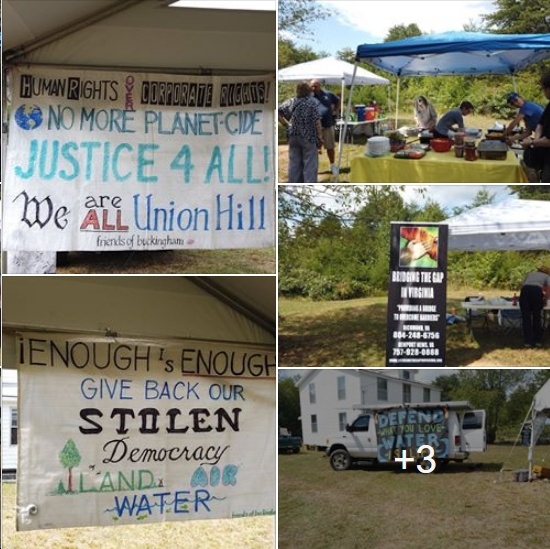 From Jon Sokolow: