In just 60 days – or two months – from today, Virginians will be heading to the polls to pick their representatives from State Senator all the way down to Soil & Water Commissioner. Here in Prince William County, we have 34 seats up on the ballot this year, and 2 Bond Referendum questions. Our County Board, School Board, Commonwealth's Attorney & Sheriff are up for grabs.
In just 14 days – or two weeks – from today, absentee voting begins. That means in just a couple of weeks, folks will already be able to make their voices heard about the trajectory of our community, our county, and our commonwealth.
We have a once-in-a-generation opportunity to finally move the ball forward for Prince William families. We have the opportunity to finally turn the page on the divisive, regressive politics of our current county government in favor of inclusion, opportunity, and progress.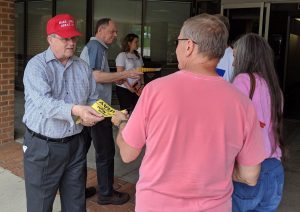 This is what the Republicans are offering. No thanks.
Whether it's making real investments in our school system, confronting our traffic crisis head on, or bringing good quality jobs and services to our community, the real kitchen table issues that hit so many families close to home are on the ballot this November.
So don't stay home. We need your vote.
On November 5th, we have a date with destiny, and we wouldn't want you to miss it.