Advertisement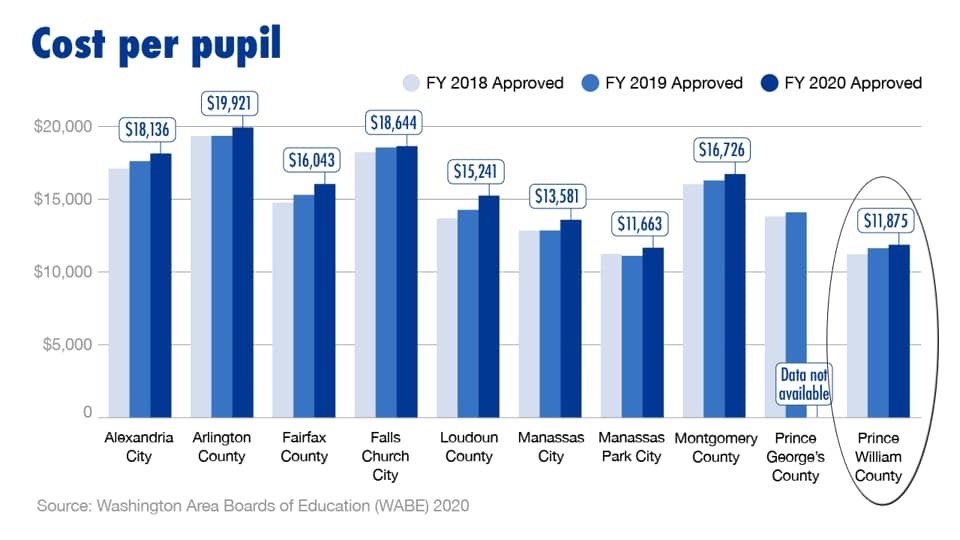 A recently released report, by the Washington Area Boards of Education (WABE), highlights the enormous price that Prince William County's schools have paid, thanks to Republican majorities on the Board of County Supervisors for many years. The reason for that is massive underfunding of the public schools by Prince William County Republicans. Check out this key finding from the WABE report (bolding added by me for emphasis):
"At $11,875 per pupil, PWCS is $3,366 per pupil behind Loudoun County, $4,168 per pupil behind Fairfax County, and $8,046 per pupil behind Arlington County. If funded at the rates of these near-by school divisions, PWCS would receive additional annual revenue of approximately $307 million, $381 million, or $736 million respectively. PWCS also falls below the national per pupil spending average of $12,201 (U.S. Census Bureau, May 2019)."

That's right: Prince William County ranks DEAD LAST in per-pupil spending for large school divisions in the Northern Virginia region. This is not an accident, of course, but very much by design  — the intentional neglect, abuse and underfunding of the public schools by right-wing Republicans like County Board Chair Corey Stewart, Brentsville District Supervisor Jeanine Lawson, Occoquan District Supervisor Ruth Anderson, Gainesville District Supervisor Pete Candland, etc.
Making matter worse have been Republican School Board members like Alyson Satterwhite, Willie Deutsch and Shawn Brann (who served temporarily), all of whom have stood by Republican Supervisors as they've led the Prince William County schools to the absolute bottom in terms of spending.
Clearly, if you care about public education, it is long past time for new leadership in Prince William County. Specifically, this Tuesday, Prince William County voters need to reject all the Republican candidates on the ballot, including the far-right extremist at the top of the ticket (John Gray) who they are all ideologically simpatico with.
Who will lead the change Prince William County so badly needs, for its public schools and in other areas as well? How about electing a brand-new Board of County Supervisors, led by the following great Democrats, and bringing with them a strong, forward-thinking vision for the county's future?
Ann Wheeler, Chair of the Board of County Supervisors,
Maggie Hansford, Brentsville District Supervisor,
Raheel Sheikh, Coles District Supervisor
Andrea Bailey, Potomac District Supervisor
Kenny Boddye, Occoquan District Supervisor
Margaret Angela Franklin, Woodbridge District Supervisor
Victor Angry, Neabsco District Supervisor
Danny Funderburk, Gainesville District Supervisor
Also key: reelecting Dr. Babur Lateef as Chairman of the Prince William County School Board, which – in spite of the horrible, Republican Board of County Supervisors – has already invested more per-pupil than ever before since Lateef's special election last fall. Now, it's time to give Babur Lateef some help, at both the Board of County Supervisors level, as well as with School Board Candidates like:
Adele Jackson, Brentsville School Board,
Lisa Zargarpur, Coles District School Board,
Patricia Kuntz, Gainesville School Board
P.S. As Brentsville District Supervisor Democratic nominee Maggie Hansford puts it, "If you are sick and tired of allowing our kids to fall behind, it is time to elect new leadership who believes in our schools and plans to fully fund them, so your child has every opportunity to succeed. Vote for teacher Maggie Hansford on November 5th."
There's no paywall on Blue Virginia, and we definitely want to keep it that way! If you want to help support our work, you can donate here - thanks!
Also, you can
sign up for our weekly email list here
.