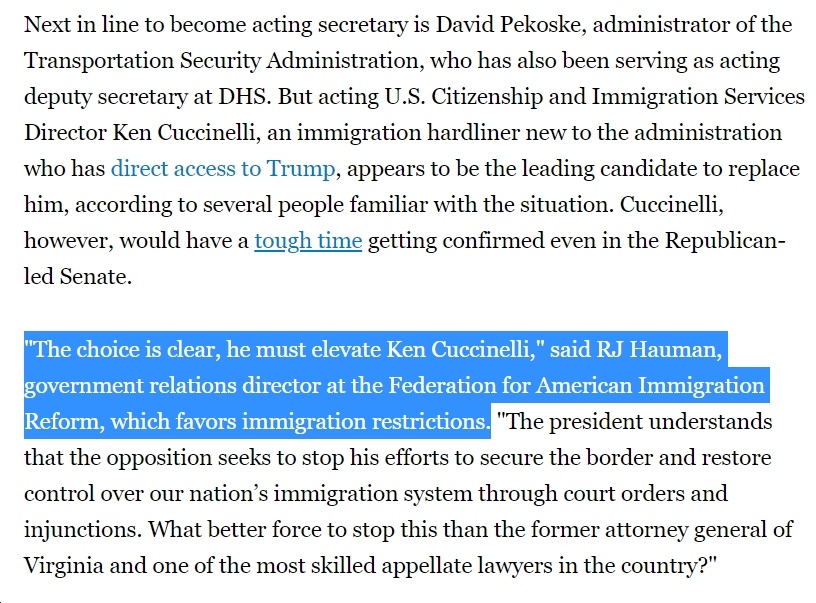 With the announced resignation of Acting Secretary of Homeland Security Kevin McAleenan, Politico reports on possible successors.
And yep, frighteningly, one of the leading contenders is none other than former Virginia Attorney General Ken Cuccinelli. The same guy who compared immigrant families to rats. The same guy who thinks the Statue of Liberty should really read, "Give me your tired and your poor…who will not become a public charge." The same guy who claimed (falsely) that we're being "invaded." The same guy who ranted that  "you don't have to keep them, no catch-and-release, no nothing. You just point them back across the river and let them swim for it." The same guy who denies climate science and who waged a witch hunt against leading climate scientist, then-UVA Professor Michael Mann.
As if all *that's* not bad enough, how about the fact that Cuccinelli for Secretary of Homeland Security is being pushed hard by the Federation for American Immigration Reform (FAIR), which is listed in the Southern Poverty Law Center (SPLC)'s "Extremist Files" as an anti-immigrant, xenophobic "hate group." Here's some information about FAIR, whic strongly supports Cuccinelli, from SPLC:
"FAIR leaders have ties to white supremacist groups and eugenicists and have made many racist statements."
"Its advertisements have been rejected because of racist content."
"FAIR's founder, John Tanton, has expressed his wish that America remain a majority-white population: a goal to be achieved, presumably, by limiting the number of nonwhites who enter the country."
"One of the group's main goals is upending the Immigration and Nationality Act of 1965, which ended a decades-long, racist quota system that limited immigration mostly to northern Europeans. FAIR President Dan Stein has called the Act a 'mistake.'"
FAIR's founder said, "As Whites see their power and control over their lives declining, will they simply go quietly into the night? Or will there be an explosion?" and "I've come to the point of view that for European-American society and culture to persist requires a European-American majority, and a clear one at that."
Frighteningly, according to SPLC: "The anti-immigrant movement's "big three," Center for Immigration Studies (CIS), Federation for American Immigration Reform (FAIR) and NumbersUSA continued to gain clout in 2018 as they pervaded mainstream media and infiltrated the White House. Several former employees of these groups (CIS and FAIR are designated hate groups) have ascended to high levels of government. Positions include Citizenship and Immigration Services ombudsman, and jobs at the Department of Homeland Security (DHS), State Department and the White House Domestic Policy Council. Increasingly seen as legitimate think tanks, the groups were regularly cited by mainstream press including The New York Times and the Washington Post."
And now, FAIR is pushing the guy who called immigrant families "rats," who thinks America is being "invaded," who thinks we should change the language on the Statue of Liberty, etc. Scary, disturbing times we live in.
P.S. Oh, and with crucial Virginia elections coming up on November 5, just remember: For Everyone Rightfully Horrified at Ken Cuccinelli's Xenophobia, Note That 93 More Votes (Out of 37,112) Could/Should Have Ended His Political Career in 2007