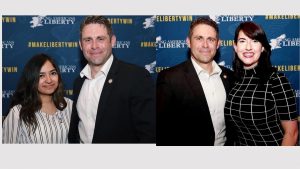 by Ailurophile
Nick Freitas (R, HD-30) got himself in a right tizzy over Beto O'Rourke's declaration of war on assault rifles.  He's running against the incomparable Ann Ridgeway for the Virginia House and was probably already huffy because of how he'd screwed up his paperwork and so didn't get his name on the ballot.  An incumbent running as a write-in — possibly a historical first (background here). Or maybe, since he was at one of the Young Americans for Liberty conferences he likes to attend, he got a little…hyper.
But, unless he's been eating too many Twinkies, is it REALLY OK for him to come within a hair of threatening to shoot Beto O'Rourke, as he does in the clip below?  FBI, are you out there? Should this man be writing laws?
Ann Ridgeway (D) could not be a more opposite opponent.  She is nothing short of terrific and just the sort of person we need in the VA House.  She's the real deal.
Listen HERE to Ann at her June "We the People" rally.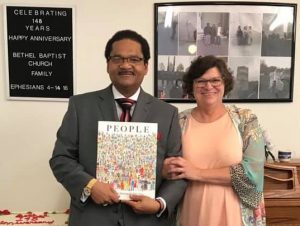 Ann is a community activist and the daughter of community activists.  Her parents worked in the civil rights movement and advocated for the underserved all their lives.  With them as her model, Ann has worked throughout her career to improve her community.  Ann's work has centered on young people; she has worked as a juvenile probation counsellor and was instrumental in establishing a youth council and a youth commission in her county.  She has been a public school teacher and her three children have attended public schools (tragically, one died at the age of six in a car accident).  Go HERE for more on Ann's background.  If she's elected, Ann will support gun control legislation and will work to make sure our rural communities have good health care, schools, infrastructure, environmental protections, and broadband.
Please support Ann Ridgeway for #HD30!
THANK YOU!!