Advertisement

by David Jonas
Dick Saslaw has long been known for subpar constituent service, but yesterday, my family got to see that it's by design, not by accident.

My wife Casey wrote to Senator Saslaw—a man elected to represent her and whose staff are paid to respond to her—asking for his position on legislation repealing Virginia's "right-to-work" laws.
Instead of getting a reply with the Senator's position, Senator Saslaw's staff immediately replied with what appears to be an internal direction to another staffer to actively ignore the email and not reply.
It reads:
"Yep.  Know they are trying to drum it up.  Gov came out with strong statement saying No Go.  Just for the record – RLS has had MANY of chat with many labor groups and made his position abundantly clear.  Don't reply
Sent from my iPhone."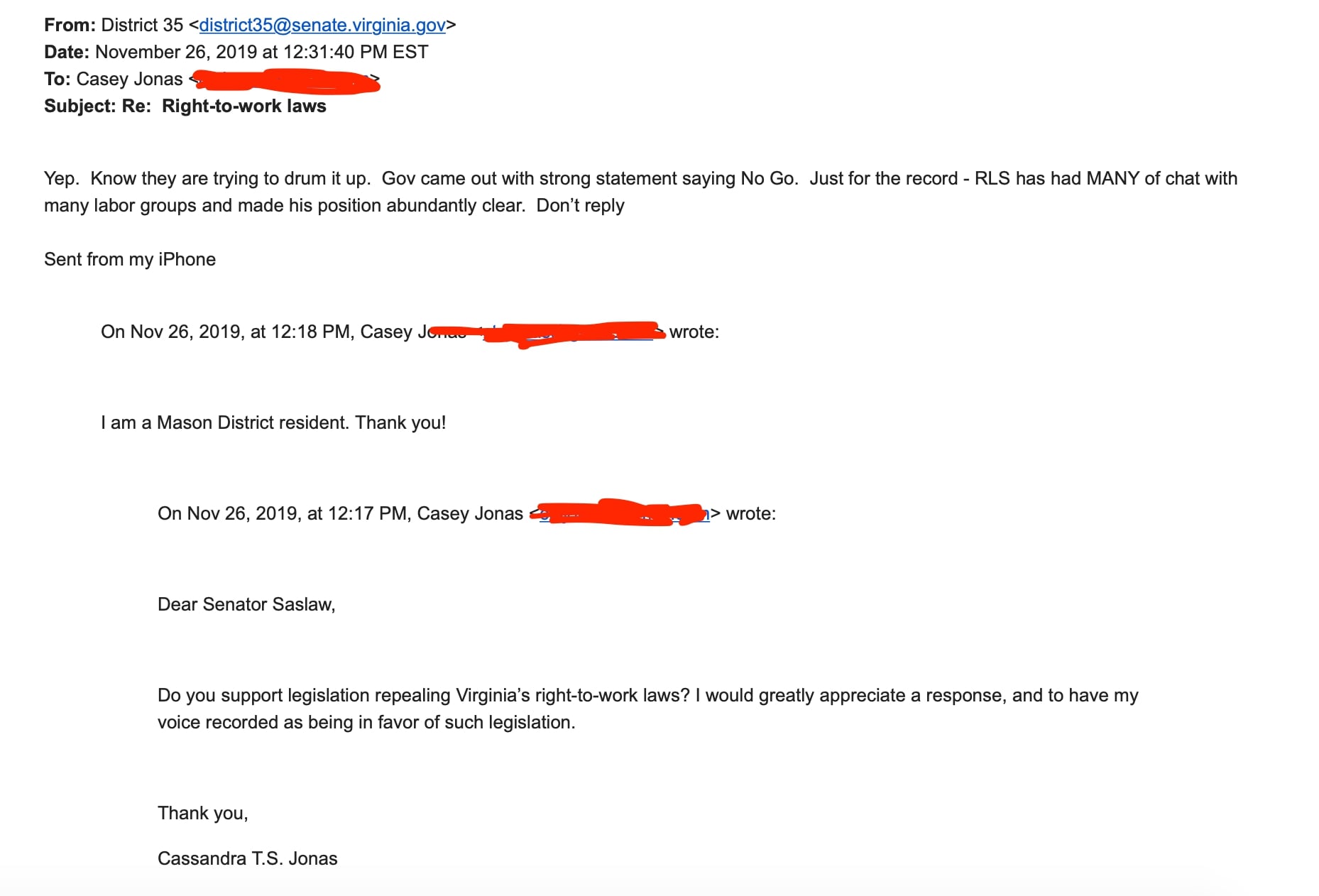 That's the reaction to Casey's respectful request to know where her own state Senator stands on a basic issue of public policy. "Don't reply."
Senator Saslaw and his staff owe Casey and every constituent in Virginia's 35th Senate District an apology—and an answer. It's utterly unacceptable to view a basic question about a policy position as some kind of attack that warrants being actively ignored.
I can only imagine how many hundreds of constituents are regularly ignored because their request of Senator Saslaw may be politically inconvenient or require some courage in answering. Worse yet, what happens if you're in dire need and require real help? Will Senator Saslaw even respond to you?
Look, we get it. No politician wants to take a position that makes them look bad. But being a faithful public representative means you are regularly called upon to place the requests of your constituents above your own political comfort.
As we gear up for the 2020 session, at least we know one thing: Dick Saslaw and his staff aren't here to answer to constituents. They're not here to help constituents understand what the Senator intends to do on their behalf on some of the most consequential policy issues in Virginia. If it might take an ounce of political courage to answer, they'll cut the line and just hope you go away.
When residents of Virginia's 35th Senate District respectfully ask something of their Senator, Dick Saslaw's staff—with their decades of experience–know just what to do: "don't reply."
There's no paywall on Blue Virginia, and we definitely want to keep it that way! If you want to help support our work, you can donate here - thanks!
Also, you can
sign up for our weekly email list here
.