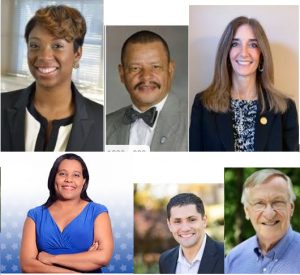 by Cindy
November 5th was a huge win for Virginia Democrats. Republicans have controlled the House of Delegates for nearly 20 years, and the State Senate for many of those years as well. That has meant many things including:
Deciding who sits on which committees, such as putting "tough-on-crime" Democrats on the Courts of Justice Committee, and "business-friendly" Democrats on the Commerce and Labor Committee;
Deciding where to assign bills, or what bills to allow to reach the floor for a vote, like the LGBTQ housing and public employment discrimination bills and the ERA, which were blocked from the House floor;
Chairing the Rules Committee, which means setting the House rules, interpreting those rules and enforcing those rules. Examples include deciding whether firearms can be brought into the chamber, deciding whether an amendment to a bill is "germane" (relevant, because if not it needn't be voted on), and much more.
This Republican control changed, in a big way, on November 5th. Which is great. But now, Democrats in the General Assembly have to transition from many years in the mindset of playing defense—often while dramatically outnumbered—to playing offense.
But who will lead?
Vying to be House Speaker are the current – and first female – House Minority Leader, Delegate Eileen Filler-Corn from Fairfax; Delegate Lashresce Aird from Petersburg; Delegate Ken Plum from Fairfax; and Delegate Luke Torian from Prince William County. Delegate Sam Rasoul from Roanoke and Delegate Charniele Herring from Alexandria are running for House Majority Leader. On the Senate side, there doesn't appear to be any challenge to current Minority Leader, Senator Dick Saslaw, so it's likely he will become Majority Leader. (There is no Speaker in the Senate, because the Lieutenant Governor performs most of those duties.)
What are some criteria the Delegates are likely considering to help them choose their leadership when they vote this Saturday morning? Here are some that come to my mind, feel free to add others in the comments.
Strategy: Being in the majority means having a lot of tools at your disposal, but also facing a desperate minority – in this case, one that's been using those tools for a long time and knows many ways to undermine them as well. And because the Virginia General Assembly session is so short (30 days in odd-numbered years, 60 days in even-numbered years), the pace is frenetic, so being able to think on your toes and interpret what the other side is trying to do is critical. Democrats can't afford to be caught playing checkers when the other side is playing chess. In other words, we need a leader who's very good at chess.
Leadership: We have an incredibly diverse Caucus – geographically, demographically, and ideologically. Which is fantastic! But it's also very, very challenging. Republicans love nothing more than to watch – and stoke – Democratic infighting and us "eating our own," and will look for ways to capitalize on any divisions they detect. Which means that Democratic leadership will have to hold together this diverse bunch, giving each member space and freedom to have their own (sometimes differing) opinions and to represent their own communities, while still keeping everyone working together and respecting one another as a team. This is, in short, a tough job!
Ideology: The leadership, to a large extent, affects the ideological direction of the Caucus. As mentioned above, it's an ideologically diverse Caucus, and perhaps more important, a Caucus that will have strategy differences on how best to reach shared policy goals—whether moving too fast jeopardizes future elections, or shows voters we want to lead boldly without considering political repercussions. Interestingly, with the exception of Sam Rasoul, none of the most progressive delegates (e.g., Marcus Simon, Alfonso Lopez, Lee Carter, Jennifer Carroll Foy, Jeion Ward, Mark Levine) – at least, according to the VAPLAN 2018 and VAPLAN 2019 scorecards – are running for Speaker or Majority Leader so far. Instead, by and large, those who are running are relatively "moderate" to conservative Democrats. For example, of the current candidates for Speaker or Majority Leader, only Ken Plum voted for Sam Rasoul's fossil fuel moratorium. And all but Rasoul voted against ending civil asset forfeiture and voted for mandatory minimum life sentences for those convicted of murdering law enforcement. Only Rasoul and Aird voted against the contentious Dominion rate freeze repeal bill. Aird and Torian both voted for a coal tax credit and also to allow Medicaid work requirements. And all but Rasoul voted for a bill to keep former inmates on probation forever until all restitution and fines are paid in full.
Fundraising – Because the leaders wield such power over the direction of the Caucus and policy, they are quite naturally the ones who major donors contribute to. Beyond that though, fundraising is a hard, grueling job, requiring constant one-on-one calls and meetings, hosting and attending events, working to build long term relationships with all the big donors. It's harder than it looks, and having someone in leadership who's strong at it takes some pressure off everyone else in the Caucus.
Communications – On any team, the ability to communicate with each other is vital. Making sure everyone knows what to expect, understands goals and strategies, agrees on shared talking points, etc. Also important is making sure Caucus members know what information can be shared with whom, so they aren't revealing sensitive strategy details out to the public, is important. And the ability for leadership to communicate with the public will be incredibly important, in messaging and tone, so that the public knows what the Democrats are accomplishing and why it matters to our lives, and knows what Democrats are opposing and why. So no question, we need strong communicators in top leadership roles.
Again, it looks like the vote will be this Saturday morning. It should be interesting to see what happens. I hear there's a lot of lobbying going on – by special interest groups, by activists, and by the big donors who invested a lot in the November 5th outcomes. But this is the first big test for a brand new Caucus – their first opportunity to work together, to build trust, and to communicate as a team. A lot hinges on this decision, and all eyes will be watching to see who allows their vote to be swayed by whom. Stay tuned—I'm hoping it's going to be such fun watching Democrats lead.