Advertisement

Verry interesting to see the Virginia AFL-CIO share this letter to the editor in the Richmond Free Press, calling Gov. Ralph Northam's comments the other day about opposing repeal of anti-union/anti-worker "Right-to-Work" laws "shameful." The Letter to the Editor, by Charles Skelly, "business manager of the International Brotherhood of Electrical Workers Local 666," also says (correctly) that:
"Since 1947, states that are 'right-to-work' are lower in wages, higher in fatalities and higher in poverty, infant mortality and uninsured rates."
"The ugly history of 'right-to-work" includes characters such as Vance Muse, who used racist scare tactics to promote adoption of the law to Dixiecrats of the time."
"To hear that the leader of the Democratic Party in the state chooses to side with business interests and Republicans over a fundamental tenant of policy for labor was a slap in the face. If your aim was to alienate union labor voters for years to come, you are well on the way to the goal."
"I can assure you that all 1,200 members of IBEW Local 666 are as furious as I am at your actions."
"On a federal level, seven of Virginia's 11 congressional representatives have had the courage to stand with labor and sign on to the PRO Act. It would be helpful if you, as the governor of a state, proclaimed a 'blue state,' would have the guts to do the same and not pander to corporate desires."
"Frankly, to continue policies that enshrined Virginia as 51st for workers on an Oxfam's 'Best States to Work' list is shameful for a political party that claims to be pro-worker. Perhaps it is time to get on the right side of history and send 'right-to-work' to the dustbin where it belongs."
By the way, if you're interested where Virginia House of Delegates and State Senate Democrats stand on this, see Activate Virginia's spreadsheet. So far, it looks like Democratic delegates support repealing "Right-to-Work" by a 29-2 margin, while Democrats State Senators are much more closely divided, at 6-5 among those whose positions we currently know. As usual, it's the State Senate that looks like it could be the big problem in the 2020 session…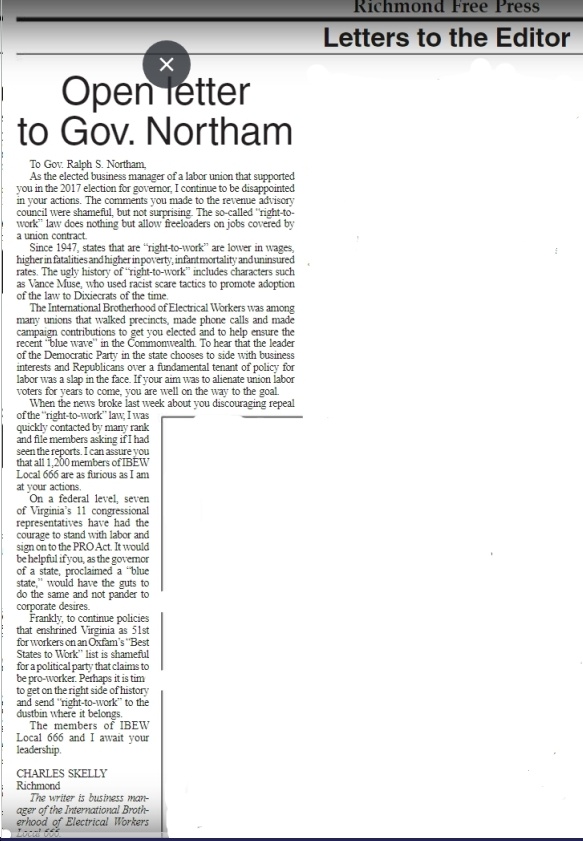 There's no paywall on Blue Virginia, and we definitely want to keep it that way! If you want to help support our work, you can donate here - thanks!
Also, you can
sign up for our weekly email list here
.