With six days hours to go until the deadline, it appears that four five six eight ten twelve Democratic 2020 presidential candidates – Bernie Sanders, Pete Buttigieg, Amy Klobuchar, Andrew Yang, Elizabeth Warren (as of 12/9), Tulsi Gabbard (as of 12/11), Joe Biden (as of 12/12), Tom Steyer (also as of 12/12), Cory Booker (also as of 12/12), Michael Bennet (also as of 12/12), Michael Bloomberg (also as of 12/12), Deval Patrick (also as of 12/12) and Marianne Williamson (also as of 12/12)- have filed their petition signatures with the State Board of Elections so far. The following email came from the Democratic Party of Virginia at 5:30 pm.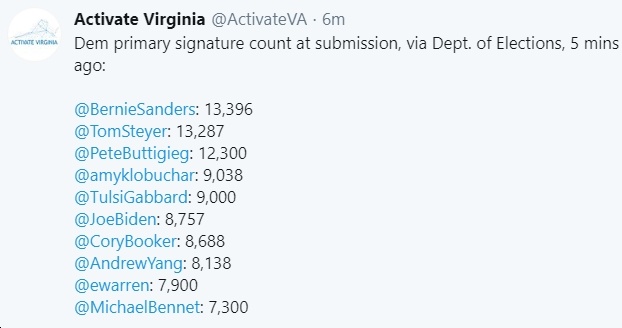 ********
First, see below from the Virginia Mercury: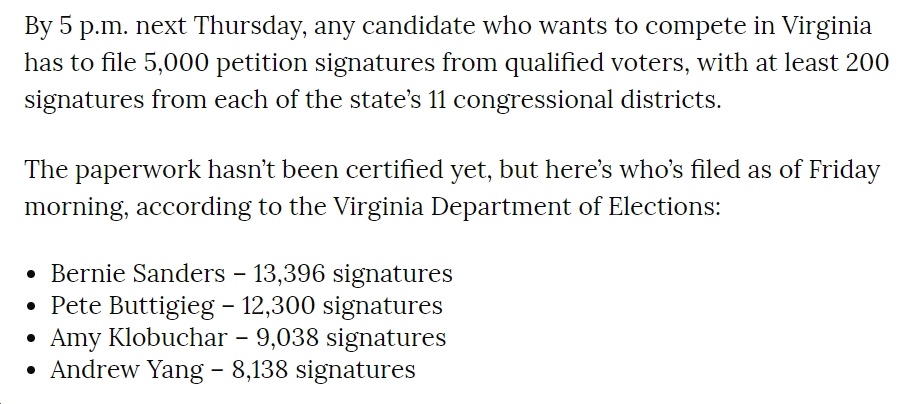 Also see the following posts about Sanders and Buttigieg submitting their petition signatures. We'll see in just under a week how many other 2020 Democratic presidential candidates file to be on the March 3 primary ballot here in Virginia.