Advertisement

See below for some tweets, photos, and video (when it comes available) of the historic vote today in the Virginia House of Delegates to ratify the Equal Rights Amendment – making it 38 states, which is what's required, which have ratified the amendment. Of course, the Trump administration and Republicans will fight this in the courts, but still…it's an important, historic vote nonetheless. Congratulations to everyone who worked so hard to make this day a reality!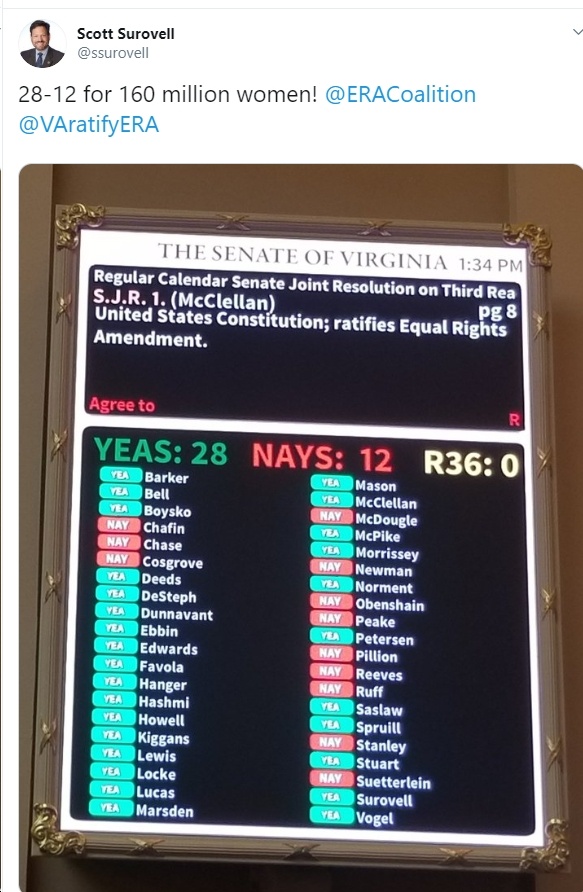 We've made history! #VAratifyERA pic.twitter.com/MVKIFtk4sD

— VAratifyERA (@VAratifyERA) January 15, 2020
Kory ERA from Lowell Feld on Vimeo.
Today, the House of Delegates WILL pass the Equal Rights Amendment. In this nation and this Commonwealth, women WILL have equal protection under the law. It has taken far too long, but finally women will be represented in the Constitution. History. pic.twitter.com/1RzD6ATjGq

— Eileen Filler-Corn (@EFillerCorn) January 15, 2020
Our Del @SallyLHudson with @JCarrollFoy on this historic day in @VaHouse #VAratifyERA #ERA2020 #1Stateto38 pic.twitter.com/KlpkEqmVzd

— VAratifyERA Charlottesville (@ERACvilleNow) January 15, 2020
The @VASenate will vote on SJ1 to ratify the #ERA today. @SenatorLocke and I are ready to lead the charge. We convene at noon. Watch live at https://t.co/GoiR5wvxpt #ERANOW #VARatifyERA #ItsOurTime pic.twitter.com/zXIL4cy1yU

— Jennifer McClellan (@JennMcClellanVA) January 15, 2020
Minutes away from a vote on the ERA. So exciting. #VARatifyERA pic.twitter.com/TrIRAbXKFv

— Del. Dan Helmer (@DelDanHelmer) January 15, 2020
Getting ready to make a little history! #ERA2020 #1Stateto38 #VAratifyERA pic.twitter.com/fTzSrKSu8q

— VAratifyERA (@VAratifyERA) January 15, 2020
Today's House of Delegates calendar is a good one – a must read! @VAratifyERA #1Stateto38 pic.twitter.com/NdGaXBLLvH

— Patrick Hope (@HopeforVirginia) January 15, 2020
Code Purple: Supporters of the #ERA are wearing purple today in anticipation of passing the Equal Rights Amendment in the House and Senate pic.twitter.com/5JSY9GtTz1

— Michael Pope (@MichaelLeePope) January 15, 2020
Gallery is full in the House of Delegates to watch lawmakers vote on the Equal Rights Amendment pic.twitter.com/TKRcRS0qv7

— Amy Friedenberger (@AJFriedenberger) January 15, 2020
Virginia House now in session. Plans vote in favor of ratifying the Equal Rights Amendment today. Senate to vote too. Resolutions then have to cross to other side for final vote. Legal questions remain about whether this would make ERA part of constitution https://t.co/WuDlemyYEq

— Max Smith (@amaxsmith) January 15, 2020
Virginia's First Lady @FirstLadyVA with her daughter, Aubrey Northam, to mark a historic day for all Virginians and, indeed, the nation. pic.twitter.com/H3utu3jKyb

— VAratifyERA (@VAratifyERA) January 15, 2020
Our #ERA marathoners & sprinters are ready to move one step closer to full constitutional equality! #VAratifyERA #ERA2020 #electionsmatter pic.twitter.com/qaDFfdIaOY

— VAratifyERA (@VAratifyERA) January 15, 2020
The Virginia House of Delegates just voted to ratify the Equal Rights Amendment as the 28th Amendment to the Constitution of United States of America.
"Equal rights under the law shall not be denied or abridged by the United States or any State on account of sex." pic.twitter.com/irIF1NkayJ

— Danica Roem (@pwcdanica) January 15, 2020